Found July 11, 2012 on Project Spurs:
PLAYERS:
Tim Duncan
,
Patty Mills
,
Boris Diaw
,
Danny Green
,
James Anderson
,
Zach Lowe
,
Stephen Jackson
,
Tiago Splitter
,
Richard Jefferson
,
Matt Bonner
,
Gregg Popovich
,
Tony Parker
,
Manu Ginobili
,
Nando De Colo
TEAMS:
San Antonio Spurs
,
Golden State Warriors
,
Oklahoma City Thunder
Tuesday was an incredibly busy day for the San Antonio Spurs (and Project Spurs' Paul Garcia who was keeping up with all the news) as they reportedly reached agreements with Tim Duncan, Patty Mills, Boris Diaw, Nando De Colo and Danny Green in a 24 hour time span.  The only Spurs free agent left without a contract is James Anderson, who the Spurs aren't likely to bring back especially with De Colo in the mix.  Still, 2012-2013 will look a lot like 2011-2012.  That means next year's team will look a lot like the team that won 20 games in a row, but it also means they'll look a lot like the team the lost four in a row to the Western Conference Champion Oklahoma City Thunder.
The loss to the Thunder last month left a sour taste in a lot of fan's mouths (present company included).  All a lot of us could think about was how the Spurs role players (and at times their MVP candidate point guard) didn't show up when they needed to most.  We looked at how dreadful the defense was when Tim Duncan wasn't in the basketball game.  Mostly it was just tough to think the Spurs struggles came against the one team they'll have to worry about for the rest of the Tim Duncan era.
What it took some of us a little bit of time to remember was that this is still the same team that torched the rest of the league from February on.  As Sports Illustrated's Zach Lowe pointed out, it was the best offense in the league all season and that didn't exactly change against the Thunder.  Two of their role players didn't join the team until March.  Boris Diaw and Stephen Jackson became prominent members of the Spurs' rotation without being completely acclimated with the Spurs' system despite having some previous familiarity with it.  It's also important to consider that Tiago Splitter has become a valuable role player without having an extended amount of practice time (i.e. Training Camp) to get completely familiar with a system. 
They also started a rookie at small forward who is almost sure to make a big leap from rookie year to second year.  So maybe status quo isn't so bad because it's status quo with room for improvement.  Kind of like a really nice house you buy that has a couple of small renovations but has really good bones.
There's something else to consider here.  Often times we hear the narrative that champions have to face some sort of adversity to make the leap to champion.  We haven't heard it with the Spurs in a decade because their head coach and three best players all have titles.  However, the rest of this
Spurs team as a collective hasn't dealt with the adversity that comes with losing in the Conference Finals.  Danny Green in particular comes to mind.  Green was terrible during the Western Conference Finals, there's no denying that.  The good news was throughout Green kept shooting and kept hustling.  A friend of mine the other day said he'd rather have Danny Green out there over Richard Jefferson because Green while Green missed a ton of shots, Jefferson just stopped shooting and you'd rather have the guy with the confidence to keep shooting when things aren't going well.
Make no mistake, the Spurs still have holes in their roster.  They really, really need someone who can defend the pick and roll and someone who can protect the rim.  They don't have that yet.  They have one or two too many shooting guards and a lack of athleticism across the board.  The good news is they now have a ton of a different pieces to make roster upgrades if they find the right deal.  Green and Diaw both have very trade friendly contracts.  Matt Bonner's contract has two years left on it but only this coming season is guaranteed.  Tiago Splitter has one year left (then he becomes a restricted free agent) and could prove to be an incredibly valuable trade piece if he continues to develop.  I don't think there's a coach besides Gregg Popovich that wants to coach Stephen Jackson, but his $10 million expiring contract would be good for a team to trade for and then buy out, thus creating salary cap space for next summer and beyond.  There's also that Tony Parker guy, but we'll not get in to that just yet.
I began the day wondering if the Spurs had just set themselves up to have another great regular season, then make it to the Western Conference Finals and flame out like this season.  That might still be the case, but the more you think about it, between the lockout and midseason deals that Spurs team was a rough draft of what it could become.  A full training camp should do wonders for this team and their depth should keep Tim Duncan and Manu Ginobili fresh for a postseason run.  Here's hoping next spring's team is the final draft version to this summer's rough draft.
Original Story:
http://www.projectspurs.com/2012-arti...
THE BACKYARD
BEST OF MAXIM
RELATED ARTICLES
The San Antonio Spurs have re-signed Tim Duncan, bringing back the veteran forward for at least a 16th season. Terms were not disclosed in Wednesday's announcement, though Yahoo Sports cited anonymous sources in reporting it was a three-year, $36 million deal. Duncan is 36. The 6-foot-11 Duncan was selected by San Antonio with the first pick in the 1997 draft. In 15 seasons...
<a href="http://www.mogreet.com/moshare/it/" class="moshare-button-hor" data-channel="wordpress-1.2.8" data-message="Tim Duncan made good with his promise that he will be a "Spur for life." The two-time MVP has reportedly signed a three-year extension worth an estimated $36 million. Duncan, 36, averaged 15.4 points and 9 rebounds last...
It was quite the day for the San Antonio Spurs yesterday as the team made a number of roster moves which, for the most part, allowed them to remain the same. With teams adding new players as each day passes during this free agency period, San Antonio decided to take care of their own free agents and foreign asset namely re-signing Danny Green, Patty Mills, Boris Diaw, and the no...
According to KABB Fox San Antonio, Happy Walters, agent of San Antonio Spurs forward DeJuan Blair, has told the station in an exclusive interview that this coming 12-13' season will likely be Blair's last with the Spurs."Next year, it's his choice on what he wants to do, and chances are he wouldn't be in San Antonio, obviously", said Happy Walters, DeJuan...
With French guard Nando De Colo preparing to join the San Antonio Spurs for the next two seasons, I was interested in finding out exactly what De Colo would be bringing to the Spurs. Since I live in the United States and cover the Spurs in San Antonio, I rarely get to see De Colo in action since he's been playing in Spain over the last few years.  I wanted to know more about...
SAN ANTONIO (AP) -- The San Antonio Spurs have re-signed Tim Duncan, bringing back the veteran forward for at least a 16th season. Terms were not disclosed in Wednesday's announcement, though Yahoo Sports cited anonymous sources in reporting it was a three-year, 36 million deal. Duncan is 36. The 6-foot-11 Duncan was selected by San Antonio with the first pick in the 1997 draft...
Earlier this morning, we posted a report that said the San Antonio Spurs were confident they would be able to re-sign Tim Duncan, Boris Diaw, and Patty Mills.Well it looks like that report had some accuracy as Diaw has decided to re-sign a two-year, 9.2 million dollar contract with the Spurs according to Adrian Wojnarowski of Yahoo Sports! As written in our first report, the only...
After being drafted in the 2009 NBA Draft, the San Antonio Spurs will finally bring over French guard Nando De Colo after he recently signed a 2-year deal. De Colo honed his basketball skills with Spanish team Valencia, where he dazzled the crowds for three years and would eventually win the 2010 Eurocup title. And now that he will be making the leap to the NBA next season, his...
It's official, the San Antonio Spurs have announced the franchise has re-signed forward Tim Duncan, though per club policy, no details of the contract were announced. Reports yesterday had Duncan signing for a three-year deal that is fully guaranteed and has a player option in the final year.Here's a statement from Spurs head coach Gregg Popovich per the Spurs' press...
Restricted free agent guard Danny Green has agreed to three-year, $12 million contract with the San Antonio Spurs, SI.com reported Monday. Green played in 66 games for the Spurs last season, including 38 starts. He averaged 9.1 points and 3.4 rebounds while shooting 43.6 percent on 3-pointers. The signing can't be made official until Wednesday.
The San Antonio Spurs head to Las Vegas in a day or so for the 2012 Vegas Summer League and they're taking some of the best young talent in their system with them.  According to their official release, the team will feature Kawhi Leonard, James Anderson, Cory Joseph and 2010 second round pick Ryan Richards.  Assistant Jacque Vaughn will coach the team. Richards is obviously...
While the San Antonio Spurs were largely expected to be a likely landing spot for free agent center Chris Kaman, especially after Indiana re-signed Roy Hibbert, Kaman has decided to stay in the Southwest Division, but instead he'll be a few hundred miles north of San Antonio playing for the Dallas Mavericks.Kaman is another player in a line of veteran big men who were linked...
NBA News

Delivered to your inbox

You'll also receive Yardbarker's daily Top 10, featuring the best sports stories from around the web. Customize your newsletter to get articles on your favorite sports and teams. And the best part? It's free!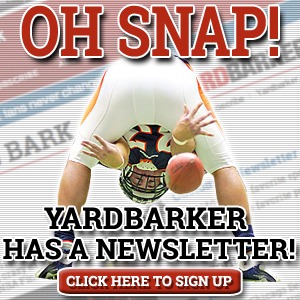 Latest Rumors
Best of Yardbarker

Today's Best Stuff

For Bloggers

Join the Yardbarker Network for more promotion, traffic, and money.

Company Info

Help

What is Yardbarker?

Yardbarker is the largest network of sports blogs and pro athlete blogs on the web. This site is the hub of the Yardbarker Network, where our editors and algorithms curate the best sports content from our network and beyond.