Found July 11, 2012 on Project Spurs:
PLAYERS:
Ryan Richards
,
Kawhi Leonard
,
James Anderson
,
Cory Joseph
,
Jacque Vaughn
,
Alexis Ajinca
,
Luke Zeller
,
Cody Zeller
,
Alexis Wangmene
,
Derrick Byars
,
Eric Dawson
,
Marcus Denmon
,
JaMychal Green
,
Kalin Lucas
,
L.D. Williams
TEAMS:
San Antonio Spurs
,
Toronto Raptors
,
Indiana Hoosiers
,
Texas Longhorns
,
Oklahoma State Cowboys
,
Alabama Crimson Tide
,
Michigan State Spartans
,
Wake Forest Demon Deacons
,
Notre Dame Fighting Irish
,
San Diego State Aztecs
The San Antonio Spurs head to Las Vegas in a day or so for the 2012 Vegas Summer League and they're taking some of the best young talent in their system with them.  According to their official release, the team will feature Kawhi Leonard, James Anderson, Cory Joseph and 2010 second round pick Ryan Richards.  Assistant Jacque Vaughn will coach the team.
Richards is obviously the big surprise here.  Project Spurs' Paul Garcia mentioned Tuesday that Richards was in the U.S., but at the time didn't know why.  That answer was made pretty clear with the release today.  Richards has shown flashes of skill during his time in Europe, but he's also shown some immaturity in bouncing around from team to team and even switching nationalities so he could play for the Jamaican national team.  However, if he plays well in Summer League who cares about all that other stuff.  We've seen Richards torch smaller competition, so it'll be interesting to see how he fares against other big bodies trying to make the leap to the league.
James Anderson's inclusion on the Spurs roster is also interesting.  Seeing as he didn't get a ton of playing time last season, Summer League will be an important time for him to show that he can be a good back up for the Spurs or someone else (likely someone else considering how many guards the Spurs already have on their roster).  Anderson has skills, no one doubts that, and I won't be surprised if he gets snatched up by a team looking for some wing help by the time the Vegas league ends. 
A few other names of note on the roster:
Alexis Ajinca - French big man has bounced around the league a little bit.  Surprising to see his name here since he normally spends his summers playing for the French national team.
Luke Zeller - Older brother of Cleveland rookie Tyler Zeller and Indiana University center Cody Zeller.  He's seven feet tall and he's been playing for the Toros, so he's got that going for him.
Alexis Wangmene - The former Texas guard played college ball with Cory Joseph and is the adopted son of general manager of R.C. Buford (H/T to the Express News' Jeff McDonald for that nugget).
Here's the full roster courtesy of Spurs.com:
42 Alexis Ajinca C 7-2 248 5/6/88 Strasbourg IG/France 3 25 James Anderson G 6-6 215 3/25/89 Oklahoma State/USA 2 10 Dwight Buycks G 6-3 190 6/6/89 Marquette/USA R 34 Derrick Byars G/F 6-7 220 4/25/84 Vanderbilt/USA 1 23 Eric Dawson F 6-9 250 7/7/84 Midwestern State (TX)/USA 1 1 Marcus Denmon G 6-3 185 3/20/90 Missouri/USA R 17 Moses Ehambe G/F 6-6 215 5/22/86 Oral Roberts/USA R 43 Darius Foster G 6-3 210 1/12/88 Wilberforce/USA R 11 JaMychal Green F 6-8 228 6/21/90 Alabama/USA R 7 Cedric Jackson G 6-3 190 3/5/86 Cleveland State/USA 1 5 Cory Joseph G 6-3 185 8/20/91 Texas/USA 1 2 Kawhi Leonard F 6-7 225 6/29/91 San Diego State/USA 1 14 Kalin Lucas G 6-1 195 5/24/89 Michigan State/USA R 19 Ryan Richards F 6-11 230 4/21/91 CB Gran Canaria/England R 30 Alexis Wangmene F/C 6-7 241 3/1/89 Texas/Cameroon R 27 Tyler Wllkerson F 6-8 240 7/25/88 Marshall/USA R 24 L.D. Williams G 6-4 210 5/8/88 Wake Forest/USA R 40 Luke Zeller F/C 6-11 245 4/7/87 Notre Dame/USA R
Original Story:
http://www.projectspurs.com/2012-arti...
THE BACKYARD
BEST OF MAXIM
RELATED ARTICLES
The San Antonio Spurs have re-signed Tim Duncan, bringing back the veteran forward for at least a 16th season. Terms were not disclosed in Wednesday's announcement, though Yahoo Sports cited anonymous sources in reporting it was a three-year, $36 million deal. Duncan is 36. The 6-foot-11 Duncan was selected by San Antonio with the first pick in the 1997 draft. In 15 seasons...
<a href="http://www.mogreet.com/moshare/it/" class="moshare-button-hor" data-channel="wordpress-1.2.8" data-message="Tim Duncan made good with his promise that he will be a "Spur for life." The two-time MVP has reportedly signed a three-year extension worth an estimated $36 million. Duncan, 36, averaged 15.4 points and 9 rebounds last...
It was quite the day for the San Antonio Spurs yesterday as the team made a number of roster moves which, for the most part, allowed them to remain the same. With teams adding new players as each day passes during this free agency period, San Antonio decided to take care of their own free agents and foreign asset namely re-signing Danny Green, Patty Mills, Boris Diaw, and the no...
According to KABB Fox San Antonio, Happy Walters, agent of San Antonio Spurs forward DeJuan Blair, has told the station in an exclusive interview that this coming 12-13' season will likely be Blair's last with the Spurs."Next year, it's his choice on what he wants to do, and chances are he wouldn't be in San Antonio, obviously", said Happy Walters, DeJuan...
With French guard Nando De Colo preparing to join the San Antonio Spurs for the next two seasons, I was interested in finding out exactly what De Colo would be bringing to the Spurs. Since I live in the United States and cover the Spurs in San Antonio, I rarely get to see De Colo in action since he's been playing in Spain over the last few years.  I wanted to know more about...
SAN ANTONIO (AP) -- The San Antonio Spurs have re-signed Tim Duncan, bringing back the veteran forward for at least a 16th season. Terms were not disclosed in Wednesday's announcement, though Yahoo Sports cited anonymous sources in reporting it was a three-year, 36 million deal. Duncan is 36. The 6-foot-11 Duncan was selected by San Antonio with the first pick in the 1997 draft...
Earlier this morning, we posted a report that said the San Antonio Spurs were confident they would be able to re-sign Tim Duncan, Boris Diaw, and Patty Mills.Well it looks like that report had some accuracy as Diaw has decided to re-sign a two-year, 9.2 million dollar contract with the Spurs according to Adrian Wojnarowski of Yahoo Sports! As written in our first report, the only...
After being drafted in the 2009 NBA Draft, the San Antonio Spurs will finally bring over French guard Nando De Colo after he recently signed a 2-year deal. De Colo honed his basketball skills with Spanish team Valencia, where he dazzled the crowds for three years and would eventually win the 2010 Eurocup title. And now that he will be making the leap to the NBA next season, his...
It's official, the San Antonio Spurs have announced the franchise has re-signed forward Tim Duncan, though per club policy, no details of the contract were announced. Reports yesterday had Duncan signing for a three-year deal that is fully guaranteed and has a player option in the final year.Here's a statement from Spurs head coach Gregg Popovich per the Spurs' press...
While the San Antonio Spurs were largely expected to be a likely landing spot for free agent center Chris Kaman, especially after Indiana re-signed Roy Hibbert, Kaman has decided to stay in the Southwest Division, but instead he'll be a few hundred miles north of San Antonio playing for the Dallas Mavericks.Kaman is another player in a line of veteran big men who were linked...
Tuesday was an incredibly busy day for the San Antonio Spurs (and Project Spurs' Paul Garcia who was keeping up with all the news) as they reportedly reached agreements with Tim Duncan, Patty Mills, Boris Diaw, Nando De Colo and Danny Green in a 24 hour time span.  The only Spurs free agent left without a contract is James Anderson, who the Spurs aren't likely to bring back...
Kawhi Leonard has never really looked like a rookie. He showed from day one with the Spurs that he was ready to contribute. It wasn't as a scorer or a sharpshooter, just as a role player that could do what was asked of him in all situations. His stats, like his minutes, were sporadic all season long. Some games putting in 20 points, others just 4, but he would never complain....
NBA News

Delivered to your inbox

You'll also receive Yardbarker's daily Top 10, featuring the best sports stories from around the web. Customize your newsletter to get articles on your favorite sports and teams. And the best part? It's free!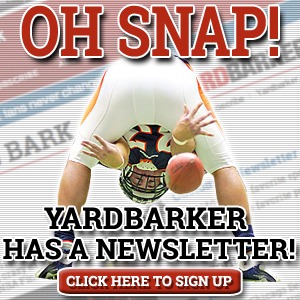 Latest Rumors
Best of Yardbarker

Today's Best Stuff

For Bloggers

Join the Yardbarker Network for more promotion, traffic, and money.

Company Info

Help

What is Yardbarker?

Yardbarker is the largest network of sports blogs and pro athlete blogs on the web. This site is the hub of the Yardbarker Network, where our editors and algorithms curate the best sports content from our network and beyond.