Found March 12, 2012 on Fox Sports Southwest:
PLAYERS:
T.J. Ford
,
Baron Davis
,
Kevin Durant
,
LaMarcus Aldridge
,
Mark Madsen
,
LeBron James
,
Gregg Popovich
,
Tony Parker
TEAMS:
San Antonio Spurs
,
New York Knicks
,
Portland Trail Blazers
,
Miami Heat
SAN ANTONIO (AP) -- Spurs point guard T.J. Ford abruptly retired Monday following the latest scare to his surgically repaired spine that once sideline him for an entire NBA season and hampered the dazzling promise that made him a college star. Ford, told reporters that lying motionless March 7 on the court against the New York Knicks wasn't the first time it had happened, and that he decided to walk away while he still had a chance. He was playing just his 14th game in an injury-prone season when Knicks guard Baron Davis elbowed him in the back, knocking him to the ground. The 28-year-old Ford didn't move for several minutes and wobbled while being helped off the court. "If it's anybody else, it's just a regular play," Ford told reporters at a Spurs practice before Monday's game against Washington. "But because of me and my condition a, simple elbow in the back has a different outcome than hitting someone else in the back." Drafted eighth overall by Milwaukee in 2003, Ford also played for the Raptors and Pacers but never quite reached the potential that made him the Naismith and Wooden player of the year at Texas. He led the Longhorns to the Final Four as a sophomore, helping turn football-obsessed Texas into a rising basketball power that gave the program the profile to recruit stars like Kevin Durant and LaMarcus Aldridge. But Ford was just 55 games into his rookie season when a collision with Timberwolves forward Mark Madsen changed his career. He landed hard on his tailbone after releasing a short jumper and instantly felt numb after slamming to the ground. Trainers immobilized Ford's neck and carted him off on a stretcher. Ford underwent spinal fusion surgery and missed the entire following season. He returned to the Bucks in 2005 and was traded in 2006 to Toronto, where Ford began putting together his best seasons. He averaged 14.9 points and 7.9 assists in his Raptors debut, and his scoring average hit a career-high of 14.9 points with Indiana in 2008-09. But by the next season, at 26, Ford was already transitioning from a franchise point guard to a backup. He still took satisfaction in a career that was mostly played against the advice of doctors. "I think I succeeded at beating the odds, of being the little guy, making it to the NBA and lasting as long as I did," Ford said. "I think I achieved a lot. I know I didn't have the career I anticipated and everyone anticipated, me having been the player of the year (at Texas). But I think I still had a successful career." NBA players offered best wishes to Ford on Twitter. They included the Knicks' Davis, who said he talked with Ford by phone Monday. "Sad that he is retiring and feeling worse that I was involved in that play! love and respect bro," Davis tweeted. LeBron James, picked first overall the same year Ford was drafted, tweeted, "Man sorry to hear about my 03 draft classmate TJ Ford! Get healthy and hopefully see u back on the court someday!" That isn't likely, though Ford said he still wants to be around basketball. "I don't think anyone plans to retire early," Ford said. "I was hoping I could get to that 34-36 age. It's tough. I wasn't planning on coming into this season retiring." Spurs coach Gregg Popovich, who signed Ford in December to be Tony Parker's backup, said the team enjoyed having him around. "I congratulate him on all that he has achieved as a player and fully support the difficult decision he was forced to make," Popovich said. Knocked out most of the year because of a nagging hamstring, Ford averaging 3.6 points, 3.2 assists and 1.3 rebounds with the Spurs. For his career, Ford played in 429 games, averaging 11.2 points, 5.8 assists, 3.1 rebounds and 1.16 steals 27.7 minutes per game.
Original Story:
http://www.foxsportssouthwest.com/03/...
THE BACKYARD
BEST OF MAXIM
RELATED ARTICLES
San Antonio Spurs guard T.J. Ford is retiring, effective immediately, after a series of neck and spine injuries during eight years in the NBA. The 28-year-old Ford announced his decision Monday on Twitter. ''Basketball has been great to me & my family for 28yrs,'' he wrote. ''It's official '' I Retire from the NBA '' as of today....
In 2003, TJ Ford was selected 8th overall by the Milwaukee Bucks after starring at the University of Texas. Eight seasons later, back again in Texas this past Monday as a member of the San Antonio Spurs, TJ Ford hung up the Nike Airs for the final time as he announced his retirement from the NBA. This according to the AP: San Antonio Spurs guard T.J. Ford announced his retirement...
Scary injuries happen all the time in professional sports, and they generally act as some of the most sobering moments for players and fans alike. Such was the case in the 2003-04 NBA season when then-Milwaukee Bucks point guard and rookie T.J. Ford landed hard on his tail bone, suffering a serious injury that ultimately required spinal fusion surgery. Now Ford is 28-years-old and...
SAN ANTONIO (AP) -- San Antonio Spurs guard T.J. Ford is retiring, effective immediately, after a series of neck and spine injuries during eight years in the NBA. The 28-year-old Ford announced his decision Monday on Twitter. "Basketball has been great to me & my family for 28yrs," he wrote. "It's official " I Retire from the NBA " as of today....
Most likely to many observers of the Association, San Antonio Spurs reserve point guard T.J. Ford announcing his retirement on Monday according to a report from the "San Antonio Express" barely caused a blip on their internal radar screen. I must admit that the 28-year-old former Texas star hit me rather hard, as Ford was a source of inspiration to this reporter. Ford...
I always had high hopes for T.J. Ford. I think a lot of people did. When he led the Longhorns to the Final Four back in 2003 he just had the look of somebody that was going to be a special player. Unfortunately, sometimes injuries trump potential. We will never know what Ford could have been. A freak injury during his rookie year resulted in spinal surgery and the loss of an entire...
San Antonio Spurs guard T.J. Ford is taking an indefinite leave of absence that will last at least the rest of the season. Ford said on Monday that his numerous neck and spine injuries are taking their toll - with the latest "stinger" coming last Wednesday against the New York Knicks. The 28-year-old Ford, who admitted he is contemplating retirement, averaged 3.6 points...
After suffering a stinger in the San Antonio Spurs recent win over the New York Knicks, point guard T.J. Ford will sit out the rest of this season (indefinite leave of absence) and is considering retirement.Ford has had an injury-plagued NBA career including spine and neck injuries."While this was a tough decision to make, it is what is best for me and my family at this time...
San Antonio Spurs' T.J. Ford is out for the season and is planning on retiring according to multiple reports. The news comes after Ford, who has had multiple spine and neck injuries during his eight-year career, suffered a stinger against the New York Knicks on March 7. The team says he will be out for...Read the Rest...
T.J. Ford had what he termed his "retirement lunch" with good friend and fellow NBAer Roger Mason, Jr. on Monday. Citing recent troubles with neck and spine injuries, San Antonio Spurs guard T.J. FORD announced his retirement from the NBA Monday, via his Twitter account. Picked up by the Spurs as a back-up point guard to Tony Parker on December 10, Ford mentioned that his most...
NBA News

Delivered to your inbox

You'll also receive Yardbarker's daily Top 10, featuring the best sports stories from around the web. Customize your newsletter to get articles on your favorite sports and teams. And the best part? It's free!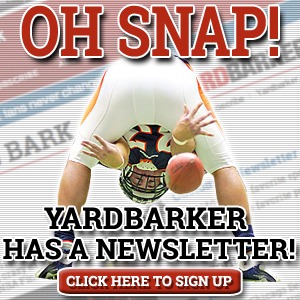 Latest Rumors
The Backyard

Today's Best Stuff

For Bloggers

Join the Yardbarker Network for more promotion, traffic, and money.

Company Info

Help

What is Yardbarker?

Yardbarker is the largest network of sports blogs and pro athlete blogs on the web. This site is the hub of the Yardbarker Network, where our editors and algorithms curate the best sports content from our network and beyond.