Found February 21, 2013 on Fox Sports Southwest:
PLAYERS:
Kevin Durant
,
Russell Westbrook
,
Al Jefferson
,
Ronnie Brewer
,
DeAndre Liggins
,
Reggie Jackson
,
James Harden
,
Sam Presti
,
Kendrick Perkins
TEAMS:
Oklahoma City Thunder
,
Utah Jazz
,
Houston Rockets
,
New York Knicks
OKLAHOMA CITY If you were waiting, hoping and anticipating Oklahoma City would make a last-minute deadline deal that would put it a step closer to a parade down the streets of the city, well, it didn't happen. Yes, the Thunder are still a championship contender, but are they better than they were 24 hours ago? Also a yes. The Thunder are in need of a third scorer behind Kevin Durant and Russell Westbrook. They also could use a bit more offense from the center position, but talks of Jermaine O'Neal from Phoenix or Al Jefferson from Utah ended up being just talk. The Thunder didn't pick up that extra scoring threat either. Instead the Thunder received a trade exception from Portland for Eric Maynor and acquired Ronnie Brewer from the New York Knicks for a 2014 second-round pick. Neither move makes you think Oklahoma City is doing any early ring-sizing, but while Maynor was doing nothing on the bench, the Thunder improved by slightly upgrading with Brewer and giving away very little in return. Meanwhile, they got a bit of financial relief for Maynor, a player they were likely to lose after this season, due to free agency. This certainly doesn't suggest Brewer is the piece the Thunder have been missing. But he is proven, considered a good perimeter defender who provides pretty much what DeAndre Liggins does, but with more scoring a with a veteran's track record. Brewer is a career 48 percent shooter in the playoffs and the 6-foot-7 swingman has started 301 games, averaging 8.4 points per game in the regular season. He's played in 34 games this season for the Knicks, shooting 36 percent and playing 15.5 minutes per game. The move pretty makes Liggins an afterthought and sends him back to the bench and possibly back to the D-League team in Tulsa. While this isn't the kind of move that shifts the balance toward Oklahoma City over Miami, but it doesn't exactly hurt, either. Expect Brewer to see more time than Reggie Jackson, as Brewer does have extensive playoff experience, playing most-notably with the Jazz for three seasons and the Bulls the past two. The Thunder still have just two point guards on the roster Westbrook and Jackson so making another move isn't out of the question, but the Thunder didn't stand still Thursday. They made a move to improve defensively. The Thunder are 16th in the league in points allowed at 97.7 per game, including giving up 46 points to James Harden Wednesday night in Houston. They need to do something about limiting perimeter scoring. General manager Sam Presti hasn't whiffed yet. He's the guy who drafted Harden and Westbrook. He's the guy who brought Maynor to the team and also Kendrick Perkins. Until one of his moves is proven to be a flop, Presti deserves the benefit of the doubt. Oklahoma City improved on Thursday. Even if it's just slightly. Three Thoughts 1 There's no other way to look at it, but the loss to Houston on Wednesday has to be considered a bad one. Not only did the Thunder lead by 14 points with less than eight minutes to go, it was a loss to Harden, giving life to all those who think Oklahoma City can't win without him. Meanwhile, the Thunder turned it over 22 times and their best asset the duo of Durant and Westbrook was single-handedly beaten by Harden, who outscored the two. It's just a single loss to Houston. Remember, the Thunder had already beat Harden and the Rockets twice this season. That's it for the season series with these two, but they could meet up in the first round of the playoffs as either a 1-8 or 2-7 situation. Would love to see what Harden does against the Thunder in the playoffs. It would definitely be a fun series. 2 The Thunder have been very good at home, but it's starting to look like they are just average on the road. The loss Wednesday to Houston drops Oklahoma City to 16-11 away from home this season. The bad news is, that record could worsen in the very, near future. The Thunder's next three road games are at Denver, at the Clippers and at the Knicks. A 2-1 trip through those three would have to be considered good. An 0-3 sweep would tend to make me finally concede this team isn't as good as last year. Yes, the Thunder were able to make the NBA Finals, despite not having home-court advantage a season ago, but do you really want to see this team with a Game 7 at San Antonio or at the Clippers? Home-court advantage seems close to necessary if the Thunder are going to make a return trip the Finals. 3 The Thunder received about everything they could have out of Maynor. The one-time back-up I say "one time" because Maynor hasn't even played in 17 of Oklahoma City's past 27 games is gone to Portland for a trade exception. What people like most about Maynor is the idea of Maynor. He played well two seasons ago in the playoffs backing up Westbrook, but remember, he was out of the rotation for a reason. Maynor lost his spot to Jackson about 25 games into the season. Who knows if Maynor is fully recovered from the ACL injury which caused him to miss nearly all of last season. While Oklahoma City was hoping to land a first-round draft pick for Maynor, his value was pretty much limited considering the Thunder rarely played him. Maynor was not in OKC's rotation, essentially making his trade stock really low. And before anyone gets sentimental about Maynor, realize he was likely gone after this season anyway as a restricted free agent. Quotable (Tweetable) "I want to thank the Oklahoma City Thunder for everything the last 3 years......appreciate all the love n support from the fans as well......" Maynor (EMaynor3) on Twitter after it was announced he was traded Portland on Wednesday. Numbers Game 46: Number of playoff games Brewer has played in 18.4: Average number of minutes by Brewer in the playoffs 23: Number of playoff games Maynor has played in 12.9: Average number of minutes by Maynor in the playoffs 31.3: Percent Maynor is shooting this season 49.3: Career shooting percentage for Brewer Up next The Thunder get their first home game after the All-Star Break on Friday vs. Minnesota and are at home Sunday against the Bulls and then Wednesday against the Hornets. The Thunder's next road game is Friday, March 1 at Denver. This should be a good week to get newcomer Brewer into the mix and a good chance for the Thunder to go 3-0 and get healthy at home. Tower of Power Not going to lie, the loss at Houston feels like a gut punch. It also means three losses in a row for the first time this season. It doesn't diminish the fact the team is still among the NBA's elite, but it does show there are some weaknesses on this team. Follow Andrew Gilman on Twitter @theandrewgilman
Original Story:
http://www.foxsportssouthwest.com/02/...
THE BACKYARD
BEST OF MAXIM
RELATED ARTICLES
After being taken 12th overall by the Seattle SuperSonics in 2004, the promising career of Robert Swift didn't pan out in the NBA. He played sparingly in parts of four seasons with the franchise before bailing on an NBDL assignment with the Bakersfield Jam in 2009. He then spent one year with the Tokyo Apache in Japan before finally brushing his professional basketball exploits...
OKLAHOMA CITY When is Ronnie Brewer supposed to get here, anyway? It's kind of hard to wrap your mind around the fact there may not be a more-pressing question for this Oklahoma City team. But maybe that's where we are as March approaches and the Thunder defense becomes more invisible than the lenses in Russell Westbrook's glasses. Because if Oklahoma City can'...
The great city of Seattle misses its Supersonics. Seattle, and the state of Washington itself is a great location for basketball. Everyone knows the stereotype that Seattle rains every day non stop. While this is not true, on winter days when the temperature is 40 degrees with hard rain coming down, no one wants to be outside. And if you're an athlete and you want to be playing...
The Oklahoma City Thunder have traded Eric Maynor to the Trail Blazers in return for a trade exception.  Returning this season from an ACL injury, Maynor fell out of the Thunder's rotation early in the season (averages 2.7 points), replaced by Reggie Jackson. According to ESPN: The Oklahoma City Thunder have traded backup point guard Eric Maynor to the Portland Trail Blazers...
OKLAHOMA CITY (AP) -- The Oklahoma City Thunder unloaded free-agent-to-be Eric Maynor in a trade deadline deal with Portland on Thursday, picking up a trade exception and the rights to Greek forward Georgios Printezis. Maynor had been a reliable backup for All-Star point guard Russell Westbrook over his first two seasons in Oklahoma City, ranking among the top 10 in the league in...
Oklahoma City Thunder point guard and NBA fashion maven, Russell Westbrook, is featured in "The Next Gen Issue" of VMAN magazine. Westbrook has quickly gained recognition for pushing boundaries as it relates to his off-court fashion sense. He broke out stylistically during last season's NBA Playoffs and Finals. His wild wardrobe drew national attention, especially those now infamous...
OKLAHOMA CITY (AP) -- With All-Stars Russell Westbrook and Kevin Durant leading the way, the Oklahoma City Thunder can outscore any team in the NBA on any given night. That still isn't good enough for a team with the highest of aspirations. Westbrook scored a season-high 37 points, Durant added 27 and Oklahoma City snapped a three-game losing streak Friday night with a 127...
NEW YORK (AP) -- The New York Knicks traded swingman Ronnie Brewer to the Oklahoma City Thunder on Thursday, opening up a roster spot that will be used to sign veteran forward Kenyon Martin. Team president Glen Grunwald said Martin will be signed to a 10-day contract with the hopes that he could remain for the remainder of the season. Grunwald said Martin will be insurance for...
Sources tell me the #Knicks are shopping Ronnie Brewer. Not sure for who. J. O'Neal (via trade) & L. Amundson (via pickup) are also targets. — Jared Zwerling (@JaredZwerling) February 20, 2013   Are the Knicks sending out feelers on some of their players? It is clear the Knicks are in need of some front-court help. I am interested to find out what it would cost the Knicks...
A ton of deals are pouring in. Here's one regarding the New York Knicks. According to Darnell Mayberry of The Oklahoman, the Knicks have traded Ronnie Brewer to the Oklahoma City Thunder for a second-round pick. Thunder sending Knicks a future second-round pick for Brewer. — Darnell Mayberry (@DarnellMayberry) February 21, 2013 The Thunder were fairly active in also send their...
For weeks, rumors have swirled as to whether or not the Knicks would ship Iman Shumpert to a team like the Suns in exchange for perhaps a more versatile contributor in Jared Dudley.As fate would have it, when push came to shove, New York actually ended up putting more eggs in the Shumpert basket as the NBA trade deadline came to pass.According to reports, the Knicks have sent former...
Ronnie Brewer being dealt to the Oklahoma City Thunder was not the only change going on in New York at Thursday's NBA Trade Deadline. The Knicks used their time wisely in signing veteran forward Kenyon Martin to a 10-day contract and the deal is expected to be completed by early next week. New York has been in need of big man help and talk of Martin joining the Knicks has been...
NBA News

Delivered to your inbox

You'll also receive Yardbarker's daily Top 10, featuring the best sports stories from around the web. Customize your newsletter to get articles on your favorite sports and teams. And the best part? It's free!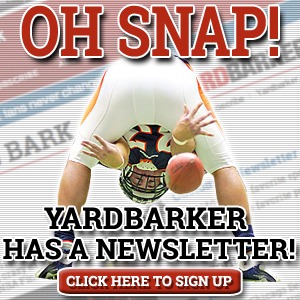 Latest Rumors
The Backyard

Today's Best Stuff

For Bloggers

Join the Yardbarker Network for more promotion, traffic, and money.

Company Info

Help

What is Yardbarker?

Yardbarker is the largest network of sports blogs and pro athlete blogs on the web. This site is the hub of the Yardbarker Network, where our editors and algorithms curate the best sports content from our network and beyond.