Found March 05, 2012 on NorthWest Sports Beat:
PLAYERS:
Greg Oden
,
Brandon Roy
,
LaMarcus Aldridge
,
Steve Nash
,
Andrew Bynum
,
Kevin Love
,
Martell Webster
,
Marcus Camby
,
Gerald Wallace
,
Jamal Crawford
,
Steve Blake
,
Luke Ridnour
,
Nate McMillan
,
Raymond Felton
,
Nicolas Batum
TEAMS:
Portland Trail Blazers
,
Phoenix Suns
,
Los Angeles Lakers
,
Denver Nuggets
,
Miami Heat
,
Minnesota Timberwolves
,
Boston Celtics
,
Washington Wizards
,
San Antonio Spurs
,
New Orleans Pelicans
Blazers All Access
The Portland Trail Blazers are in a funk and it's anyone's guess as to how to get out of it.
Finger pointing, trade rumors, dissension amongst the players, coaching staff and management.  What started out as a promising season, despite the losses of Greg Oden and Brandon Roy, has turned ugly.
All Star Weekend
Not even the acknowledgment of LaMarcus Aldridge to the NBA All-Star Game last weekend brought positive results to the sputtering squad, who is on the outside looking in on the playoffs, if they were to start today.
Other than Steve Nash and an injured Andrew Bynum,  Aldridge played the least amount of any one of the twenty four players who took to the court in Orlando last Sunday.
Sure he was a first time All-Star, but considering the numbers that LA has posted the last two seasons, one would think that he could have, or should have managed more than two buckets, one rebound and one assist.
One might also think that the eight days the team had off between their forty point "victory" over the San Antonio Spurs farm team, would have had everyone rested and refocused for the second half of the season.
Nuggets + Heat Matchups
Obviously Aldridge wanted to prove that he was deserving of more than just being an ASG bench filler, as he posted two back to back 20+ point games.
Unfortunately for Blazers fans, both of those games came in losses to the playoff bound Denver Nuggets and Miami Heat.
T-Wolves
While the Heat game was somewhat understandable, the loss to the Nuggets and a loss to the Timberwolves, the Blazers third of the week, really stung, as both of those teams sit just above the Blazers for the 8th seed in the Western Division playoff race.
Did I mention that Kevin Love worked Aldridge to the tune of 42 points and 10 rebounds?
Even worse was having Seattle native and former Blazer,  Martell Webster post his best game of the season with 21 points and 8 rebounds.
So where do the Blazers go from here?
With the trade deadline ten days away, the information super highway is rabid with trade rumors as to how to solve Portland's woes.  Save for Aldridge, nobody on the Blazers roster appears to be safe from what could be a huge fire sale.
From Marcus Camby, to Gerald Wallace to Ray Felton, even Jamal Crawford, the hometown guard brought home is rumored to be heading out of town.
While none of the above have outright asked for a trade, you have to think that Felton would be willing to have a fresh start after losing his starting role to Crawford and Crawford, who signed a two year deal (2nd year option) had bigger hopes for success in his return home.
State Of The Trail Blazers Match 5th Edition
Internet rumors have Felton going to the LA Lakers for Steve Blake and/or Crawford moving to the LA Clippers or Minnesota Timberwolves (for Blaine, Washington native, Luke Ridnour)
With six games before the trade deadline and their season of misfortune (seven losses in their last ten and twelve of their last twenty), it seems more than likely that the Blazers will be active in player movement, especially if they hope to salvage any playoff hopes.
Fortunately for the Blazers, their four game schedule this week brings opportunity for happier times as they host the struggling New Orleans Hornets (tonight), have a rematch in Minnesota against the Timberwolves (Wednesday), visit the Boston Celtics on Friday and cap off the week with a potential "W" against the Washington Wizards (Saturday).
If Nate McMillan's squad can pull out three or even four victories this week, it might just save someones job!
SCORING LEADERS:
LaMarcus Aldridge:  35 games, 767 points, 21.9 ppg
Jamal Crawford: 37 games, 546 games, 14.7 ppg
REBOUNDING LEADERS:
Marcus Camby:  34 games, 309 rebounds, 9.1 rpg
LaMarcus Aldridge:  35 games, 287 rebounds, 8.2 rpg
ASSIST LEADERS:
Raymond Felton: 36 games, 219 assists, 6.1 apg
Jamal Crawford:  37 games, 146 assists, 3.9 apg
Injured List:
Portland Trail Blazers
Greg Oden
out for season - Knee – 2/21/12
Oden was undergoing a minor procedure on February 20th to clean out debris in his left knee, when the surgeon determined that there was additional damage and he had to undergo microfracture surgery.
This has been Oden's fourth knee surgery in his career and has been officially shut down for the remainder of the season.
IN THE COMMUNITY:
NBA Fit Spring Break Hoops Camp
March 26 – 28
PCC-Sylvania
$275
About Hoops Camps
Trail Blazers Hoops Camps are designed to coach children of all skill levels, ages 7-13, the fundamentals of life through the game of basketball such as – hard work, self esteem, teamwork, self discipline, education and respecting peers and adults.
Contact Us – Questions? Please contact Ian Jaquiss at 503-797-9747 or email at: ian.jaquiss@trailblazers.com.
CLICK HERE CHECK OUT OUR TRAIL BLAZERS BLOG AT THE NWSB!
© Steve Lee for North West Sports Beat, 2012. | Permalink | No comment |
Follow NWSB on Twitter or join US on Facebook for real-time updates OR... | Share This on Twitter | Share NWSportsBeat.com on Facebook
Post tags:
Analysis
,
Blazers basketball blog
,
Brandon Roy
,
Gerald Wallace
,
Gossip
,
Greg Oden
,
Headlines
,
injuries
,
Injury Report
,
Jamal Crawford
,
LaMarcus Aldridge
,
Luke Ridnour
,
Marcus Camby
,
matchups
,
Minnesota Timberwolves
,
Nate McMillan
,
NBA All Star Game
,
NBA Blogs
,
NBA News
,
New Orleans Hornets
,
Nicolas Batum
,
Portland Trail Blazers
,
Portland Trailblazers
,
Ray Felton
,
Results
,
schedule
,
scoring leaders
,
Stats
,
Steve Blake
,
Steve Nash
,
trail blazers blog
,
Wesley Matthews
Original Story:
http://www.nwsportsbeat.com/trailblaz...
THE BACKYARD
BEST OF MAXIM
RELATED ARTICLES
Top Blazers – Last 7 Days Without a single win to show for Rip City this week, it's much harder to confer any sort of award for the past week's most valuable Portland TrailBlazers. It wasn't an issue of poor performance by individual players, but the poor performance by the team (no wins, three losses) that left quite the sour taste in all of the Blazer faithful. As it...
Nicolas Batum scored 19 points and the Portland Trail Blazers snapped a three-game losing streak with an 86-74 victory over the New Orleans Hornets on Monday night. LaMarcus Aldridge, who had just two points and three rebounds in the first half, finished with 10 points and 11 boards for Portland, which led by as many as 26 points and got a morale-boosting victory before heading...
Bounce Back Win at Home The Portland Trail Blazers took care of business last night against one of the worst teams in the NBA. Portland jumped on New Orleans early and coasted to an 86-74 win. The Blazers are back at .500 on the season. BOXSCORE | My POST GAME NOTES Portland Trailblazers 86, New Orleans 74 When: 10:00 PM ET, Monday, March 5, 2012 Where: Rose Garden, Portland,...
Blazers Drop Below .500 It seemed like the perfect game for Portland to get back on track. The Rose Garden has long been a very tough place to play for NBA visitors, and the Portland Trail Blazers had a 16 game winning streak against Minnesota. BOXSCORE | My POST GAME NOTES Minnesota 122, Portland Trailblazers 110 When: 10:00 PM ET, Saturday, March 3, 2012 Where: Rose Garden,...
NBA Matchup Insight The Trail Blazers have lost 3 straight and have fallen out of the top 8 in the Western Conference, but they have a great chance to get back in the W column facing a Hornets' team that has major offensive issues and has the worst record in the West. CLICK HERE TO CHECK OUT THE BLAZERS BLOG IN OUR CLUBHOUSE TODAY AT NWSB! New Orleans Hornets (9-28) at Portland...
After the January 25th deadline to extend player contracts passed, Blazers wing Nicolas Batum found himself lacking a shiny new deal. Over the past few seasons, the Trail Blazers front office has said that Batum is a big part of the future of this franchise. Yet their actions regarding a new deal shed some doubt on both their confidence in Batum, as well as his true "value&quot...
Like a lot of us, I watched the Miami Heat conduct a clinic on NBA basketball using the Blazers as guinea pigs. The only thing missing from what amounted to an execution was a cigarette and a blindfold. And Chris Bosh wasn't even in town. The Blazers aren't the only team to be surgically disassembled by the Heat. It's just that I can't shake the feeling that Portland's...
We hear all the time in sports that the athlete has an obligation to the city in which he plays for, and we as fans believe this and maybe put too much blame on the players. Now, I am not saying that players should not be held accountable for their play, but maybe those players are actually playing their best. The Portland Trail Blazers have been a decent team for quite some time...
Sixth in a series of installments documenting my failed political ambitions, my warped sensibilities, and my Portland Trail Blazers. 1. The Trail Blazers' road trip started on the wrong foot, with two close losses to two Texas teams. Thankfully, though, there was the Oregon Sports News post-holiday party to look forward to that Saturday night. I had planned on taking full advantage...
Is there anything more emasculating than having a dude rub his balls on your face on the basketball court? That is what happened when "The Vanilla Gorilla" Joel Przybilla stood over Ricky Rubio in the Timberwolves' win over the Trailblazers on Saturday.
NBA News

Delivered to your inbox

You'll also receive Yardbarker's daily Top 10, featuring the best sports stories from around the web. Customize your newsletter to get articles on your favorite sports and teams. And the best part? It's free!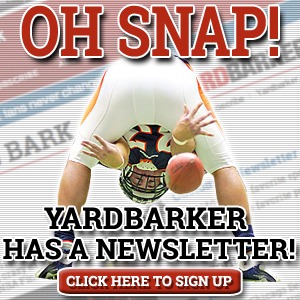 Latest Rumors
Best of Yardbarker

Today's Best Stuff

For Bloggers

Join the Yardbarker Network for more promotion, traffic, and money.

Company Info

Help

What is Yardbarker?

Yardbarker is the largest network of sports blogs and pro athlete blogs on the web. This site is the hub of the Yardbarker Network, where our editors and algorithms curate the best sports content from our network and beyond.