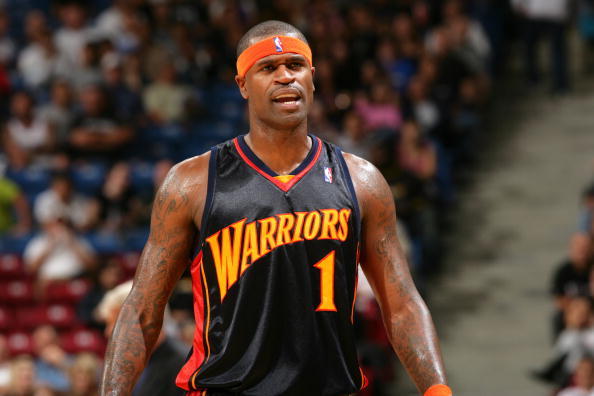 Golden State Warriors head coach Don Nelson, left, restrains Stephen Jackson, after Jackson had been whistled for a technical foul during the second quarter against the Milwaukee Bucks at Oracle Arena in Oakland, California, Wednesday, December 10, 2008, The Warriors defeated the Bucks, 119-96. (D. Ross Cameron/Oakland Tribune/MCT) Photo via Newscom Photo via Newscom
Getty Images
The Milwaukee Bucks haven't won a road game yet this season in eight tries, and things didn't go too well in their last home date either. After previously being undefeated in their first four chances at home, the Bucks lost in Milwaukee on Tuesday to the visiting Denver Nuggets 105-95. In that loss, Shooting Guard Stephen Jackson was required to sit on the bench during the entire second half. If you think you hear a ticking sound off in the Wisconsin distance though, you might be wrong about that. Or maybe the timer on your microwave is on still. While "Captain Jax" certainly does have a history of being a bit fiery in response to situations like that, he didn't quite explode as a result of this most recent one. In fact he took the Skiles benching it in stride kinda, at least with respect to what you might expect. He offered only the following after that game in reaction to the coaching decision, this according to the Journal Sentinel: Bucks coach Scott Skiles shook up his lineup i...
Read the rest of this story...
MORE FROM YARDBARKER
NBA News

Delivered to your inbox

You'll also receive Yardbarker's daily Top 10, featuring the best sports stories from around the web. Customize your newsletter to get articles on your favorite sports and teams. And the best part? It's free!