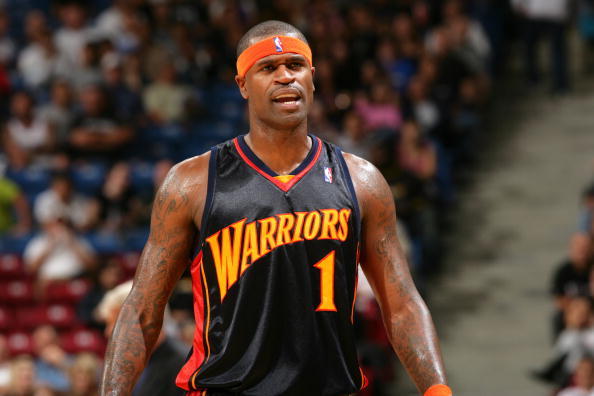 Golden State Warriors head coach Don Nelson, left, restrains Stephen Jackson, after Jackson had been whistled for a technical foul during the second quarter against the Milwaukee Bucks at Oracle Arena in Oakland, California, Wednesday, December 10, 2008, The Warriors defeated the Bucks, 119-96. (D. Ross Cameron/Oakland Tribune/MCT) Photo via Newscom Photo via Newscom
Getty Images
The Milwaukee Bucks are probably pretty glad they traded for Stephen Jackson.
First, he said he didn't want to come to Milwaukee. Now, he's making questionable gangster-ish rap under the name Stack Jack.
Hey, gotta have something to do other than smoke dope during the NBA lockout. The title of the song is "The Season" and there's a mixtape "What's A Lockout?" on the way.
Way to stay relevant, bro.
Posted: Oct. 2, 2011
Premise of Video: Flossin', counting money, talking about the streets, hangin' with the crew and other **** like that, while trying to be a decent rapper. Oh, and there's plenty of ESPN footage talking about the lockout spliced in.
Climax of Video: Uhhhh… probably the line "My pocket keeps bucks, like the same team I'm playin' for!" Hell yeah!
Conclusion: Hey, it's not the worse thing we've seen or heard from a basketball player — I'm looking at you Shaq. All in all, not an embarrassing effort, but Stack Jack needs to work on his lyrics. The production and beats are decent.
Filed under:
NBA
MORE FROM YARDBARKER:
Kevin Durant has...RUSSELL MANIA!
MORE FROM YARDBARKER
NBA News

Delivered to your inbox

You'll also receive Yardbarker's daily Top 10, featuring the best sports stories from around the web. Customize your newsletter to get articles on your favorite sports and teams. And the best part? It's free!