Found May 17, 2012 on Fox Sports West:
The moment Steve Blake's potential game-winning shot hit off the rim, various reactions ensued.Once the Lakers' 77-75 Game 2 loss Wednesday to the Oklahoma City Thunder became official, Kobe Bryant looked frustrated Metta World Peace didn't pass him the ball. Most other teammates walked off the court with a solemn expression. Andrew Bynum, for some reason, left with a smile on his face.But there was one particular reaction that struck Blake the most. It went beyond any disappointment for missing the final shot, lamenting the Lakers blowing a seven-point lead or assessing their chances of overcoming a 0-2 deficit. Various fans sent messages to the Twitter account of Kristen Blake, Steve's wife, filled with profanity-laced death threats toward the Lakers' guard and his family."It's pretty disappointing that there's a lot of hateful people out there," Blake said after the Lakers' practice Thursday at the team's facility in El Segundo. "You move on. I just don't appreciate it when it's toward my family. You can come at me all you want. But when you say things about my wife and my kids, it makes me upset."The messages were so overwhelming that Blake's wife indicated in a tweet that she blocked over 500 followers."I didn't see it," Blake said. "She told me about it. That's why I don't look at that crap. I just let it be."As for the Lakers, they're hardly sweating the missed final play. Coach Mike Brown said the original play involved Bryant cutting way from the ball on the flair screen, but correcting his initial assessment that Bryant was "wide open" by acknowedging he wasn't. Bryant, who acknowledged he wished he would've attempted the final shot, echoed Brown's support for World Peace's passing to Blake."Nobody else was open," World Peace said. "Steve was the only one open. Rather than turn it over, you throw to the open guy."Though Blake shot only 35.9 this season from the field, he became a key role player on the Lakers' bench this postseason, making critical shots in three of the Lakers' four victories in their first-round series against Denver. Blake nailed three consecutive three-pointers in Game 1, iced the game with a three-pointer in Game 4 and scored a playoff career-high 19 points in Game 7. Blake has only averaged 2.5 points on 16.7 shooting in 23 minutes through two games in the Lakers' Western Conference semifinals series against the Thunder. But both Brown, Bryant, World Peace and Bynum publicly supported Blake taking the final shot, an example of Blake classifying his teammates' reaction toward the missed shot as "very supportive.""Steve made a big shot in Denver and everyone praised him," World Peace said. "It would've been good to see him make that shot."Instead, Blake and his family had to deal with fan criticism that went beyond basketball."I would've been disappointed in the loss whether I took the shot or not," Blake said. "Of course I wanted to make it and do that for my teammates and my coaches. But it didn't happen. I'll make up for it in the next games to come."--Mark Medina
Original Story:
http://www.foxsportswest.com/05/17/12...
THE BACKYARD
BEST OF MAXIM
RELATED ARTICLES
As he sat at the podium, Coach Mike Brown's infectious smile and enthusiasm suddenly evaporated. It had nothing to do with the Lakers' 2-0 deficit to the Oklahoma City Thunder in the Western Conference semifinals. It had nothing to do with basketball. It had everything to do with fans issuing profantiy-laced death threats to the Twitter account of Lakers guard Steve Blake...
EL SEGUNDO, Calif. (AP) -- Lakers guard Steve Blake and his wife received multiple online threats after he missed a big shot late in Game 2 of Los Angeles' second-round playoff series with Oklahoma City. Blake has contacted the Lakers' security team about the threats, the backup point guard said Friday during shootaround for Game 3. Blake barely missed a potential go-ahead...
After Los Angeles Lakers guard Steve Blake missed a potential game-winning 3-pointer in the 77-75 loss to Oklahoma City on Wednesday, he and his wife received a number of threatening messages on Twitter, ESPNLosAngeles reported Thursday. Blake had been the hero after scoring 19 points in the Game 7 victory over Denver in the previous round, but he got the hate messages after missing...
Nothing is more exciting than the final two minutes of an NBA playoff game, especially when that game includes Kobe Bryant. But when Kobe doesn't take the final shot and some white guy named Steve Blake does, Twitter goes absolutely nuts. Sure, Blake taking a three in the 2nd quarter is no big deal. However, it's a HUGE deal when the Lakers are down 1-0 to OKC. Of course you...
ESPNLos Angeles Lakers guard Steve Blake was the unsung hero of his team's first-round series victory over the Denver Nuggets, scoring 19 points in Game 7. But he learned quickly how a town can turn on him after he missed a potential game-winning 3 in the Lakers' 77-75 loss to the Oklahoma City Thunder on Wednesday. After the game, both the Twitter feeds of Blake and his...
In the finals seconds of Game 2, Ron Artest found a wide open Steve Blake in the right corner for what would have been a game-winning 3-pointer.  Steve Blake missed it.  And, of course, the rational reaction to seeing that was to send him and his wife death threats on Twitter. "I hope your family gets murdered," read one tweet that Kristen Blake re-tweeted along with...
After Wednesday's loss to the OKC Thunder, in which Steve Blake missed a three-pointer in which would have won the game for the Lakers, there were threats being thrown all over twitter. Yes, Laker fans were so upset with the loss they were threatening death on Steve Blake and even his wife. It was so awful [...]
Steve Blake said he received hate messages on Twitter following the Lakers' loss to Oklahoma City on Wednesday.
Leading 2-0, the Oklahoma City Thunder are set to play the Lakers in Game 3 of the Western Conference semifinals tonight at the Staples Center in downtown Los Angeles. Disgustingly, thuggish fans of the purple and gold decided to bash, … Continue reading →
During his four-year tenure with the Lakers, Jordan Farmar was used sparingly. He never played more than 20 minutes per game and never averaged more than 10 points in a season. Since signing with the Nets, his minutes and production have increased a bit. Per usual, the Nets are sitting at home watching this year's playoffs. Farmar's former team is in trouble against the Thunder...
NBA News

Delivered to your inbox

You'll also receive Yardbarker's daily Top 10, featuring the best sports stories from around the web. Customize your newsletter to get articles on your favorite sports and teams. And the best part? It's free!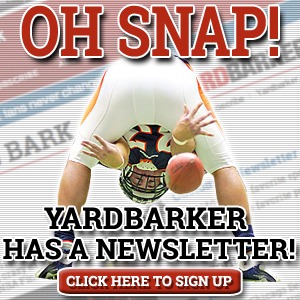 Latest Rumors
The Backyard

Today's Best Stuff

For Bloggers

Join the Yardbarker Network for more promotion, traffic, and money.

Company Info

Help

What is Yardbarker?

Yardbarker is the largest network of sports blogs and pro athlete blogs on the web. This site is the hub of the Yardbarker Network, where our editors and algorithms curate the best sports content from our network and beyond.