Found July 11, 2013 on NorthWest Sports Beat:
PLAYERS:
Steve Nash
,
Kobe Bryant
,
Dwight Howard
,
Shannon Brown
,
Channing Frye
,
Marcin Gortat
,
Pau Gasol
,
Charles Barkley
,
Karl Malone
,
Patrick Ewing
TEAMS:
Los Angeles Lakers
,
Houston Rockets
,
Phoenix Suns
To Good To Be True? Hearing word last summer that Steve Nash inked a contract to play for the L.A. Lakers was like a dream come true.  As a huge Nash fan and a diehard Laker follower since the Showtime Era, the combination was parallel to that of peanut butter and jam. Imagine, Kobe Bryant playing with his first real pass-first point guard (no offense Fish), and the lobs that Dwight Howard would finish — all care of BC's finest.  Add to that the bringing in of Mike D'Antoni and the system in which Nash flurished. Unfortunately, as followers know, such did not really pan out as planned.  Riddled by injuries and lack of chemistry, the Lakers struggled to grab a playoff berth in the tough Western Conference.  While Nash has only played two full seasons in his 17-year career, he has been good for at least 72-78 games per season. The other component, team chemistry, has been a staple for Nash-led teams since he entered the league in 1996 — even the less talented Phoenix Suns teams of the last few years. Looking at Nash's stat line last year of 50 games (12.7 PTS, 6.7 AST), it was not quite what Lakers fans or Nash expected when he donned his purple and gold No. 10 jersey.  ONLY 6.7 ASSISTS?!?!?!  We are talking about a man who is within 100 assists of third all time in NBA history….EVER! Yes, D12 is now in Houston, and the timeline for Bryant to return from season-ending injury is anywhere between the start of the season and the All-Star game; but there are still optimistic fans (me) who think that the Lakers have a chance to at least compete for a playoff seed in 2014 (or they can completely tank and go for Andrew Wiggins or Jabari Parker, but that is a different story). First off, the Lakers and D'Antoni have to figure out what offense they are going to run. Yes, Nash has had previous success in Mr. Pringles' system, but that was with less mileage on soon-to-be 40-year-old legs. Nash has been known around the league for his high level of fitness and conditioning. Combine that with his court vision and passing ability, and maybe the Lakers' offense could see a little more run and gun…..periodically. Will Nash have the ball in his hands more with Kobe on the IL? For sure, and that should result in a more flowing offensive attack. If you look back at what Nash had to work with in Phoenix during his last couple of years  (Jared Dudley, Shannon Brown, Grant Hill, Channing Frye, Marcin Gortat), the Lakers' current roster isn't that far off (or so I keep telling myself). In 2010-11, the Suns finished 40-42 with that roster!  Last year, regardless of Nash's pedigree, Bryant dominated the ball (surprise?!?!) making Nash less of a point guard and more of a forgotten spot up shooter.  Steve Nash didn't experience the euphoria he thought he would with the Lakers during the 2012-13 season. This year, look for Nash to get back to the style of play that made him so desirable for the Lakers last summer. Last year, expectations of unworldly pick and rolls (read: lobs and dunks) between Nash and Howard never really materialized.  This year, look for Nash to team up with Pau Gasol, who may not finish with the same flash and athleticism as Howard, but will be more effective with his ability to either roll to the hoop or step out for the mid-range jumper. As one of the few 50/40/90 shooters in league history (there are six members in this exclusive club….Nash being a four-timer!), Steve will need to step up and look to fill some of the scoring void left by Howard and Bryant. Even when Kobe does return, he may not be as prolific as in previous years (though that may not stop him from jacking shots anyways). When all is said and done, fans are pulling for Nash to have a successful season; one that statistically would see him average between 13 and 15 points, 8 to 9 assists and play in 70-75 games. Ideally within his last two years, he'd have an opportunity to capture a championship ring; however, by the looks of the Lakers' current roster situation, he may end up joining Charles Barkley, Karl Malone, John Stockton and Patrick Ewing as NBA greats that fell short of planting the flag atop the mountain. CLICK HERE TO READ MORE POSTS IN OUR COFFEE SHOP BLOG! (For NW Sports Fans!)
Original Story:
http://www.nwsportsbeat.com/coffee-sh...
THE BACKYARD
BEST OF MAXIM
RELATED ARTICLES
Steve Nash met with the media yesterday after that Dwight Howard sales pitch that didn't quite do the trick. And some of his quotes are pretty telling: "Ultimately, I think Dwight wasn't comfortable here and didn't want to be here and I think if he didn't want to be here, there's no point for anyone in him being here." "I think it kind of basically goes with what...
OVERDOING IT?
Steve Nash recently held a charity soccer game that involved several well-known athletes, including fellow NBA star Joakim Noah of the Chicago Bulls. Noah wound up scoring the game's winning goal in the closing minutes, prompting him to celebrate like he just won the NBA Championship. Typical Joakim. [Barstool] Article found on: Next Impulse Sports
The Lakers season was a 'disaster', according to point guard Steve Nash, and that was before the Dwight Howard free-agency saga. Nash, speaking on the radio on Tuesday, said he felt Howard never wanted to be a Laker. "Ultimately, I think Dwight wasn't comfortable here and didn't want to be here and I think if he didn't want to be here, there's no point...
Los Angeles Lakers guard Steve Nash doesn't believe Dwight Howard ever wanted to join the franchise and didn't expect the covered center to re-sign as a free agent. "Ultimately, I think Dwight wasn't comfortable here and didn't want to be here and I think if he didn't want to be here, there's no point for anyone in him being here," Nash told ESPN...
Last month was Steve Nash's charity soccer game in New York City and well, Chicago Bulls center Joakim Noah scored the game-winning goal. As you might figure, Joakim decided to celebrate his accomplishment: *** Joakim Noah scores goal in Steve Nash charity soccer game [The Basketball Jones]
While Joakim Noah is best known as the center for the Chicago Bulls, it appears he has some moves out on the pitch as well. Noah played in a celebrity soccer match hosted by Steve Nash last month in New York City, and he stole the show with a late goal for Team USA. The goal came after he received the ball off of a throw-in, and then proceeded to make a move through traffic and kick...
Shaquille O'Neal, whose  NBA career ended at the age of 39 because of a torn Achilles, thinks his former Los Angeles Lakers teammate Kobe Bryant, who is still recovering from Achilles surgery in April, can play at a high-level until he is 40-years-old. "Kobe's a tough competitor," O'Neal 
Steve Nash feels that the newly acquired Houston Rocket Dwight Howard never really wanted to play in Los Angeles. Nash was on "The Mason and Ireland Show" on ESPN Radio yesterday sharing his thoughts the whole Howard fiasco. On the radio show Nash said, "Ultimately, I think Dwight wasn't comfortable here and didn't want to be here and I think if he didn't want to be here...
The Los Angeles Lakers waived forward Metta World Peace on Thursday under the NBA's amnesty provision. "Its tough to say goodbye to a player such as Metta, who has been a significant part of our team the past four 
The Lakers greeted Dwight Howard with open arms last August, but the emotional big man never felt those arms close around him. In a candid radio interview, one of Howard's former teammate outlined what he saw as some of the problems during the former NBA Defensive Player of the Year's one and only season in Los Angeles. Steve Nash, speaking on ESPN LA 710 on Tuesday, said he...
According to Ramona Shelburne and Marc Stein of ESPN, another reason Dwight Howard opted not to re-sign with the Lakers is the confusion regarding when Kobe would "pass the torch" to him, which seemed further and further away after Kobe said he hoped to play 2-3 more seasons. The Lakers, almost from the moment Howard arrived in August 2012, had gone to great lengths to assure...
NBA News

Delivered to your inbox

You'll also receive Yardbarker's daily Top 10, featuring the best sports stories from around the web. Customize your newsletter to get articles on your favorite sports and teams. And the best part? It's free!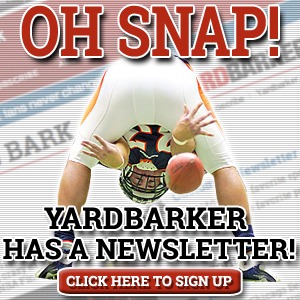 Latest Rumors
Best of Yardbarker

Today's Best Stuff

For Bloggers

Join the Yardbarker Network for more promotion, traffic, and money.

Company Info

Help

What is Yardbarker?

Yardbarker is the largest network of sports blogs and pro athlete blogs on the web. This site is the hub of the Yardbarker Network, where our editors and algorithms curate the best sports content from our network and beyond.