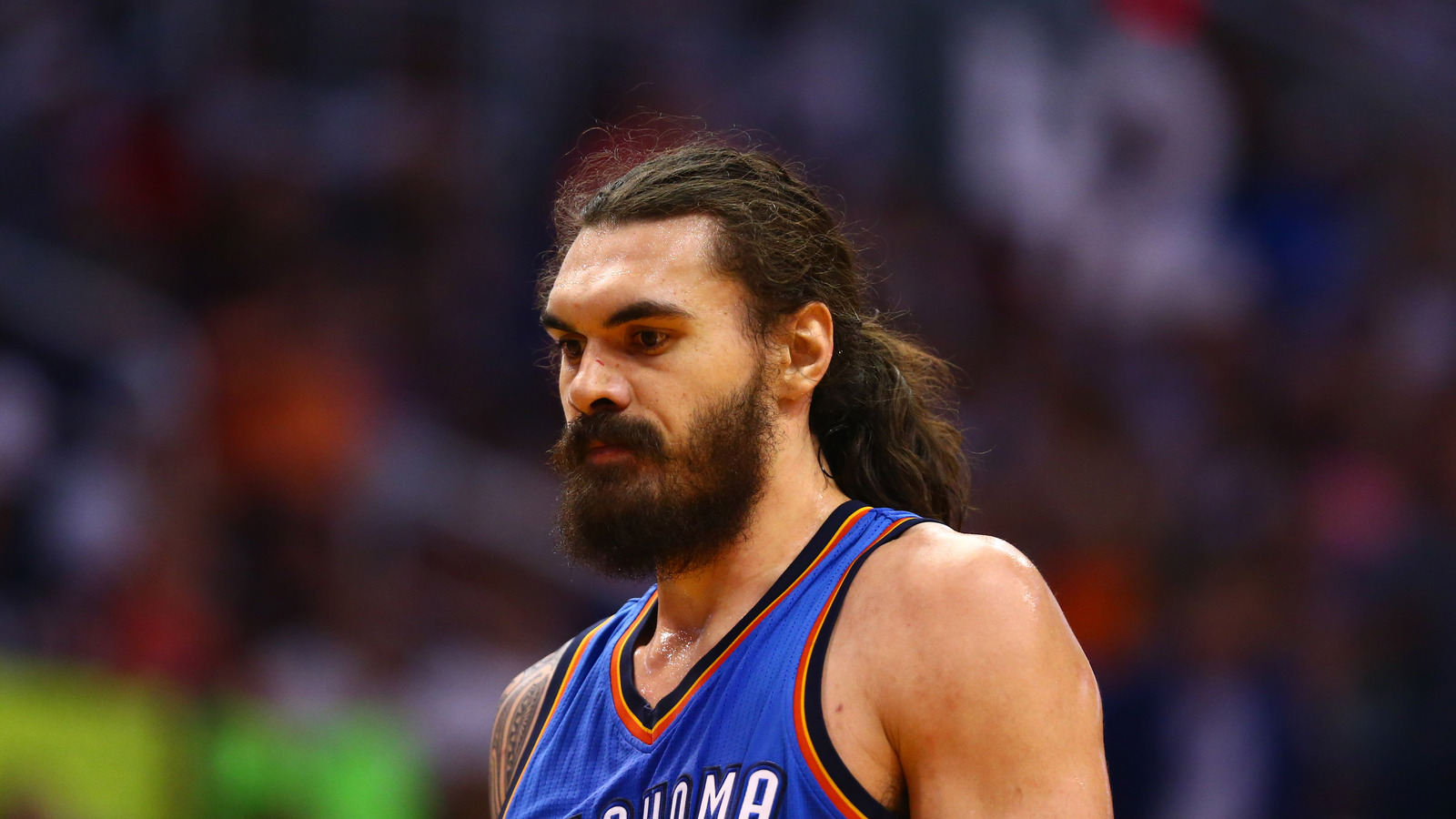 Thunder center Steven Adams didn't have anything good to say about the play of the team's big men.
Mark J. Rebilas-USA TODAY Sports
If the Oklahoma City Thunder don't clean things up in a hurry, the Houston Rockets are going to make very quick work of them in the Western Conference quarterfinals. According to starting center Steven Adams, the improvement needs to start with him.
Following his team's 118-87 loss, Adams put the blame on Oklahoma City's front court and singled himself out.
"The turning point was not an exact moment, but offensive rebounds and second-chance points was what really killed us," Adams said, per ESPN's Ramona Shelburne. "The bigs, especially me, played trash on the reads, and the pick-and-rolls were absolute garbage. We have to get back to the drawing board."
The Thunder out-rebounded opponents during the season, but Houston beat them 56-41 in that category on Sunday. The Rockets also outscored OKC 62-38 in the paint and an eye-popping 31-4 in second-chance points.
Thunder guard Victor Oladipo said the entire team needs to do a better job on the glass — not just the bigs.
"They just did a great job getting offensive rebounds," he said. "We have to do a better job as guards to rebound collectively as a team. It's not just on the bigs, it's on everybody to rebound."
The Rockets are a tremendous outside shooting team, so the Thunder tried to close out and make them beat them inside. James Harden had no problem with that, finishing with a game-high 37 points despite hitting just 3 of 11 three-pointers. Russell Westbrook, who many believe will win the NBA MVP Award over Harden, scored 22 points and grabbed 11 rebounds, which was a lone bright spot for OKC in that department.
Based on Harden's criteria for being named MVP, he certainly got the best of Westbrook and the Thunder in Game 1. Adams is going to personally try to change that going forward.
MORE FROM YARDBARKER
Thunder News

Delivered to your inbox

You'll also receive Yardbarker's daily Top 10, featuring the best sports stories from around the web. Customize your newsletter to get articles on your favorite sports and teams. And the best part? It's free!