Found November 10, 2012 on Fox Sports Arizona:
PHOENIX If a recent trend survives, the Phoenix Suns' seasonal battle chant may require a palette revision. While not advocating the complete dismissal of the "All For Orange" marketing pitch, we do feel a need to mix in an "All For Brown" now and then. The Brown currently inspiring this potential amendment is Suns guard Shannon, who for the second game in succession helped rescue a struggling offense during a late-game salvo. In Friday's 107-105 triumph over the Cleveland Cavaliers at US Airways Center, Brown knocked in 12 points in the final quarter to finish with 22 and save a potentially crummy night. Joined by point guards Goran Dragic and Sebastian Telfair, Brown helped the Suns come all the way back from a 26-point, second-quarter abyss to even their record at 3-3. Back on Wednesday in Charlotte, Brown's 6-for-6, fourth-quarter blitz from 3-point range hauled Phoenix to a victory over the Bobcats. He ended the Carolina shift with 26 points, suggesting that for now, at least the Suns' committee on game closing may be a bit smaller. Phoenix coach Alvin Gentry doesn't seem to care where the production comes from, as long as it arrives in time. "At the end of last year, I thought he played as well as anyone on our team," Gentry said in an effort to remind us that Brown has had his moments. That's probably true. As a starting-lineup replacement for injured Grant Hill, Brown a former Los Angeles Lakers stunt double for Kobe Bryant averaged 18 points per game during a season-closing run. Unfortunately for Brown, this uprising did little to provoke great interest around the league (including Phoenix) in his free-agent status. The Suns were courting bigger shooting-guard fish, with Eric Gordon penciled in as Plan A. Based on the number of names associated with the Suns, Brown could be considered something close to Plan E. Hey, we're not here to pretend the Suns came out ahead in this two-guard shopping spree, but it could have been worse. So Brown's self-confidence and this current opportunity are conspiring to keep him on the floor when games are on the line. "I think you have to give him some leeway," Gentry said integrating Brown into the offensive flow, "because he can create things." Creativity certainly comes in handy when even with Dragic screeching through the lane the Suns are having difficulty generating offense. "We just have to do that in the first half," Brown, who has bagged 15 of 25 shots from the field in the first two back-to-back 20-point games of his career, said. "We definitely can't dig ourselves holes like this because we are definitely not going to be able to get out of all of them. Yep, starting games with more conviction would be nice. Before Friday's win, Dragic -- who made 9 of 16 shots and finished with a game-high 26 points said the Suns' adaptation to the Corner-series offense was starting to show. "It's not just the reads," he said in reference to understanding what the defense is giving and reacting accordingly. "The ball is moving a lot better now." Translation: more players have started trusting the offensive system to produce scoring opportunities after the ball is passed around a little bit. Any lessons learned while dropping 117 points on the Bobcats seemed to be lost during the opening stretches of the game with Cleveland. But after getting down 42-16 with 10:47 left in the second quarter, scrappy contributions from Telfair, Dragic and defensive end P.J. Tucker fueled a slow, steady comeback. "We just got a bunch of guys that don't want to lose," Brown said. It helps that the length of an NBA game provides plenty of time for redemption. "In this league you really have to play all 48 minutes," Gentry said. "I mean, we've been there where we're up 14 then all of a sudden we're down 16. My whole thing was don't have long faces. Everyone has to lift each other up and truly believe that we can do this." With a Saturday night date with the Utah Jazz in Salt Lake City, Brown may be required to offer even more uplifting muscle off the bench.
Original Story:
http://www.foxsportsarizona.com/11/10...
THE BACKYARD
BEST OF MAXIM
RELATED ARTICLES
OPENING TIP In Phoenix, everything has changed. Well, not the terrain. Its still always hot there, and they still grow cactuses. As for the basketball team, man, what a fresh start. The Suns now play an everyday style, methodically working the ball for the best open shot. They defend and scrap and possess very little pizzazz. Not that the Steve Nash teams were a bunch of running...
Trailing by 26 points after only 14-plus minutes, Shannon Brown and the Phoenix Suns weren't about to give up. Brown scored 12 of his 22 points in the fourth quarter and helped key a late 14-4 run as Phoenix rallied past the Cleveland Cavaliers 107-105 Friday night for the third-biggest comeback in franchise history. ''We just have a bunch of guys who don't want...
The score was 42-16, early second quarter. At that moment, I very well may have been the cockiest Cavaliers fan on the planet. Anderson Varejao was going to the All-Star game, I tweeted. Cleveland was obviously far superior to all things Phoenix, Arizona. The only thing the Suns had going for themselves was how they scripted that reversible logo at half-court. I was looking around...
Clearly, the folks who come up with the in-arena video entertainment for NBA games are some creative folks.Recently, the Phoenix Suns decided to have some of their players do a parody of Flo Rida's hit song, "Whistle".Clearly, Marcin Gortat steals the show....
PHOENIX -- Suns center Marcin Gortat called Friday's first quarter "probably the worst in my basketball career" and none of his Phoenix teammates were helping much. Two hours later, he was celebrating one of his most memorable NBA wins. Less than two minutes into the second quarter, the Suns were down 26 points and the young Cleveland Cavaliers were transforming...
PHOENIX (AP) -- Shannon Brown scored 12 of his 22 points in the fourth quarter and helped key a late 14-4 run as the Phoenix Suns rallied from a 26-point deficit to beat the Cleveland Cavaliers 107-105 Friday night. P.J. Tucker hit a 20-foot jumper from the left corner to give the Suns a 103-102 lead with 1:32 to go. After the teams traded misses, Marcin Gortat blocked Daniel Gibson...
NBA News

Delivered to your inbox

You'll also receive Yardbarker's daily Top 10, featuring the best sports stories from around the web. Customize your newsletter to get articles on your favorite sports and teams. And the best part? It's free!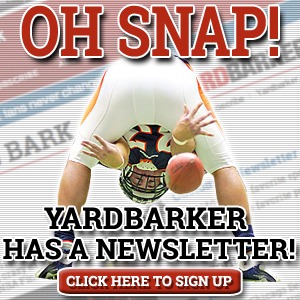 Latest Rumors
The Backyard

Today's Best Stuff

For Bloggers

Join the Yardbarker Network for more promotion, traffic, and money.

Company Info

Help

What is Yardbarker?

Yardbarker is the largest network of sports blogs and pro athlete blogs on the web. This site is the hub of the Yardbarker Network, where our editors and algorithms curate the best sports content from our network and beyond.