Found July 17, 2012 on Wizards Extreme:
It started off pretty shaky at the Verizon Center last night as Team USA just couldn't get it together. The men's basketball squad was down by 10 at the end of the first quarter and it appeared as if the team just could not get in sync.
Injuries to Dwight Howard, Blake Griffin and Chris Bosh have left the team with some gaping holes in the big-man department, but if this team is going to win the 2012 Summer Olympics as they are forecasted to do, now is the time to learn how to deal with only one true center in Tyson Chandler.
Thankfully, Team USA found some ways to come back from that deficit and actually outscored Brazil 20-5 in the second quarter. Thanks to a tremendous defensive effort from all players who often applied full-court pressure, the second quarter is the only thing that kept Team USA alive. In the second half, Team USA only outscored Brazil by a total of six points, so without the strong second quarter, this would have been quite an embarrassing and shocking night in the Phone Booth.
Back in his hometown area, Kevin Durant had a relatively quiet night with 11 points and three boards. But the most interesting part is that he had as many rebounds as Kevin Love and Tyson Chandler combined. Brazil's big men just simply outhustled Team USA in the post all night. Anderson Varejao, who heard the boo-birds all night from DC fans with a very unforgiving memory, had 13 boards. Washington Wizard Nene also proved to be difficult down low picking up six boards and eight points, himself.
The real star of the night goes to just who you would expect it to be. Lebron James led all scorers with 30 points and racking up six boards and four steals, as well. He really was able to carry this team through the game not only in his offensive efforts, but in his defensive intensity, too. When the team stepped up the pressure, Brazil buckled. They ended up with 26 turnovers which led to 28 Team USA points.
Chris Paul was the only other member of the team to go into double figures with ten points, but he showed some razzle dazzle in his play and gave the fans something to "ooh" and "aah" over with his no look passes and cross-ups on defenders.
However, Brazil had an answer for Chris Paul in Marcelo Huertas, who had 13 assists and 11 points when all was said and done. A player for Regal FC Barcelona in Spain, Marcelo had some glimpses you could only compare to Steve Nash in the way he handled and passed the ball. It's almost unbelievable that no team picked up on this guy when he entered the draft in 2005. In a game with much less flare than expected, Huertas had the most and-1-ish moments of the night.
While Team USA still has to be favored in the 2012 Summer Olympics in London, it became a little more evident that it's not going to be as easy of a ride as everyone thought it might be. This team has a ton of talent on the roster, but they have to get it all to mesh together if they're going to beat teams like Spain in the next few weeks.
They've got to get Kevin Love more active (as he only played just over five minutes tonight) to help out on the rebounding and they've got to focus more on the team play that was seen in the practices rather than the one-on-one situations that they often wanted to put themselves into tonight.
But for a sellout crowd of 20,390, the fans were given a taste of the excitement that is sure to come in just a few weeks in London, England. And for the players, they got a well-needed lesson on what to work on to be successful overseas.
Original Story:
http://www.wizardsextreme.com/2012-ar...
THE BACKYARD
BEST OF MAXIM
RELATED ARTICLES
Dwight Howard inability to decide on his future has resulted in the NBA's most tiresome story line over the past year. He has repeatedly said he wants out of Orlando, but then signed on for another year with the team, and yet he still reportedly wants out. The private messages he sent one person over Twitter indicate he's upset with the Magic organization. Responding to a question...
Screen capping is becoming a danger zone for unsuspecting professional athletes. First we had Amar'e Stoudemire calling a fan a derrogatory slur in a Twitter direct message that the fan revealed to the masses. Now we have a similar case, with Magic fan Markee Randolph (@MagicMarkee)  "leaking" a rant Dwight Howard sent him going off on the [...]
Ballertainment Apparently, Dwight Howard is cool enough with one of his Twitter followers that he sent a series of direct messages to the guy via his account. The information he shared offers us enough information to know that Howard is the misguided piece of work many have been thinking he is. Catch the tweets after you advance the ball. Who does this? Ok, more so, who STILL...
Dwight Howard is the most dominant force in the NBA at his position. I say that with all due respect to Andrew Bynum the 24 year old up and coming beast that is the current Laker center and arguably the second best center in the league. Bynum is no Howard. This should go without saying, but the proof is in the pudding to coin the old cliche'. You say, look at those post...
Monday morning, Jordan Schultz of The Huffington Post dropped a bit of a bombshell on Magic fans. In a time when some were hopeful/dreading Dwight Howard showing up to camp at Amway Center for the beginning of the season and convincing him into staying, that thought certainly ended. Sources close to Howard told Schultz that Howard is prepared to sit out the entire 2012-13 season...
I am SO SICK of the Dwight Howard saga. However, I understand what a benefit Howard would be to the Lakers if they were to get him. So with that caveat out of the way, I'll present you another update on the "Get Dwight to LA" campaign. Wednesday night, Real GM reported that Dwight is [...]
As the Dwightmare continues for both the Orlando Magic and their fans, a dream is how the Los Angeles Lakers and their fan base are seeing the whole situation. Rumors of where Dwight Howard may land have been circulating for over a year now but the latest reports have the superstar center possibly heading to the LA Lakers in a deal that would [...]
Much like all other Dwight Howard trade talk, take this with a grain of salt. According to Ric Bucher of ESPN, the Cleveland Cavaliers have emerged as the new favorite to be the team that facilitates Dwight Howard being traded to the Lakers. In the deal, the Cavaliers would get Andrew Bynum, the Lakers would get Dwight Howard, and the Magic would get Anderson Varejao and a slew of...
Nike has done it again. Rarely does the shoe giant miss getting a marquee athlete under contract. This time they signed the #1 overall pick, Anthony Davis, according to Darren Rovell. This really isn't shocking news. Most star athletes, especially basketball players, sign with Nike. Players such as Dwight Howard and Derrick Rose (who both [...]
Just a short time ago, the New York Knicks have reportedly declined their chance to match the Houston Rockets offer of 3 years, 25 million dollar deal for the Harvard grad. The Knicks decided to let Lin go and take their money somewhere else which shows that they believe the roster they have is good enough without him. As Lin rose to fame last season, his stock went up as teams...
The Houston Rockets should never go anywhere and gamble… EVER. Recently the Rockets tried to out smart their fellow NBA teams by offering some sneaky contracts to players. Their thoughts were to try and lock up these individuals so that the franchises couldn't be able to be major players in the 2013 free agency. This free agency will feature certain players like Chris Paul, Andrew...
NBA News

Delivered to your inbox

You'll also receive Yardbarker's daily Top 10, featuring the best sports stories from around the web. Customize your newsletter to get articles on your favorite sports and teams. And the best part? It's free!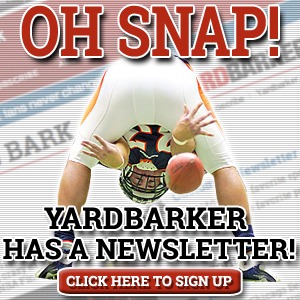 Latest Rumors
The Backyard

Today's Best Stuff

For Bloggers

Join the Yardbarker Network for more promotion, traffic, and money.

Company Info

Help

What is Yardbarker?

Yardbarker is the largest network of sports blogs and pro athlete blogs on the web. This site is the hub of the Yardbarker Network, where our editors and algorithms curate the best sports content from our network and beyond.