Found January 24, 2013 on Blog So Hard Sports:
Credit: Bob Youngentob CSN Washington   January has been a crazy month for the Washington Wizards' Bradley Beal and Jordan Crawford. In the first month of this year, both have hit game winners for the Wizards — Beal on January 7th vs. the Thunder and most recently Crawford on January 21st vs. the Blazers. So while these two have both contributed to Washington's January success, the question is can they co-exist on the same team playing similar roles? Or are they both counteracting each others development and impact they can have on the court? This is just a small 8 game sample size, but Bradley Beal seemed to really pick up his game up and put it all together when Jordan Crawford sat out a 4 game stretch recently due to an ankle injury: As you can see above, the large increase Beal's stats corresponds with the increase in court time he saw in Crawford's absence. In the four game Jordan sat out, Bradley played an average of 38.4 minutes per game. In the 4 game since Crawford has returned, that playing time has dropped to 28.7 minutes per game. Beal averaged 20.3 points, 3.5 rebounds, and 3.5 assists per game while Crawford sat out. During that stretch, he shot 50.1% from the floor (29/57) on 14.3 shots per game. Those numbers drop pretty dramatically when Crawford returned, as Brad averaged 12.5 points, 2.8 rebounds, and .8 assists per game. His shooting percentage dropped to 45.2% (19/42) and shots per game drop almost 4 to 10.5 per game. Clearly I am in the pro-Beal category as most Wizards fans are, but where does this leave Crawford? What are the options for the Wizards? I have come up with 4 options for this situation: do nothing, assign more concrete roles, try and play them together, or make a trade. Nothing: This results in more of the same, and unfortunately is the most likely to occur. Randy Wittman continues to ride the hot hand and Beal and Crawford's playing time continues to fluctuate game in and game out. We will keep seeing sparks of good games from both players followed by let downs due to the sporadic court time. Both players long term development will be hampered as well. Concrete Roles: Again, being in the pro-Beal camp, my scenario he would be to his benefit. Bradley Beal would get the starters minutes and would play 35+ a night. Jordan Crawford would be relegated to regular bench minutes, say 20-25 a night, where is would be used primarily as a scorer off the bench. This would also lend to the two sharing some court time, which leads to the next option (which would also take some rotation adjustments by Wittman). Play Them Together: There are many situations where going small would be to the Wizards advantage, case in point during last night's loss to the Jazz when they should have had a lineup consisting of Wall, Crawford, Beal, Ariza, and Nene/Okafor instead of putting two centers on the floor when scoring was needed. I am not saying Beal and Crawford together on the court at the same time would be automatically successful, but I think it is something this team could try to look at a little more, particularly in situations where small ball would be to their benefit. Trade: Trading Beal is out of the question. That only leave moving Crawford. Crawford has some decent trade value as a bench scorer that is still on his rookie deal. I am not saying the Wizards should move him just to move him, but if the right scenario came up that would bring Washington a player for their long-term future or a future asset, it should at least be considered. This would open up more playing time for Beal, as well as possibly help the team moving forward. I don't particularly want to see Crawford moved, but he is not the type of player that Bradley Beal is going to be. I think we know what kind of player Jordan is, and that is a valuable scorer off the bench and I believe he would be a very good asset on a better team than the Wizards. No matter what happens moving forward, I hope it is something. I believe the "doing nothing" option is the worst one for the time. I want to see growth out of Beal, and I don't want that growth being stunted by playing 35 minutes one night and 20 the next like it seems we have done with all of our young players the past 5 years.   Related posts: Bradley Beal Owns January Jordan Crawford Hits Game Winner, Steve Buckhantz Gets To Yell Dagger Still Waiting for the Bradley Beal Breakout
Original Story:
http://blogsohardsports.com/wizards-2...
THE BACKYARD
BEST OF MAXIM
RELATED ARTICLES
Washington Wizards fans can tell you that watching JaVale McGee on a nightly basis can be incredibly frustrating. The 25-year-old center has amazing potential, but he makes far too many bone-headed mistakes like this that cost his team. Now, he is a Denver Nugget. And from the sound of it, George Karl is already frustrated with his big man. "He's got to understand that lazy and...
Playoffs? We're talking about Playoffs?   It has been well documented that the Washington Wizards started the season for lack of a better word, poorly. The Wizards lost their first 12 games and through December were 4-24. But 2013 rolled in, and the Wizards appear to be a new team, one that may be able to score points and compete with the rest of the NBA night in and night out...
Wednesday Wizards Report   Happy Hump Day Wiz fans! So far on our current 5 game road trip the Wiz are 2-2 and end out the trip in Utah tonight as they take on the Jazz at 9:00pm eastern time.  Washington is 4-2 since John Wall returned to the line-up and 5-2 in our last seven. This Wizards team has a different swagger about them since Wall has returned and it is surely the most...
John Wall is back in the starting lineup for the Washington Wizards. Coach Randy Wittman said Wall would start for the first time this season Friday night against the Minnesota Timberwolves. Wall had been coming off the bench since making his season debut Jan. 12. He missed the first 33 games while recovering from a stress injury to his left knee cap. Wittman said Wall will continue...
The Washington Wizards have found some stability since John Wall returned from injury. Getting Ricky Rubio back hasn't had that effect for the injury-plagued Minnesota Timberwolves. Back from their western swing, Wall and the Wizards will try to extend their season-high home winning streak to four on Friday night when the Timberwolves try to get on track with the first of two...
WASHINGTON -- The Washington Wizards have been called many names this season. Following their latest victory, one moniker no longer applies: last place. John Wall had 14 points in his first start of the season and the Wizards moved out the NBA's basement with a 114-101 win over the Minnesota Timberwolves on Friday night. Jordan Crawford paced six double-figure scorers with...
John Wall had 14 points and five assists in his first start of the season, and the no-longer-last Washington Wizards finally hit double digits in wins Friday night with a 114-101 victory over the Minnesota Timberwolves. Wall, who came off the bench for the first seven games after his return from a knee injury, had assists on the Wizards' first two baskets in a game in which...
The Washington Wizards have found some stability since John Wall returned from injury. Getting Ricky Rubio back hasn't had that effect for the injury-plagued Minnesota Timberwolves. Back from their western swing, Wall and the Wizards will try to extend their season-high home winning streak to four on Friday night when the Timberwolves try to get on track with the first of two...
I held onto hope for Peter John Ramos for an unreasonably long time. Ernie Grunfeld selected Ramos 32nd overall in the 2004 NBA draft, his first as President of Basketball Operations with the Washington Wizards.  Grunfeld had a relatively solid draft history prior to assuming his role with the Wizards, but one of his more noteworthy accomplishments was selecting Michael Redd...
Although Damian Lillard didn't play at a high level division 1 school in college he is showing everyone that he still has game. Lillard is right in the middle of being the Rookie of the Year. He has started for Portland since day one. In a recent game against the Wizards Lillard had a monster dunk. Lillard beat his man off the dribble and then put Nene on a poster dunking on him...
Jazz 92, Wizards 88. Retransmitting. With AP Photos. By LYNN DeBRUIN AP Sports Writer Paul Millsap had 16 points and 15 rebounds to help the Utah Jazz hold off the Washington Wizards 92-88 on Wednesday night. The Jazz led by 22 points in the second quarter and 15 entering the fourth, but the road-weary Wizards fought back to within two on Kevin Seraphin's jumper with 6:57 left...
Yesterday we saw the winning side of a dramatic buzzer beater with this great Butler radio call of their last second victory over Gonzaga.  But what about the losing side?  Nothing brings AA more perverse delight than hearing a dejected buzzer beater call when an announcer's soul is crushed.  Check out this call from Blazers announcer Mike Barrett last night as the Wizards...
Wizards News

Delivered to your inbox

You'll also receive Yardbarker's daily Top 10, featuring the best sports stories from around the web. Customize your newsletter to get articles on your favorite sports and teams. And the best part? It's free!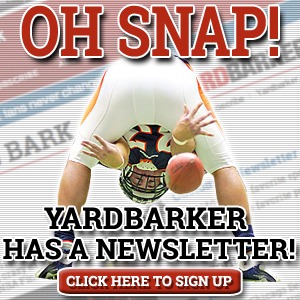 Latest Rumors
Best of Yardbarker

Today's Best Stuff

For Bloggers

Join the Yardbarker Network for more promotion, traffic, and money.

Company Info

Help

What is Yardbarker?

Yardbarker is the largest network of sports blogs and pro athlete blogs on the web. This site is the hub of the Yardbarker Network, where our editors and algorithms curate the best sports content from our network and beyond.