Found December 06, 2011 on Celtics Life:
I've stated my reasons several times why I wouldn't do the Rajon Rondo/Chris Paul trade, but the scariest part of the trade would be if the Celtics re-signed Paul for $100 million over 5 years and he ceased being a top point guard. The reality is this is very possible. In case you're curious about Chris Paul's knee, here's a synopsis from last year via NOLA.comPaul underwent surgery on the knee in early February. Noted orthopedist Dr. James Andrews, unable to sew the damaged piece of cartilage, cut it away instead, one of the primary reasons Paul played in just 45 games last season, and New Orleans found itself in the draft lottery instead of the playoffs. Paul returned at the end of last season after rehabbing the knee, perhaps unwisely, which led to an offseason of further rehabilitation to get the knee as close to 100 percent as possible. With Paul wearing a knee brace from the outset of training camp this season, speculation grew about the condition of his ...
Original Story:
http://www.celticslife.com/2011/12/ch...
THE BACKYARD
BEST OF MAXIM
RELATED ARTICLES
Carlton Banks from the Fresh Prince Of Bel Air (one of the greatest shows of all-time) when skinny, looks like Chris Paul. Hopefully when CP3 gets traded to L.A he can by a house in Beverly Hills about 7 or 8.  Currently Carlton is more large like his father Phil, and does not look like Chris Paul anymore. (I wonder how Vivian is doing?) -Schotz        
The Lakers are known to want to get younger after their aging core fell short in last year's playoffs, and they are reportedly willing to revamp almost their entire roster. The Lakers are willing to part with anyone except Kobe Bryant to pull off two trades, one for Magic center Dwight Howard and one for Hornets point guard Chris Paul, ESPN's Chris Broussard reports. That...
Lakers, Warriors, Clippers leading race for Chris Paul - Sam Amick - SI.com via kwout The Celtics may have felt that they could convince Chris Paul to stay here if he just gave it a shot, but it might just be time to accept the fact that he won't even entertain the thought.  More disturbing at the moment is the suddent interjection of th Lakers as a contender in this...
Wouldn't that be a kick in the groin? The Celtics are finally able to negotiate a deal for Chris Paul, but Jeff Green comes along and says "Not so fast..." Berger did not issue a follow-up tweet, so I'm not exactly sure of the specifics on the leverage. Regarding Delonte West, Yahoo's Adrian Wojnarowski has this update: Free agent guard Delonte West is...
Chris Paul has only reportedly told the Knicks that he willing to sign an extension after the season.
The race to land New Orleans point guard Chris Paul sped up significantly on Tuesday, as sources told SI.com that the Hornets have homed in on the Clippers, Warriors and Celtics as possible trade partners.
The Warriors could envision a scenario where Stephen Curry is traded in a package for Dwight Howard if they move Monta Ellis for Chris Paul.
Rajon Rondo for Chris Paul? It's a deal the Celtics reportedly would love to make. But there would be big Boston risks, writes Zach Lowe, and they go beyond Paul's looming free agency.
Coveted free agent point guard JJ Barea would like to re-up with the defending champion Mavericks, but if that doesn't work out, Barea may take his talents to New York. From the NY Daily News: "Hornets All-Star point guard Chris Paul may be using his clout to get traded to the Big Apple, but maybe Knicks coach Mike D'Antoni and the franchise's front office should consider...
I'm not sure if you've heard about this or not, but the Celtics really want Chris Paul and they're willing to give up Rajon Rondo for his services. I know, breaking news. Apparently, Danny Ainge is willing to give up more than Rondo in order to acquire Paul. Much, much more. However, New Orleans doesn't appear to be doing back flips over Boston's proposal....
The absolute joy of the NBA lockout coming to a close is that we're back to a non-stop fury of trade and free agent rumors that make absolutely no sense and are almost entirely unsubstantiated. For instance, did you know that since both the Orlando Magic and New Orleans Hornets want Andrew Bynum in a deal with the Los Angeles Lakers if they trade Dwight Howard and Chris Paul,...
Herald b Celtics schedule released Celtics remain interested in Hornets' Chris Paul Celtics will open with road trip Can new Magic CEO Alex Martins persuade Dwight Howard to stay? Globe  Chris Paul still a subject of interest for Celtics Celtics will hit ground running Pitt's Gilbert Brown invited to Celtics camp Antoine Walker gets probation in casino case Celtics release...
NBA News

Delivered to your inbox

You'll also receive Yardbarker's daily Top 10, featuring the best sports stories from around the web. Customize your newsletter to get articles on your favorite sports and teams. And the best part? It's free!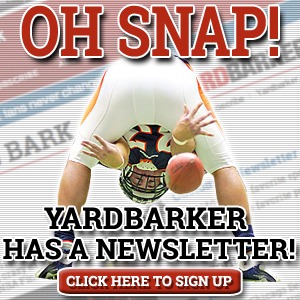 Latest Rumors
The Backyard

Today's Best Stuff

For Bloggers

Join the Yardbarker Network for more promotion, traffic, and money.

Company Info

Help

What is Yardbarker?

Yardbarker is the largest network of sports blogs and pro athlete blogs on the web. This site is the hub of the Yardbarker Network, where our editors and algorithms curate the best sports content from our network and beyond.