A sprained ankle suffered in the second quarter of Wednesday night's game at Phoenix has sidelined San Antonio's Dejounte Murray. The point guard scored 14 points before leaving the game.
In his second start in place of Tony Parker, Dejounte Murray led San Antonio to victory under the bright lights of LeBron James' milestone night.
Dejounte Murray gets a nice steal and patty Mills finishes with a 3-pointer.
Spurs head coach Gregg Popovich and Dejounte Murray team up with "Shoes That Fit" to supply children at Gates Elementary School with new shoes.
The Spurs may have gotten swept by the Warriors, but with Kawhi Leonard suffering an ankle injury in Game 1, the team's young players got some much-needed playoff experience, which projects well for the future. Dejounte Murray was one of those players, and he turned in a strong showing during the series, unlike LaMarcus Aldridge. Murray's doing pretty well for himself off the court...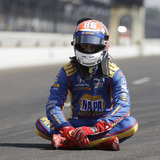 Prior to Memorial Day, the 101st running of the Indianapolis 500 takes place Sunday at Indianapolis Motor Speedway. Have you ever wondered why it's called the "greatest spectacle in racing"? We got you covered: "The Indy 500 combines three things America loves: speed, cars and tradition."We'll see which driver joins the list of racers who won the Indianapolis 500: Following the Indy...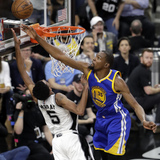 This year, the NBA established a hotline for players to call and chat about NBA referees. It's still going strong in the playoffs, which is more than we can say for some of the conference finalists. Each week, we'll take a look at calls and responses to the hotline, which are about as imaginary as Gregg Popovich's personal stylist. We know when that hotline blings, that can only...
No one really knew what message Spurs rookie Dejounte Murray was attempting to send with the odd-looking tattoo on his shoulder. Murray's tat was questioned by many during Sunday's game — both players and fans — as members of the Warriors were seen looking at it during stoppages of play. And then came the jokes. Murray took to Instagram to explain it with a comment on Monday, but...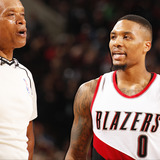 The NBA has created a hotline where players can call to complain about NBA referees. They can complain about calls, get clarification on rules, and share their Dick Bavetta fan fiction. It's like the Thanksgiving Butterball hotline. Each week, we'll present a look at the hotline's responses, which are about as genuine as John Wall's friendship with Bradley Beal. We know when that...
DeJounte Murray, a guard out of the University of Washington, had high hopes for the 2016 NBA Draft. After signing with Klutch Sports and Rich Paul, the same agency that represents LeBron James, Tristan Thompson and now the No. 1 overall pick in the Draft, Ben Simmons, Murray was confident he'd be selected somewhere in the top 10 of Thursday night's festivities. The 19-year...
MORE STORIES >>
Spurs News

Delivered to your inbox

You'll also receive Yardbarker's daily Top 10, featuring the best sports stories from around the web. Customize your newsletter to get articles on your favorite sports and teams. And the best part? It's free!