Found November 01, 2012 on The Sports Rocker:
The day after the Celtics vs Heat game, I wrote that Rondo needed to grow up, and end the petulant behavior that has almost become his trademark. Then I read that Wade called it a 'punk play.' That's fine, and I would have agreed with him. But these two have a history, and Wade may have only gotten what he has been giving.Turns out, Rondo has been on the receiving end of a few hard fouls from D-Wade. Roll the tape.From the 2012 Eastern Conference Finals, Game 2.Honestly, I can't tell if Wade actually made contact or Rondo was acting. So, let's call that a draw. And here's this clip from the 2011 playoffs. Now, that was a takedown of WWE proportions. Actually, probably worse, because it wasn't scripted. You can actually see Rondo's elbow bend the wrong way.So, in hindsight, maybe I was wrong to say Rondo was a punk, even if Wade did. Maybe Wade deserved what he got. Rondo did attempt to pull up and hold him, which is more than we can say for Wade's trip. The commentators say it looked like he may have slipped. You don't kick your leg out like that because you're slipping. It was a dirty play, bar none. Wade should be glad he stayed on his feet.Whatever, I'm just mad they don't play again until January 23, 2013. Maybe we can work in a televised scrimmage?
Original Story:
http://www.thesportsrockers.com/2012/...
THE BACKYARD
BEST OF MAXIM
RELATED ARTICLES
Doc on Wade's "punk play" comment: "Don't forget about Rondo's elbow injury (in 2011 playoffs)…that was created by Dwyane Wade."— Boston Celtics (@celtics) November 1, 2012 Yeah, cause Dwyane Wade has never done a punk move in his life. Seriously, I'm sick of Wade already. I never hated him before the Heat got LeBron and Bosh but since then...
Dwyane Wade has since taken down the tweet and left a couple, "What I meant to say was..." tweets in it's place as he quickly backtracks. Yeah Dwyane, Rondo is the "punk" right? Maybe Mayor Bloomberg should should personally apologize to Wade. I mean who cares about the all the victims of the hurricane right? Dwyane Wade is stuck on traffic! Credit dRU from...
NEW YORK (AP) -- Dwyane Wade thinks the NBA should have postponed Miami's game at New York on Friday night, while LeBron James is "50-50" over whether the game should be played. With New York hit hard by Superstorm Sandy, the Knicks' game scheduled for Thursday in Brooklyn was postponed, and Heat players thought theirs would follow. Instead, they flew from Miami...
Editor's Note: Guest writer Eddy DelSignore has gone been gone for a little while, but he simply couldn't stay away after hearing Dwyane Wade's hypocritical comments after Tuesday's Celtics-Heat game.  Dwyane Wade is the dirtiest player in the NBA. There, I said it. It had to be said. So, when Dwyane Wade, the dirtiest player in the NBA, called the foul that Rajon Rondo...
During the final seconds of Tuesday night's game between the Boston Celtics and Miami Heat, Rajon Rondo was called for a flagrant foul after he grabbed Dwyane Wade from behind by the shoulders and neck. The foul was unneccesary considering the Celtics were trailing by nine and there was virtually no way they were going to come back. Wade was not pleased about it after the game...
Dwyane Wade recently called out Rajon Rondo and said that he made a "punk play" on him during the season opener between the Heat and Celtics.  Well, today at practice Rajon Rondo took his turn to fire back at Wade.  Rondo called "I mean, I don't think it was a hard foul," said Rondo. "[Wade] sold it a little bit. That's basketball. They were up, he drove to the hole...
WALTHAM, Mass. -- Some people are so touchy. Dislocate their elbow one time or make a series-altering uncalled hack -- or maybe even both -- and they just will not let it go. Rajon Rondo is not about to forgive Dwyane Wade for some of the physical plays the Heat guard has leveled on him over the past two years. That was clear from his comments after practice Thursday, when the...
The NBA season started off with a bang last night when the Boston Celtics and Miami Heat met in the season opener in Miami. The game had several eventful, including the Heat getting their 2012 rings, KG's cold shoulder to Ray Allen and this moment between Dwayne Wade and Rajon Rondo.With Miami in control of the game and seconds remaining, Wade drove to the hoop. Rondo clotheslined him...
Herald  Rajon Rondo, Dwyane Wade exchange more barbs Celtics look to fix communication breakdown Globe  For Celtics, time to turn talent into a team Kevin Garnett's return was critical factor in the Celtics' retooling Celtics Green  Glue GuysDowns Among 8 Invited to Red Claws CampWho's the Punk?? Practice Report 11/1 Bucks (0-0) at Celtics (0-1) 11/2 Celtics Life  Celtics...
MIAMI -- LeBron James didn't appear tired, Dwyane Wade's knee looked just fine, and new addition Ray Allen came off the bench to give the Heat another potent threat. And just as importantly, Chris Bosh, Miami's sometimes forgotten star, delivered a big finish. On a night the Heat celebrated their 2011-2012 NBA title with a ring ceremony, their championship defense...
Carmelo Anthony heard the news about the New York City Marathon being canceled, then came out to warm up and saw plenty of empty seats at Madison Square Garden. At that moment, it would've been easy to agree with Dwyane Wade and others, that this wasn't the time to be playing games. By tip-off, Anthony and the Knicks knew otherwise. Fans had filled the place, when even...
Though the New York Marathon has been officially cancelled, the Knicks and Heat are still set to rumble at the Garden tonight. With their matchup against the Nets from Thursday now postponed, Friday night's contest will be the official opening night of New York's season.With just hours remaining until the two teams hit the hardwood, let's take a look at where everyone...
Heat News

Delivered to your inbox

You'll also receive Yardbarker's daily Top 10, featuring the best sports stories from around the web. Customize your newsletter to get articles on your favorite sports and teams. And the best part? It's free!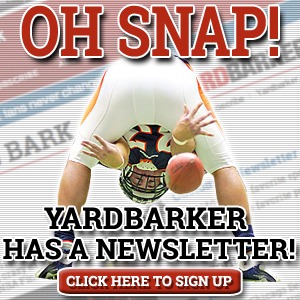 Latest Rumors
Best of Yardbarker

Today's Best Stuff

For Bloggers

Join the Yardbarker Network for more promotion, traffic, and money.

Company Info

Help

What is Yardbarker?

Yardbarker is the largest network of sports blogs and pro athlete blogs on the web. This site is the hub of the Yardbarker Network, where our editors and algorithms curate the best sports content from our network and beyond.