Found July 10, 2013 on With Malice:
  Well... that didn't quite work out the way we all expected.  Dwight Howard turns out to be a 1 year rental, and the Lakers serve as a placeholder for him whilst he recuperates from back surgery.  Now, I realise that's to paint the scenario in pretty much what amounts to the worst possible light, but what there is incorrect?     So... Dwight Howard.  To the Rockets.  Whilst #12 leaving did upset me a little, that was more self-righteous indignation that someone would actually leave the Lakers - and that is somewhat ridiculous... Because at the end of the day, Dwight Howard is not the guy I envisage being the face of the franchise, the leader of team, in the years post Kobe Bryant.   Will the Lakers be better without Dwight?  Will Chris Kaman be a better fit?  Will the Lakers be competing for a title in the coming season?  Of course not - or if you think they will be, you should head to some interactive sports betting site right this minute - and put some cold, hard cash on that.  I'd imagine the odds would be very long. But long term, or even in the "not-too-distant" term, the Lakers are better off without Dwight Howard.   This is of course precluding some late maturity occurring from Dwight.  I'm operating on the assumption that there is going to be no late age emotional growth from the man.  He is who he is.  Of course, the Lakers knew that when they signed him up.   They also thought they knew who he was when they signed on Mike D'Antoni - a signing that they believed at the time would favour Howard's game... and they'd studied the tape incessantly.  Howard's most efficient offensive weapon is the pick and roll.  Paired with Steve Nash, and running in an offense predicated on the pick and roll... it should have worked out well.  Two problems.  First of all, Nash had his worst ever season injury-wise... and Dwight Howard doesn't like the pick 'n roll.  Ignoring that he's nearly twice as efficient a scorer performing that as posting up, Dwight prefers to see himself as a low post presence.  A more traditional center's role that he's simply not physically built for - for all his superhero-like muscularity.  He simply lacks the mass that Shaq had to perform in the same way.  Howard's a smaller guy, and his size is in his shoulders.  Shaq had a backside that you needed a compass and a cut-lunch to get around.   So... it failed.  "It" being the Dwight-does-LA experiment... and he moves on.  To Houston.  But sans any semi-miraculous changes there, it could all work out rather deja vu for Howard.  That team would be very well constructed for the pick and roll offense they already run, but if D12's expectation is that they should turn James Harden into a spot-up shooter, well... that would be a great pity.   Dwight's somewhat ignominious departure is at least somewhat redolent of LeBron's leaving Cleveland.  "The Decision" vs "The Indecision", if you will. One significant difference is the Dan Gilbert prediction at the end.  Whilst he was wrong (and has been proven to be so - twice now) in stating categorically that the Cavaliers would win a title before James (whoops!), who would you bet on in regards to winning a title first: Dwight or the Lakers? Howard finishing his playing career without a ring would surprise me not.   As far as the Lakers?  Where to now?  It appears as if they're focusing heavily on 1 year contracts.  Clearing a hellacious amount of space leading into next year's free agency - where some of the biggest names in basketball are available.  But I'd side with Bill Simmons and take it one step further.  The Lakers should be tearing it down this coming season, and "riggin' for Wiggins".  There are a helluva lotta good picks in a very strong draft next season.  Trade Nash.  Sell Pau near the deadline.  Encourage Kobe to take his time with his achilles rehab.  Go one better than Riley and get good picks and massive space for free agents.   Whichever way it goes, it's with a sense of relief that I see the purple and gold move forward sans Dwight Howard.
Original Story:
http://www.with-malice.com/articles/l...
THE BACKYARD
BEST OF MAXIM
RELATED ARTICLES
Houston Rockets: Dwight Howard Contract Grade By Mike Elworth: Owner and Publisher/Hoopstuff… Contract 4 years, 88 million - Well the Dwight Drama is finally over, as Dwight Howard, after almost three years, has chosen his long term destination, Houston. I am not going to talk about his immature actions, or him hurting the Magic and Laker franchises and all of the annoyances he...
What if Stone Cold Steve Austin and Dwight Howard were to climb in a wrestling ring?What if the two were to actually wrestle? Athletes from other sports have climbed into the ring in the past. D12 is 6'11'' and 265 pounds not to mention the man has some serious guns... Could make for a decent match, right? It's one that will never happen of course...
Never give the photoshoppers and gif-masters any ideas. Stone Cold Steve Austin just told me the athlete he would most like to hit with the Stunner is Dwight Howard. Oh. My. God. — Chris Mannix (@ChrisMannixSI) July 12, 2013 Because when you do, things like this happen. Stone Cold Steve Austin delivers stunner to Dwight Howard H/T Bleacher Report
ANTISOCIAL MEDIA
Now that Kobe and Dwight Howard are no longer teammates, the Mamba took some time to explain why he unfollowed Howard.
Thanks to the fine folks over at TMZ, we might have gotten to see the moment that Los Angeles Lakers forward Metta World Peace signed with the Houston Rockets. Check it out in the below video: Metta World Peace — Wait, Dwight Howard's Going to Houston??? - Watch More Celebrity Videos or Subscribe *** Metta learns of D-12 signing with Rockets [TMZ]
Jeremiah Short, Feature Writer-original linkThe drama that was "Dwightmare" came to a climactic end after Dwight Howard agreed to a four year, $88 million dollar contract with the Houston Rockets. Leaving the 16-time world champion LA Lakers with an uncertain future.The deal puts Howard in a perfect situation. He gets to work with Kevin McHale and Hakeem Olajuwon year round....
ON A WING AND A PRAYER
Royce White, who has a fear of flying and is awaiting his trade from the Rockets to the 76ers, said, "Hell no" to the idea of taking 100 flights during a season.
In the aftermath of Dwight Howard's decision to sign with the Houston Rockets, word began to spread that Rockets center Omer Asik had no interest in playing with or behind Howard and he wanted to be traded.Since then, Brian Windhorst of ESPN has verified that Asik has formally asked the Rockets to trade him. And it was at that moment that Asik found out just how much pull and influence...
Steve Nash met with the media yesterday after that Dwight Howard sales pitch that didn't quite do the trick. And some of his quotes are pretty telling: "Ultimately, I think Dwight wasn't comfortable here and didn't want to be here and I think if he didn't want to be here, there's no point for anyone in him being here." "I think it kind of basically goes with what...
With all the salary cap space the Los Angeles Lakers are expected to have in 2014 after losing Dwight Howard to the Houston Rockets, there has been some speculation that they could make a run at a big name free agent like Carmelo Anthony. Anthony and Bryant have a close relationship, and there have been [...]
NBA News

Delivered to your inbox

You'll also receive Yardbarker's daily Top 10, featuring the best sports stories from around the web. Customize your newsletter to get articles on your favorite sports and teams. And the best part? It's free!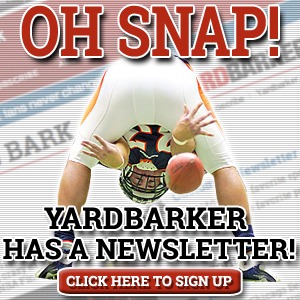 Latest Rumors
Best of Yardbarker

Today's Best Stuff

For Bloggers

Join the Yardbarker Network for more promotion, traffic, and money.

Company Info

Help

What is Yardbarker?

Yardbarker is the largest network of sports blogs and pro athlete blogs on the web. This site is the hub of the Yardbarker Network, where our editors and algorithms curate the best sports content from our network and beyond.