Found June 18, 2013 on Project Spurs:
During the San Antonio Spurs' title chase, Rey Moralde of The No Look Pass will be contributing to Project Spurs.   So apparently, the then-New Jersey Nets could've picked up Danny Green last year. According to Avery Johnson, who was coach last season, they  were so close on getting the NBA Finals record-holder for most three-pointers. Here's NetsDaily with the report and the transcript    After the Spurs' win over the Heat, Green's' shooting was a hot topic on First Take, hosted by Stephen A. Smith. Johnson took the opportunity to talk about how good he thought Green was during his tenure at Nets coach.   AJ: "I remember with the Nets, Billy King and I, we were trying convince Pop to cut Danny Green so we could bring him at the time to New Jersey."   SAS: "You were trying to hoodwink Pop?   AJ: "YES!" (all laugh)   SAS: "Oh my goodness! You were trying to hoodwink Pop."   AJ: "And Pop said if he has one more bad game we're going to cut him and he made a bunch of threes in this one particular game and he kept him."   According to NetsDaily, that "one particular game" was January 7th, 2012 when the Spurs beat the Denver Nuggets, 121-117. Danny Green scored a season-high 24 points. That obviously got him back on Pop's good side.   Avery Johnson, as we all know, has a history with Popovich. Johnson played with the Spurs in 1991, 1992-93, and then 1994-2001. We all remember the shot he hit against the New York Knicks that clinched the Spurs' first championship in 1999. So Avery Johnson knew Pop pretty well but not well enough to outsmart him. Green would've been a nice addition, too; the Nets could've used his three-point shooting as they only shot .316 from behind the arc against the Bulls in the playoffs. The Nets did end up signing Gerald Green, Danny's cousin, on February 27th, 2012. Gerald Green would end up going to the Pacers during the offseason.   In the meantime, Danny Green has a chance to add to his Finals record for most three-pointers. More importantly, he has a chance to help the Spurs clinch their fifth championship later on tonight against the Miami Heat.
Original Story:
http://www.projectspurs.com/2013-arti...
THE BACKYARD
BEST OF MAXIM
RELATED ARTICLES
As you may have heard, San Antonio Spurs forward Danny Green has been going bonkers from beyond the arc during this postseason and especially in the NBA Finals against the Miami Heat. So much so that his name is being tossed around as a potential Finals MVP should the Spurs take home title number five [...]The post It's Not Easy Being Danny Green appeared first on The Sports Fan Journal.
San Antonio Spurs' Danny Green has been putting on one of the best three point shooting displays in recent history of the NBA Finals. From breaking Miami's Ray Allen's Finals record by connecting on 25 three points to currently shooting a whopping 65% from the three point line, Green is definitely leaving his mark on these Finals and quite possibly, garner some votes...
San Antonio Spurs guard Danny Green set an NBA Finals record for 3-pointers Sunday with his 23rd of this series against the Miami Heat. Green broke Ray Allen's 2008 mark with his fourth 3-pointer of the night early in the second half of Game 5. It was the fourth time that the once-unheralded swingman has hit at least four from long range this series. Green was shooting 68 percent...
Danny Green scored 24 points to help the San Antonio Spurs topple the Miami Heat on Sunday. 18 of Green's points game of the 3-point sharpshooting that has become his trademark. Green and key performances from Ginobili (24 points, 10 assists) and Tony Parker ( 26 points) largely kept the Heat at bay on their way to the 114-104 victory. The Spurs now hold a 3-2 series lead over...
SAN ANTONIO (AP) -- Spurs guard Danny Green set an NBA Finals record for 3-pointers with his 23rd against the Miami Heat on Sunday night. Green broke Ray Allen's 2008 mark with his fourth 3-pointer of the game early in the second half of Game 5. Green was shooting 68 percent from 3-point range in the series after breaking the record. Allen, who now plays for the Heat, set the...
We nearly live in a world in which Danny Green is the NBA Finals MVP and LeBron James is a lonely stat-sheet stuffer with a broken jumper. We don't all need to board up the windows just yet, but with one or two games left in the 2013 NBA Finals, this may be a good time to take inventory of your batteries and canned goods. Reality has been bent up and distorted to the level of...
(Soobum Im-USA TODAY Sports) The 2013 NBA Finals are being billed as a battle of the "Big Three" of the Heat and Spurs.  And while you need a superstar(s) to win a title, you also need a strong supporting cast.  So The Hoops Manifesto will look to shine some light on these less heralded players with our "The Non-Big Three Star of the Game" award given...
Danny Green says he did not know that he had set an NBA Finals record for most made 3-pointers until someone told him after the Spurs' 114-104 Game 5 win on Sunday night. Green surpassed Ray Allen's mark of 22 set in 2008, and now has 25 for the series. According to NBA.com: "I had no idea," Green said when asked if he knew he was close to the record. "After the game today...
WAS THERE CONTACT?
Chris Bosh had several huge defensive plays at the end of Game 6 to help the Miami Heat pull out the thrilling three point victory over the San Antonio Spurs. Good no call by the refs on this Bosh block of Green. Bosh also had a huge swat of Tony Parker near the end of overtime.
In his first NBA Finals, Danny Green has had a breakout series, dominating from beyond the arc. The Spurs guard has drained 25 threes on 65.8% shooting (25-38) through five games and notably surpassed Ray Allen in Game 5 to set a new NBA record for most 3-pointers made in an NBA Finals – so it's understandable that Tony Parker is surprised that he's still open this far into...
The San Antonio Spurs are dangerous enough when their combination of youth and experience allows them to employ a variety of offensive tactics against an opposing team like the Miami Heat. When their twice-waived free agent addition sets an NBA record for 3-pointers made and his 35-year-old counterpart drops a season-high 24 points with 10 assists, it's all but inevitable that...
NBA News

Delivered to your inbox

You'll also receive Yardbarker's daily Top 10, featuring the best sports stories from around the web. Customize your newsletter to get articles on your favorite sports and teams. And the best part? It's free!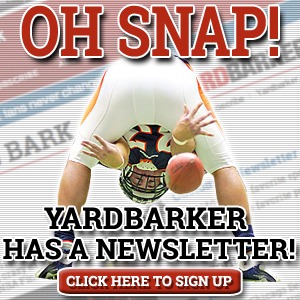 Latest Rumors
Best of Yardbarker

Today's Best Stuff

For Bloggers

Join the Yardbarker Network for more promotion, traffic, and money.

Company Info

Help

What is Yardbarker?

Yardbarker is the largest network of sports blogs and pro athlete blogs on the web. This site is the hub of the Yardbarker Network, where our editors and algorithms curate the best sports content from our network and beyond.