Found May 17, 2012 on Comedic Prose:
There's comes a time when a players window for winning a championship is closed. That time has come for the Los Angeles Lakers with Kobe Bryant.
It was fun while it lasted. We all got to watch Kobe and Shaq go to 4 Finals, while they had spats in the media (tell me how my 'bleep' taste style). We all had a front row seat to Kobe's 81 point performance (I'm not going to bring up the fact that he did it against the Toronto Raptors and a washed up Jalen Rose). Everyone got the see a selfish 18 year old kid with an afro grow up to become an even more selfish Black Mamba. We also got to see Kobe Bryant try and come out with a rap album. I'm still not sure what that was all about. When I think rap, I don't think Kobe. If he decides to pursue a second career I suggest he write books on how to get your girl back (pink diamond syle).
If the Lakers do find a way to win a title with Kobe on the roster, he will not be the focal point, for two reasons.
At this point in his career, Bryant is just not capable of carrying a team. Dude doesn't have the ability to get to the basket effectively anymore, and he increasingly takes low percentage jump shots. That's just not a winning formula.
Kobe will be making 27.8 and 30.4 million dollars over the next 2 seasons respectively. So the Lakers won't be able to surround him with good role players. Therefore it's going to be a lot of Steve Blake, and playoff flameouts in the future.
So for the Lakers sake they should move away from Kobe being, "The Guy."
This offseason they need to do what they can, within reason to acquire Dwight Howard. Howard could lead this into another era of championships. They will certainly have to trade Andrew Bynum for him, but who cares. This season Bynum has shown you what he is, a very talented talent player that plays when he wants to. Now you can say that Howard is the same way, but you would be wrong. Dwight Howard has been the best defensive player in the league for the last 3 years, and also led a one-dimensional Orlando Magic team to the NBA Finals.
Dwight Howard is a guy that will take pressure off Kobe on both sides of the court, thus allowing Bryant to be fresh at the end of games. The Lakers may also have the opportunity to unload Pau Gasol in the trade. That would free up money which they could use to rebuild their perimeter.
    The Los Angeles Lakers will lose to the Oklahoma City Thunder. Whether it be 4 or 5 games doesn't matter. The Lakers window is closed. It's time for them to rebuild around a new start…that's if they want to win.
Editor-in-Chief of Comedic Prose
Follow Kortney Williams on Twitter @kortneyshane
Original Story:
http://comedicprose.com/2012/05/17/th...
THE BACKYARD
BEST OF MAXIM
RELATED ARTICLES
That is snot egg on Kobe's face! (lame joke alert) Kobe Bryant let it all hang out on Friday night during the Los Angeles Lakers 99-96 victory, including this huge booger. The cameras caught this unflattering image of snot falling out of Bryant's nose and settling right above his mouth. When you put up 36 points, 7 rebounds, & 6 assists, it doesn't matter if you have...
After 16 seasons, you accept the proposition as a postulate: as Kobe Bryant goes, so do the Lakers. So there were moments that felt like a seismic shift, not just in Game 3 of the Western Conference semifinals between the Lakers and the Thunder, but in The Game itself. The transition is inevitable. Even the most possessed of souls, even Kobe Bryant, must bow to time. Toward the...
Kobe Bryant went 18-for-18 from the free throw line in the Lakers' gritty Game 3 win over Oklahoma City.
Would LA Laker Kobe Bryant take a charge? He elaborated: ''I've seen them take charges and lay there with a messed-up back. I've seen Michael not take one ... charge and he's healthy his whole... Full story at Bob's Blitz ~ http://www.bobsblitz.com
Running out of ideas and time, Kobe Bryant has reached out to fellow superstar LeBron James to solicit James' opinion on other ways Bryant can get Lakers coach Mike Brown fired. Bryant has already been benched, pouted, played selfishly, openly questioned teammates and choke in the waning moments of big games, all of which are techniques James used to successfully get Mike Brown...
1.The Lakers were up 3-1 on the Nuggets but it took than 7 games to finish the Nuggets. The Lakers won this series because of one player Kobe Bryant. Bryant even battled the flu at the end of the series. For the series Bryant averaged 29.1 points per game, 5 assists and 4.6 rebounds. 2.LeBron James, the league MVP picked off right where he left off in the regular season...
Kobe Bryant has done some great things throughout his NBA career. He's won five NBA titles, and is a 14-time All-Star and a two-time league scoring champion. Those are all great achievements, but does that make Kobe the "The Great One?" Wayne Gretzky is the only athlete fit for that nickname, and a quick look at the hockey great's impressive resume is sufficient...
For my money Kobe Bryant and LeBron James are the two best players in the NBA, with Kevin Durant right are there trail. However in there last playoff games both Bryant and James came up small when it mattered the most. In game two between the Miami Heat and the Indiana Pacers LeBron James was the best player on the court for 46 minutes but at the end of the game he...
By Payton Wales The Lakers are playing from a hole, a very deep hole. Marred by second guesses, lapsed concentrations and some old legs, it's not that the Lakers don't have the tools to dig out of the hole, but, as the old saying goes, the spirit is willing the body (and mind). Well, that's another thing. To make things worse, the Lakers will have to dig on back-to...
LOS ANGELES -- The Los Angeles Lakers had the fight to the finish Friday night in Game 3 of their NBA playoff series against Oklahoma City that they lacked in Game 2. The Lakers rallied from a five-point deficit in the final minutes and earned a 99-96 victory over the Thunder, avoiding the deadly 3-0 series deficit. Kobe Bryant scored 36 points, hitting all 18 of his free throw...
By now, you've heard the story of Greg Oden's derailed NBA career several times. The center is now turing to the "Kobe system" to help get his knees back in NBA shape. Oden has received the same surgery that Lakers Kobe Bryant and Yankees slugger Alex Rodriguez utilized last year. After four knee surgies, including [...]
NBA News

Delivered to your inbox

You'll also receive Yardbarker's daily Top 10, featuring the best sports stories from around the web. Customize your newsletter to get articles on your favorite sports and teams. And the best part? It's free!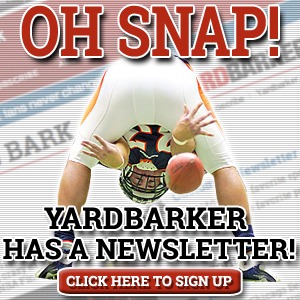 Latest Rumors
The Backyard

Today's Best Stuff

For Bloggers

Join the Yardbarker Network for more promotion, traffic, and money.

Company Info

Help

What is Yardbarker?

Yardbarker is the largest network of sports blogs and pro athlete blogs on the web. This site is the hub of the Yardbarker Network, where our editors and algorithms curate the best sports content from our network and beyond.