Found November 03, 2012 on Celtics Town:
Note: I'm aware John Wall won't be playing tonight, but this is about the state of the Wizards, and Wall is in integral part of that conversation. So. Enjoy.One of my good friends has been dating a girl for nearly a year. She is his first girlfriend in a very, very long time, and as is wont to happen in such situations, he got very invested in the relationship very quickly. This led to the usual series of bad early relationship decisions. They hung out constantly, incessantly, exclusively. Despite the fact that she lived several hours away, he packed up his life and moved in with her after a month of dating.Predictably, this didn't go well, and he moved back home a few months later. But they are still doing that annoying "will they? won't they?" dance that couples who can't make up their minds tend to do. Instead of ending the relationship and allowing the other party to move on, both are clinging to something that hasn't really worked in the past and doesn't seem likely to work in the future.When the Washington Wizards picked John Wall first in the 2010 NBA Draft, they were largely applauded for picking one of the few potential superstars available, perhaps the only "certain" one. They've acted accordingly since drafting him. After surrounding him with a group of young potential talent, they discovered that a young point guard will struggle to produce and develop when combined with a shoot-first-second-AND-third guard like Nick Young and a big man in need of his own instruction like JaVale McGee.  When McGee/Young and company didn't work, Washington dealt for a pair of big men, Nene and defensive stalwart Emeka Okafor, in an attempt to surround Wall with quality role players and to change the Wizard's culture, and to be fair, Washington is a darkhorse contender for the 8th seed in the playoffs. But whether the Wizards make the playoffs or not, they won't be contenders. Just a four game roadblock for Miami.Please note my emphasis on this: Two years is almost certainly too early to give up on a young point guard. But two years is also enough time to get a glimpse into what a player's future may entail, and in his first two NBA seasons, John Wall has been underwhelming. It's not that he's been bad, it's that he's been less than a superstar. And Washington desperately needs a superstar.He has shown flashes, to be sure. Wall's athleticism is undeniable. He is ready and willing to share the ball, averaging eight assists per 36 minutes last season. Another encouraging sign: Wall's TS% climbed slightly from his rookie to his sophomore season. It wasn't a huge leap but given Wall's historically horrendous 3-point shooting in his sophomore campaign, the leap represented a smarter mentality, a player willing to work around his own weaknesses.But should he be working around his own weaknesses, or should he be trying to improve them? Wall's 3-point percentage, in 42 attempts, was an abysmal .071. Much has been made about Rondo's need for a jumpshot, but teams can REALLY sag off Wall, limiting the effectiveness of his speed and athleticism.The Wizards haven't made the playoffs since '08, so investing in and attempting to build around their best player (instead of blowing things up and starting over) makes sense, at least on paper. But the questions continue for Washington. Is John Wall worth building around? Can he become a franchise superstar? Is he a potential cornerstone for a winning franchise? Or would it be wiser to sell shares while they still have value and reboot once again? At what point in a relationship do you simply say "ENOUGH" and throw in the towel?Starting over sucks. But drawing a relationship out well passed the obvious point at which it should have ended sucks even more.Follow Tom on Twitter: @Tom_NBA.
Original Story:
http://www.celticstown.com/2012/11/03...
THE BACKYARD
BEST OF MAXIM
RELATED ARTICLES
WHO GOOFED
A ticket company made a mistake with one of the ads it was running to promote a ticket package they were trying to sell to Wizards fans.
It's already been a tough season for the Washington Wizards, as their two best players John Wall and Nene are out indefinitely. That doesn't leave many bright young faces to be the "face of the franchise" right now. The closest thing to it is 2nd overall pick Bradley Beal out of Florida. With struggling personnel comes struggles to sell tickets, and the fans need a little...
Those of you in the D.C. area who enjoy having a few beers before watching your favorite team play were treated to a great special from the Washington Wizards on Saturday night. As you can see from the advertisement above, the Wizards were running a promotion where $25 got you a ticket and access to $2 Budweisers for several hours before Washington's game against the Boston Celtics...
Recently, the Washington Wizards put together a ticket promotion for opening night called "Bar Tour" where if someone bought a certain $25 dollar ticket, they could get $2 Budweisers during the game.The advertisement was created by TiqIQ and features 1st-round draft pick Bradley Beal on the ad which is actually a gaffe.Why you ask? Beal is 19-years-old and is not legally...
  Rapper The Game was in DC over the weekend as a stop on his tour. Injured Wizards point guard John Wall played on Game's summer league team at the Drew league last summer so, it's only right they get together while he was in town. The Game attended Wizards vs. Celtics while he was [...]
Well that was better, I guess.  The Celtics survived a nail-biter against the Washington Wizards (WITHOUT John Wall and Nene) after they blew a sizable lead. But I'll TRY to be positive and accept our first win of the season on the second night of a back-to-back, and chalk it up to the Celtics playing down to inferior competition. Let's get to the recap:Sullinger got the...
A night after what their coach called a ''flat game,'' Kevin Garnett and the Boston Celtics held the Washington Wizards to 1-for-14 shooting at the start, then were barely better at the end. Strong defensive stands early - Washington's only scoring in the first 8 minutes came on Garnett's goaltending call - and late, plus Paul Pierce's 27 points, including...
Jared Sullinger gets his first NBA start tonight, with Brandon Bass coming off the bench.C's-Wizards 6:30 WEEI — Sean Grande (@SeanGrandePBP) November 3, 2012 Sean Grande reports that Jared Sullinger will be starting against the Washington Wizards. It is his first career start.
WASHINGTON D.C. – The Boston Celtics are halfway to their first win of the season. The Celtics take a 49-42 lead over the Washington Wizards into the locker room. Boston cooled off after blowing the game open with a 17-2 run with 4:17 left in the first quarter. Those first two points for Washington came [...]
Washington, D.C. — The Boston Celtics won't go 0-82 this season. The Celtics (1-2) picked up their first win by beating the Washington Wizards (0-2) on the road, 89-86, Saturday night. Even though Boston was visiting, the crowd was in their favor from start to finish. A "Let's Go Celtics" chant broke out with 6:40 remaining in [...]
Nene No.42 * Pos. C * Age 30 * Ht. 6'11" * Wt. 250 * College: * Salary $13,000,000 Week 1 performance: INCOMPLETE : Nene got no run this week so there's no grade here. I'm excited to see when the Wizards get both him and Wall back into the lineup.   Trevor Ariza No.1 * Pos. SF * Age 27 * Ht. 6'8" * Wt. 210 * College: UCLA * Salary...
Wizards News

Delivered to your inbox

You'll also receive Yardbarker's daily Top 10, featuring the best sports stories from around the web. Customize your newsletter to get articles on your favorite sports and teams. And the best part? It's free!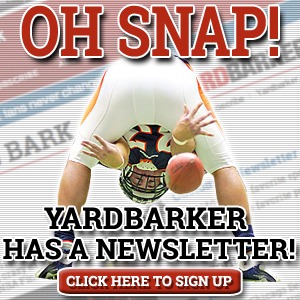 Latest Rumors
Best of Yardbarker

Today's Best Stuff

For Bloggers

Join the Yardbarker Network for more promotion, traffic, and money.

Company Info

Help

What is Yardbarker?

Yardbarker is the largest network of sports blogs and pro athlete blogs on the web. This site is the hub of the Yardbarker Network, where our editors and algorithms curate the best sports content from our network and beyond.