Tom Izzo has been recruiting better than he ever before, and the trend will surely continue into the 2013 and 2014 classes. 2013 Recruiting Class: Jabari Parker: Practically every Spartan fan is aware of Jabari Parker in some way or form, and for good reason. Parker is currently ranked 2nd in the Nation for the 2013 recruiting class on numerous scouting databases. Jabari is  an extremely talented 6'8"/220 pound small forward.  Parker is extremely versatile and able to impact the game in many ways including: passing, scoring, rebounding and dribbling the ball. His basketball IQ has been called "elite" and he plays very unselfishly. Chances MSU lands Parker: Parker has five programs in the mix right now: BYU, Duke, Michigan State, Florida and Stanford (In no particular order).  Jabari has visited MSU, Florida and Duke while still planning on visiting BYU and Stanford sometime in November. Following his Duke visit rumors emerged that Duke had become the front-runners for the star small forward, though the rumors appear to be mistaken. The rumor may have been mistaken, but I do not think it is too far off. I see Jabari deciding between Michigan State and Duke, most speculation has been that Parker will end up in the Green and White. No decision date has been set, and other factors including religion may play a factor. This has been an interesting story to follow and surely will continue to make headlines in East Lansing. 2014 Recruiting Class: This is where things get exciting. There are many extremely talented players interested in the Spartans for 2014. I will cover the 3 most prominent in my opinion of course: Tyus Jones, Jahlil Okafor and Cliff Alexander. Tyus Jones: The reclassification of Andrew Wiggins (original 2014, now 2013) makes Tyus the number one recruit in the nation for 2014. The Spartans have been recruiting the 6'1"/171 pound Jones for a few years now and the pass first point guard has some strong interest in MSU. Tyus has an amazing basketball IQ and has been compared to Jason Kidd at this stage of his early career. He has a very good handle and can penetrate for a layup when the opportunity arises. Jones may need to work on his outside stroke, but he is the real deal. He has been linked to the number two recruit in the nation Jahlil Okafor, and the rumor is that they are a package deal. Jahlil Okafor: As mentioned earlier: Jahlil is expected to be a package deal with Tyus Jones.  Okafor is the number two ranked player in the country for 2014 and the 6'9"/270 pound center is considering the Spartans. Jahlil will be an anchor inside for the program of his choice. He has soft hands and quick feet; two of the most important traits for any big man. Okafor has improved his shot and is able to knock down the 14 footer. He is also pretty athletic, just Google "Jahlil Okafor dunk" and you will see what I mean. Chances MSU lands the duo of Tyus Jones and Jahlil Okafor: The two have interest in five of the same schools: Kentucky, Michigan State, Duke, North Carolina and Ohio State. They recently visited Duke's "Countdown to Craziness and had a great time, but Jahlil did mention that knew he would not commit. He said: "I go into every visit knowing that I'm gonna have lots of fun, but I try to keep an open mind and just enjoy things at this poin." He does not want to commit too early and end up decommitting, which I can appreciate. Currently we do not know if the duo will actually commit to the same school, but for now it appears as if they will. Michigan State has a really good chance at landing the pair, but it may be too early to call a favorite for the two. The good news is that the Spartans are still in the running for the duo. Until that changes, Michigan State has a chance if not a good chance at landing the number 1 and 2 recruits of 2014. Cliff Alexander: Cliff is the perfect Tom Izzo player; he grabs anything and everything in his area and does so with force. He is ranked the seventh overall player for 2014 on ESPN and is consistently ranked in the top 10 across recruiting databases. The 6'9"/240 pound center/power forward does not shy away from contact and is very physical in the post. He is good at the screen and roll, and is able to roll to the rim for an easy dunk. Alexander is also a good defender in the post and is able to block shots that come his way. He has a good motor, which allows him to work hard on both ends of the court. Chances MSU lands Alexander: Good news for Spartan fans: Alexander has noted that Michigan State is the early favorite. He has been quoted: "I love Izzo. Izzo's a great guy do be around. I love the coaching staff. I love the practice facility. I love all of it." What more needs to be said? But it is still early in the recruiting process for Alexander and he also appears to like Ohio State quite a bit. For now the Spartans are leading the pack, which is always a good thing.
Original Story:
http://www.banksoftheredcedar.com/the...
MORE FROM YARDBARKER
Knicks News

Delivered to your inbox

You'll also receive Yardbarker's daily Top 10, featuring the best sports stories from around the web. Customize your newsletter to get articles on your favorite sports and teams. And the best part? It's free!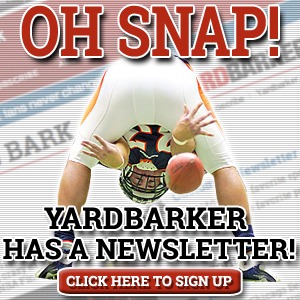 Latest Rumors
Best of Yardbarker

Today's Best Stuff

For Bloggers

Join the Yardbarker Network for more promotion, traffic, and money.

Company Info

Help

What is Yardbarker?

Yardbarker is the largest network of sports blogs and pro athlete blogs on the web. This site is the hub of the Yardbarker Network, where our editors and algorithms curate the best sports content from our network and beyond.