Posted June 13, 2012 on AP on Fox
PLAYERS:
James Harden
,
Thabo Sefolosha
,
LeBron James
,
Dwyane Wade
,
Russell Westbrook
,
Shane Battier
,
Kevin Durant
,
Erik Spoelstra
,
Chris Bosh
,
Tim Duncan
TEAMS:
Oklahoma City Thunder
,
Miami Heat
,
San Antonio Spurs
,
Los Angeles Lakers
There wasn't much to fear about the beard in Game 1 of the NBA Finals. NBA sixth man of the year James Harden scored only five points - 12 1/2 below his playoff average - in his finals debut but was hardly lamenting it Wednesday with his Oklahoma City Thunder up 1-0 in the series against the Miami Heat. Harden had scored in double digits in all 15 playoff games this season before making it only halfway there to start the finals. He played only 22 minutes, his least of the playoffs, largely because he was pulled after picking up his fourth foul late in the fourth quarter and did not return. Defensive stopper Thabo Sefolosha replaced him and did a good enough job of slowing down LeBron James that he never came out. ''I think I did a pretty good job ... obviously I didn't score the ball well but just defensively and doing other things to help the team win,'' Harden said Wednesday ''Ws are all that matter now. It's not about individual performances.'' Perhaps most notably, Harden didn't attempt a single free throw in Game 1. The left-handed slasher shot the 10th-most foul shots in the league during the regular season and said he wants to get back to attacking the rim in Game 2 on Thursday night. ''Just be more aggressive, watch film, learn what they did on the defensive end and just attack more. Be more aggressive not just for myself, but collapsing the defense in and making plays for my teammates is something that I'm very good at,'' Harden said. ''I've just got to be aggressive and do whatever it takes and drive the lanes, find my shooters and find by bigs for easy dunks.'' --- HE GOES GLASSES: It's the fashion craze that's all the rage in the NBA playoffs: glasses, sometimes with lenses, sometimes without. The stars of both the Thunder and the Heat have taken to wearing glasses to their postgame news conferences - even if not all of them need the eyewear. ''Trends, they come and go, and people get on board with them or they don't. With the nerd glasses that comes in the NBA, it's just something fun to do right now,'' Dwyane Wade said. ''I'm sure next season it'll be out the window.'' Russell Westbrook's attire has been all over the place during the postseason. His latest outfit was a white shirt with drawings of golfers all over it for after Game 1. And his glasses frames typically don't have lenses because he doesn't need them. But he said he's got a variety of different colors to choose from. ''I've been wearing glasses since I've been in the league,'' he tried to claim Wednesday ''I think everybody else just started wearing them now.'' That's obviously not the case. LeBron James said he thinks he started going with glasses two years ago, but he doesn't know who sparked the craze or when. ''There's no stories behind it. You know, it's a look, it's a fashion thing,'' James said. ''But (Westbrook) absolutely didn't start it.'' --- FACE GUARDING: Miami's Shane Battier was jazzed to find out that three-time scoring champion Kevin Durant admitted being bothered by Battier's method of sticking his hand in a shooter's face to keep him from seeing the rim. ''Yes! Someone finally admitted it,'' Battier said. ''For years, Kobe (Bryant) never admitted it. Yes!'' Battier said he started the hands-to-the-face technique a few years ago after teammates got mad at him when he was testing it out in practice. He says coach Erik Spoelstra isn't all that fond of it but his rationale is that ''I can't jump to block shots anymore, so that's my secret weapon.'' ''Anything to mess with this sort of space right here affects you,'' Battier said, gesturing with his hands moving around his head. ''People in general don't like being touched in their face, they don't like hands in the face. Shooters don't like being touched on the wrist. They just don't like it. I know I don't like it. So, if I don't like it, I know other guys don't like it, so why don't I do it?'' Durant said Battier is the only defender he remembers trying to block his vision on his release. ''I absolutely hate it,'' Durant said. ''But I've gotten used to it over the years playing Shane. ... You've just got to be disciplined on your shot, and I think shooting so many shots, you know once you kind of let loose, you know where it's going to go.'' --- BOSH ON THE BENCH: The Heat remain noncommittal on whether All-Star forward Chris Bosh will return to the starting lineup. Spoelstra said it's more important that he be put in positions to be aggressive than whether he's on the court when the game starts. And Bosh is simply amused by all the interest his status is getting. ''I didn't know it was such a big deal, the starting thing. I just thought people were happy to see me out there,'' Bosh joked. Bosh had started every game he played in through the regular season and the playoffs until suffering an abdominal injury during the Eastern Conference semifinals. He has come off the bench in his four games since that nine-game absence. ''I'm a glass is half-full kind of guy,'' Bosh said. ''I always look at whatever position I'm, I'm like, `This is the best position to be in right now.' It doesn't matter to me.'' --- RECORD RATINGS: The opener of the series was the most-viewed NBA Finals Game 1 ever on ABC. The game drew a 9.9 household rating and just under 16.2 million viewers, according to Nielsen. The best previous marks were for the opener of the 2004 finals between Detroit and the Los Angeles Lakers (9.8 rating, 15.35 million viewers). The ratings were a 10 percent improvement over last year's Game 1 between Miami and Dallas (9.0) and a 7 percent increase in viewers (15.2 million). The rating is the percentage of all homes with TVs. --- TIP-INS: Country singer Sara Evans will perform the national anthem before Game 2. Her songs include ''Born to Fly'' and ''Perfect.''... Even NBA stars don't know everything about each other. Wade said he was watching the Spurs on TV and a girl and a boy ran up to Tim Duncan before the game. ''I didn't know he had kids. I'm assuming they're his,'' Wade said. ''They kind of look like him.'' Duncan does indeed have two children, according to San Antonio's media guide. ... Bosh faced questioning after downplaying Oklahoma City's loud crowd following Game 1 but he didn't back away from his assessment. ''It is loud,'' he said. ''I guess I made it worse in my head. I guess it was going to be a much tougher environment in my head.''
Original Story:
http://msn.foxsports.com/nba/story/Th...
THE BACKYARD
BEST OF MAXIM
RELATED ARTICLES
OKLAHOMA CITY—For at least one game, the Miami Heat seemed to figure out how to beat the Thunder and that is to get out in front and stay out in front. Please click the link below to read this feature and watch multiple post game videos at www.playersview.net
Jest.com is always on point when they cover sports, but this clip of LeBron James developing his talents (and bad habits) at an early age might be the funniest thing they've ever done. 1994 LeBron taking his talents to Peter's team and dribbling forever only to pass at the buzzer are funny enough, but the joke about not being able to be Michael Jordan in NBA Jam is so good...
Why aren't you rooting for LeBron James? Unless you're an Oklahoma City Thunder, Boston Celtic (Classy) or Indiana Pacer fan, it has no intellect at all. Aren't you tired of giving all your effort to hating LeBron? Or have you not reached your peak and plan on taking your disgust Facebook statuses to the next level? We get it, LeBron left you clinching your...
LeBron James has been criticized his whole career for not stepping up when it really matters. That's the price you pay when some call you the best in the world. His constant disappearing acts down the stretches of big games have now become part of his calling card. Last year's NBA Finals was no exception. James didn't play to the level he's capable of and the Heat lost to...
OKLAHOMA CITY- The Thunder won Game 1 of the NBA Finals much as how they have won a large percentage of their playoff games. To read the rest of this feature and watch post game videos,click the link below to visit playersview.net
Kevin Durant and LeBron James have reached another level in the postseason, but the 2012 NBA Finals will more likely be turned by one of their teammates.
All you have to do is take one look at the picture above to understand what this is going to be. So we won't waste your time trying to convince you that this song in honor of LeBron James sung by Mike Tyson on Jimmy Kimmel Live is probably the craziest thing you'll see today. But what else can you expect when Mike Tyson is involved. [Slam]
I've heard rumors that there's some basketball game on tonight… but honestly, I'm not sure what it is.  I assume it's one of those crappy lockout exhibition things arranged by LeBron James and Kevin Durant because as far as I can remember, the NBA season ended Saturday. So instead of watching….. that….. watch the Gang in the latest episode of Gang Green. They go live...
                It's the finals every body wanted. LeBron James versus anti-LeBron James, aka Kevin Durant. The makeup of both the Oklahoma City Thunder and Miami Heat could not be any more different. Miami built their big-3 through free agency in the summer of 2010. James and Chris Bosh upped with Dwyane Wade, which of course prompted this.  Meanwhile, just days after...
Touching, poignant, and haunting. And that's just the afro wig and basketball outfit Iron Mike is sporting. Mike Tyson continues to reinvent himself as a master of comedy, and this latest appearance on Jimmy Kimmel Live only adds to his repertoire of hilarity.  Tyson sings the melodic "Lebron James" as only he can.  The only thing funnier than Tyson's so-called singing...
Miami came ready to play Tuesday night in Game One of the NBA Finals. The Heat jumped out to a 13-point lead and had everything going. They were forcing turnovers, they were getting out on the break and they were moving the ball. Mario Chalmers and Shane Battier were getting open shots and taking advantage of an Oklahoma City defense still getting its bearings. LeBron James...
Game 1 off the NBA finals went to the Thunder. But what about the OTHER battle, the fashion one? Russell Westbrook wore a shirt from the 2012 Prada spring collection and of course, personality frames. KD opted for a slim cut suit in black. King James opted for a color mash featuring a berry shirt, [...]
NBA News

Delivered to your inbox

You'll also receive Yardbarker's daily Top 10, featuring the best sports stories from around the web. Customize your newsletter to get articles on your favorite sports and teams. And the best part? It's free!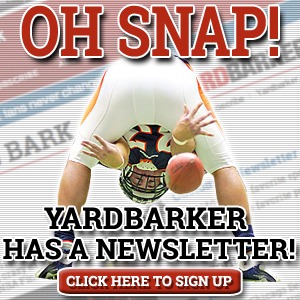 Latest Rumors
The Backyard

Today's Best Stuff

For Bloggers

Join the Yardbarker Network for more promotion, traffic, and money.

Company Info

Help

What is Yardbarker?

Yardbarker is the largest network of sports blogs and pro athlete blogs on the web. This site is the hub of the Yardbarker Network, where our editors and algorithms curate the best sports content from our network and beyond.