Found January 08, 2013 on Fox Sports North:
MINNEAPOLIS Cody Metz looks like any other 16-year-old Timberwolves fan. Sitting courtside while the team warmed up Tuesday for its game against the Hawks at the Target Center, Metz had the requisite jersey and awestruck smile. He was this close to Ricky Rubio, to Derrick Williams. He could have been hit by an errant basketball, for that matter. Of course he was a little overwhelmed, a little nervous, a lot excited. But Cody Metz isn't just any other Timberwolves fan. He isn't going to retreat up into a lower bowl seat and watch the game and head home, like any other Tuesday night. Cody Metz is at the game through the Make-A-Wish Foundation. He's suffered from health problems for his entire life, and in 2007 he had surgery to remove a tumor at the base of his spine, near his brain. He suffers from pilocytic astrocytoma, which affects about 2 in 100,000 people. Five years later, he still deals with severe headaches and nausea. Metz, who lives in Lakeville and attends Lakeville South High School, has been a Timberwolves fan for a long time, even through the disappointing seasons when the team failed to win even 20 games. He watches every game, he said, and he tries to attend as many games as possible. Earlier this year, he met Kevin Love at one of his basketball camps, and a month ago, he had his second interaction with the star power forward. Love recorded a video personally inviting Metz to Tuesday's Timberwolves game and then to fly on the team plane to Oklahoma City to watch Wednesday's game as well. A Make-A-Wish employee brought the video to Metz, and he was thrilled. He is most excited to ride on the team plane and attend Tuesday's game in a suite, he said, but the chance to see one of the Western Conference's best teams in Oklahoma City did not disappoint. His parents, Rob and Carol Metz, will accompany him on the trip, and he doesn't yet know where he'll sit in Oklahoma City. He doesn't necessarily have favorite players, he said, but "obviously Kevin Love and Ricky Rubio are exciting players to watch," he acknowledged. Love will visit with Metz in his suite during Tuesday's game, although he won't make the trip to Oklahoma City, instead traveling to New York for a doctor's appointment to consult about his broken right hand. But that didn't seem to bother Metz, and he seemed more concerned about the team's injury than any missed chance on his part to spend one-on-one time with Love. Metz, a guard during his basketball-playing days, said he hasn't come up with the questions he wants to ask the players yet. He was just soaking it in, a bit too wide-eyed for planning. "I'm a little nervous," Metz said. "I met Kevin Love at one of his camps earlier this year, so, yeah, I'm a little nervous. But more excited, I'd say." Follow Joan Niesen on Twitter.
Original Story:
http://www.foxsportsnorth.com/01/08/1...
THE BACKYARD
BEST OF MAXIM
RELATED ARTICLES
MINNEAPOLIS Ricky Rubio answered the question like there'd never been a doubt. Yes, he said. Yes, he'll be playing in Oklahoma City Wednesday night, tomorrow night, really, when he said it. And tomorrow night implies back-to-back, which is just what the Timberwolves are facing and just what Rubio has heretofore been banned from. "My first back-to-back," he said...
MINNEAPOLIS Barring some other setback, Ricky Rubio will return to the Timberwolves' lineup on Tuesday against Atlanta. The point guard has missed the past four games with back spasms, but he practiced Monday and said he's ready to go. Nikola Pekovic, who sat for most of the second half of Saturday's game with a left hip strain he sustained Thursday, did not practice...
MINNEAPOLIS When the Timberwolves drafted Derrick Williams second overall, the highest-ever pick in franchise history, in June 2011, he was, for a brief moment, the future of the team. All such high draft picks are, by virtue of the number assigned to them and the value it implies, if for no better reason. But with the Timberwolves, that designation didn't last long. Problem...
Kevin Love will miss eight to 10 weeks after he undergoes surgery on the third and fourth metacarpals on his broken right hand. According to multiple reports, the surgery will take place next week. Love flew to New York Wednesday to consult with Dr. Andy Weiland, a hand specialist at the Hospital for Special Surgery who treated him for his past two hand injuries. At the appointment...
MINNEAPOLIS Kevin Love will fly to New York on Wednesday morning to meet with Dr. Andy Weiland, a hand specialist at the Hospital for Special Surgery in New York. Weiland worked with Love on his past two hand injuries, and Love has an appointment scheduled with him for Wednesday afternoon. The team will have a better idea of the course of action to be taken after that appointment...
Looking for the assist of Wednesday night in National Basketball Association? We here at Outside the Boxscore have it for you. It happened during the Minnesota Timberwolves/Oklahoma City Thunder game as Timberwolves guard Ricky Rubio threaded a between-the-legs pass past two Thunder defenders. The beneficiary of Ricky's assist was Minnesota forward Louis Amundson:
Kevin Love will miss the next eight to 10 weeks after needing surgery to repair a right hand that is broken for the second time this season. The Minnesota Timberwolves All-Star visited a hand specialist in New York on Wednesday. It's the latest major injury to a team that has suffered them all season long. Love missed the first three weeks of the regular season after breaking...
Plus he adds a behind the back dime to boot
The Minnesota Timberwolves hoped that they could avoid surgery for forward Kevin Love. According to ESPN.com, the team announced that Love is expected to be out for eight to 10 weeks after breaking his right hand for the second time this season.Love missed the first three weeks of the regular season after breaking his right hand in the preseason. He returned faster than most expected...
Minnesota Timberwolves forward Kevin Love met with doctors in the Twin Cities on Monday to evaluate his right hand, which is broken for the second time this season. Timberwolves president of basketball operations David Kahn says Love also will consult with a hand specialist in New York this week before determining a course of action. There is no timetable for his return, but Kahn...
Ricky Rubio proved last night why he's known as the most creative passer in the NBA.  Check out the video below of Rubio tossing a pass between his legs through two defenders to Lou Amundson.  Sadly Lou couldn't convert the basket to top it all off, but you can't blame Rubio for his crappy teammate. The Timberwolves went on to get crushed 106-84 by the OKC...
Losing Kevin Love to injury leaves a huge hole in the Minnesota Timberwolves' lineup, but coach Rick Adelman can't afford for his team to wait for the All-Star forward to return. Now, it's uncertain when Timberwolves center Nikola Pekovic will be back. Point guard Ricky Rubio, though, is expected to return from his injury on Tuesday night when the host Timberwolves...
Timberwolves News

Delivered to your inbox

You'll also receive Yardbarker's daily Top 10, featuring the best sports stories from around the web. Customize your newsletter to get articles on your favorite sports and teams. And the best part? It's free!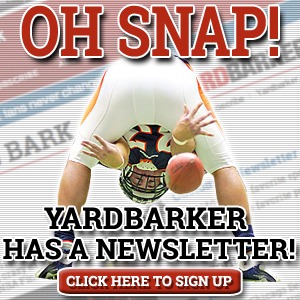 Latest Rumors
The Backyard

Today's Best Stuff

For Bloggers

Join the Yardbarker Network for more promotion, traffic, and money.

Company Info

Help

What is Yardbarker?

Yardbarker is the largest network of sports blogs and pro athlete blogs on the web. This site is the hub of the Yardbarker Network, where our editors and algorithms curate the best sports content from our network and beyond.