Found March 06, 2013 on Fox Sports North:
MINNEAPOLIS Chase Budinger is a living, breathing and now shooting representation of what the Minnesota Timberwolves are missing. To watch him rehab can be encouraging, depending on your perspective, or utter torture. The swingman tore his meniscus Nov. 10 in Chicago, so early in the season that when he hobbled off the court, supported by head athletic trainer Gregg Farnam and point guard Will Conroy, one could almost hope that nothing was wrong, that it was, just as the team first suggested, simply a twisted knee. It was a simpler time, before Andrei Kirilenko suggested lighting candles for his team and the word cursed became an acceptable description. Since then, we've learned that these Timberwolves don't tend to twist or bruise. They tend to strain and sprain and miss weeks or even months. Now, Budinger is two to three weeks away from making his comeback, he says. That's not precise, not by any means, but it's a reasonable hope. He's finished with in-person appointments and has only an over-the-phone consultation with Dr. James Andrews left before he's cleared to go. That consultation will come next week, when Budinger hopes to be permitted to participate in full-contact practices and increase his jumping, cutting and lateral movement. Every knee injury is different, obviously, but to compare timelines, it took Ricky Rubio 17 days between being cleared to practice on Nov. 28 and making his debut Dec. 15. Granted, Budinger's injury was not as severe as Rubio's and he's actually ahead of schedule in his rehab, but it's not unreasonable to expect him to follow a similar path. Budinger said Wednesday that he's still working out the kinks in his game and that the biggest obstacle thus far has been mental. He's learning to trust his knee and to know he can do more with it, and to him, apparently, that's more of a concern than the fact that he was dripping with sweat after a workout that would have left him barely winded in October. "I'm feeling good," Budinger said. "Knee's feeling good. A couple days ago, I actually jumped off it and had a little dunk, so that was a good little mental hurdle of mine." Budinger did stress the need to get back into game shape, but that's a problem that's often impossible to solve before players actually get back into games. It's difficult to simulate the physical beating of a game, during which players accrue more than a mile of running at a sprinter's speed, and so for now Budinger will shoot, and jog and do whatever the trainers tell him. There's a certain irony in watching him these days. He's with the team at practices and shootarounds, participating in 5-on-0 drills and working on his shot. Much of the time, Budinger is hovering at the 3-point line, rotating around its arc, shooting shot after shot after shot and often making shot after shot after shot. It's encouraging to see that he hasn't lost his touch, that his long-range shot has the right arc, that he's comfortable with the jump necessary to launch the ball. But, if you consider the bigger picture, it's also kind of cruel. The Timberwolves are currently shooting 29.7 percent from 3-point range, which was supposed to be and apparently still is, based on what he's shown Budinger's specialty. Minnesota is the worst in the league from long-range, and by a wide gap; the Suns, at 29th, are shooting 32.8 percent. In fact, the Timberwolves of 2012-13 are on pace to go down in history as epically bad, with only 14 teams having accrued a worse 3-point shooting percentage in the history of the league. (That's among teams that attempted at least 500 3-pointers in a season.) And so Budinger shoots from beyond the arc, over and over and largely successfully, and it's easy to wonder what could have been. "I watched Chase up there shooting the ball," Rick Adelman said Monday, "and I said, If you're going to stand there and just make every shot, I don't even want to watch you. Wait until you can play, and then do that.'" But that's not how things have worked, not for these Timberwolves. You can't blame their problems solely on Budinger's knee or Kevin Love's hand or any of the multitudinous other faulty chunks of flesh and bone that have plagued the team. You can wonder, though, and now, maybe, look a little bit forward. Budinger will return this season, if only to boost his stock in free agency this summer and give a hint of what his team could have been. As much as that seems unfair, it'll have to be enough, and no amount of shots Budinger might make in March or April will undo the pervading sense of what could have been. Follow Joan Niesen on Twitter.
Original Story:
http://www.foxsportsnorth.com/03/06/1...
THE BACKYARD
BEST OF MAXIM
RELATED ARTICLES
MINNEAPOLIS Kevin Love will travel to New York on March 13 for what should be his final follow-up with hand surgeon Michelle Carlson at the Hospital for Special Surgery. Love said that he will meet with Carlson and undergo some hand therapy while in New York before flying to meet the Timberwolves in Houston for their March 15 game against the Rockets. Don't expect another surprise...
Kevin Love is going to be taking a different approach to icing that healing right hand of his. The Minnesota Timberwolves forward is planning to participate in the Polar Bear Plunge on Saturday. He's going to be jumping into frigid Riley Lake in Eden Prairie as part of Minnesota Law Enforcement's effort to raise money for Special Olympics. Love is the first Timberwolves...
MINNEAPOLIS When you're the Timberwolves, and the Heat are in town, and you have as many wins as they had the day after Christmas, there's a certain brand of inferiority complex that's bound to creep up. It's manifested itself before, most unfortunately in a man dressed up as a Knicks fan who stood on the court and caterwauled in a grating New York accent on Feb...
Things got a little testy last night between the Miami Heat and the Minnesota Timberwolves. The Heat ended up extending their winning streak to 15, while the the Wolves' guard JJ Barea got ejected for shoving Ray Allen.   As if that wasn't enough, the Heat's Harlem Shake video has gone viral, and the Timberwolves … Continue reading »
The viral sensation that is the Harlem Shake appears to still be going strong, despite the fact that many people like us have grown tired of it. Apparently the Minnesota Timberwolves have also had enough. On Tuesday, the T-Wolves posted their own version of the Harlem Shake on their official YouTube account. As you can see, it featured a person in a LeBron James jersey wearing a...
Know I'm late to this, but it's my favorite sports video of the week. The set-up. This whole Harlem Shake epidemic is the latest mindless thing to blow up the Interwebs. You can't escape it. It's like Call Me Maybe all over again. Ganam-style to its most gag-tastic. My sincere hope is that it's running its course. Unfortunately, it didn't escape the Miami Heat, who released...
The Minnesota Timberwolves made a mockery of the Heat's popular rendition of the "Harlem Shake" that's already received 31+ million views in the 5 days since it was released. "Some things get old fast" flashes across the screen in Heat styled text as the TWolves mascot, Crunch, is seen beating a dancer dressed in a LeBron James jersey with a bat:
The Harlem Shake videos are all the rage at the moment, with the Toronto Raptors, Denver Nuggets, and the Miami Heat, posting videos of the "dance" and now the Minnesota Timberwolves post a their own depiction of the craze.  With one big exception.  They have an individual dressed in LeBron James' jersey doing the Harlem [...]The post Minnesota Timberwolves Video Depicts...
While most of you are probably sick of these Harlem Shake videos that we've posted, this is one is a change-up.Check out the Minnesota Timberwolves version that was shown at the Target Center during their game with the Miami Heat back on Monday:
The Minnesota Timberwolves created a hysterical video making fun of the Miami Heat's Harlem Shake video, but unfortunately for them, a Heat fan came back and went at them hard.  After the Timberwolves said that the Harlem Shake videos were getting old, the Heat fan took it to another level and said that being in the draft lottery was getting old fast.  Nothing like going right...
We're glad to report that the Minnesota Timberwolves are as sick of this whole thing as you are.
Timberwolves News

Delivered to your inbox

You'll also receive Yardbarker's daily Top 10, featuring the best sports stories from around the web. Customize your newsletter to get articles on your favorite sports and teams. And the best part? It's free!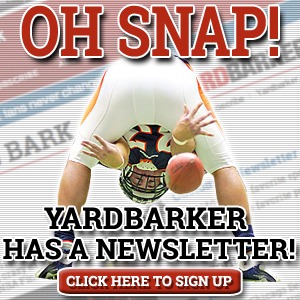 Latest Rumors
The Backyard

Today's Best Stuff

For Bloggers

Join the Yardbarker Network for more promotion, traffic, and money.

Company Info

Help

What is Yardbarker?

Yardbarker is the largest network of sports blogs and pro athlete blogs on the web. This site is the hub of the Yardbarker Network, where our editors and algorithms curate the best sports content from our network and beyond.