Found October 29, 2012 on Pass The Pill:
PLAYERS:
Derrick Rose
,
Dwight Howard
,
Andrew Bynum
,
Andre Iguodala
,
Joe Johnson
,
Jeremy Lin
,
Ray Allen
,
James Harden
,
Deron Williams
,
Brook Lopez
,
Kobe Bryant
,
LeBron James
TEAMS:
Chicago Bulls
,
Los Angeles Lakers
,
Philadelphia 76ers
,
Denver Nuggets
,
Brooklyn Nets
,
Houston Rockets
,
Miami Heat
,
New York Knicks
Derrick Rose's recovery will be a huge story this season.credit: blogspot.com Ladies and gentlemen, the NBA season is almost here! With tipoff right around the corner, we will have a full 82 game season with no lockout issues. After a turbulent offseason that featured names like Dwight Howard, Andrew Bynum, Andre Iguodala, Joe Johnson, Jeremy Lin, Ray Allen, and James Harden all changing locations, there is plenty to look forward to as an NBA fan from now until June. It's going to be a fun ride. We live in a league full of stars, many of whom reside in big markets, which makes for plenty of story lines. So what are the top five NBA story lines to keep an eye out for this season? 5. Does Derrick Rose return to form? Derrick Rose is the pulse of the Chicago Bulls, and his knee injury was absolutely devastating for the team, the city of Chicago, and the league in general. A torn ACL is never taken lightly, but it hurts a little more when it happens to someone who plays as hard and is as passionate as Rose. We don't know when he will return, but the team is hopeful that it will be at some point this season. They're not going to take any risks, as you would expect with this type of injury to your franchise player. That means that this season could be a disappointing one for a team that was in the Eastern Conference Finals just two seasons ago. Any time there is an ACL injury, you can't help but worry about how someone's explosiveness will recover. Derrick Rose is a player who's game is primarily based on his athleticism, speed, and explosiveness, which leads to huge concerns about whether he can return to form. This season might be a stretch, but hopefully he can be 100% by next season. If there is a rivalry in New York, Deron Williams will be a big part of it.credit: sportsillustrated.com 4. Will the Knicks and Nets develop a legitimate rivalry? With two teams calling New York home, the race to become the best team in the state is officially on. Brooklyn added Joe Johnson and brought back Deron Williams, and are hoping for a healthy Brook Lopez that remembered how to rebound. The Knicks are always in the news, for better or for worse. Linsanity has moved to Houston, but the team added a lot through free agency, although their clubhouse is slowly turning into a nursing home. I'm still not sure that either of these teams are very good. Deron Williams hasn't been nearly as good since he arrived in Brooklyn, and the rest of their roster is filled with overpaid players who only do one or two things well. The Knicks have their fair share of issues: whether Ray Felton can bounce back from an awful season, Stoudemire's health, Melo's play, and what they'll get out of their older veterans. The Nets and Knicks both need to be good in order for this to be a legitimate rivalry, and I'm not sure it will happen. They should both be playoff teams, but I don't think there is any way that both of them finish in the top four in the Eastern Conference. There will be a ton of hype, but how much of it is warranted is questionable. It won't be much of a rivalry if they battle for the 6 seed year in and year out. 3. How good are James Harden and Jeremy Lin? The Houston Rockets all of the sudden have an intriguing situation. As I previously wrote about, the two main guys on the Rockets have never been full-time go-to guys. Kevin Durant and Russell Westbrook drew the attention in Oklahoma City, and Lin has still only started 25 games in his career. They are now Option A and Option B, and will have opposing teams gunning for them every night. The combination is a strange one. Both are pick-and-roll guards that need the ball in their hands, and neither are off-the-ball slashers. You get the sense that when one has the ball, the other will just be standing in the corner waiting for a kick out. Neither are very good defensively, and you have to get the sense that they will get torched by quick backcourts. There will be a ton of news stories on this combination, but I'm skeptical at the moment. I have a hard time believing that both of them will live up to the hype, and earn their contracts. 2. Will the Lakers be as dominant as they are on paper? This team should be absolutely dominant. They have the best big center in the league, one of the best shooting guards ever, the most skilled big man in the league, and a point guard who is one of the best at getting his teammates the ball in the right spots. But they still have to play the games. There are a few points here. Kobe Bryant might try to install "Kobe Ball" all season, where he decides not to pass and take every shot. This takes the offense completely out of rhythm, and it's just not efficient basketball, particularly on a team this talented. Dwight Howard's health is a concern, although it looks like he should be in pretty good shape. As always, we never know what to expect out of Metta World Peace. They'll need his defense and perimeter shooting, which shouldn't be too much to ask. They really don't have a contingency plan for Metta, as Matt Barnes went to the other Los Angeles team. They should be the Western Conference favorite, and the main challenger to the defending champion Miami Heat. But things don't always go according to plan. Will LeBron and the Heat dominate the league again this year?credit: gannett-cdn.com 1. Can LeBron repeat last season's performance? Simply put, LeBron James was brilliant last season. He did everything you could possibly do for your team, which is why he won MVP, and eventually his first NBA championship. He initiated the offense, finished the offense, guarded every position, rebounded, and did anything else you could think of. It was an unbelievable run, and a much deserved ring. Can he keep doing it? We know he has the ability, but it's tough to ask that much of anyone year in and year out. With the Miami Heat going small, LeBron will have to play a lot more minutes as the power forward, which could lead to some extra fatigue. He can do it, but it will wear him down at least a little. This is where he can make his legacy. LeBron has his first ring, and he is in a position to start racking up the total. Is it really unrealistic to think he can win two more over the next three years? -Mark Evans, Assistant Manager/Editor of Content Follow us on Twitter The post Top Five NBA Story Lines Of The 2012-2013 Season appeared first on Pass The Pill.
Original Story:
http://sports-kings.com/passthepill/t...
THE BACKYARD
BEST OF MAXIM
RELATED ARTICLES
Jeremy Lin is still new in town, so he can be forgiven for getting some names crossed up, right? The Houston Rockets' guard sure hopes so. In the moments following a five-player trade that landed James Harden in Houston and rookie Jeremy Lamb in Oklahoma City. Lin thought he was texting Lamb when he sent a message saying, "goodbye and good luck." He was actually texting...
Derrick Rose may return to his offseason headquarters in Southern California while the Bulls are on their circus road trip.
While rehabbing his injured ACL, Derrick Rose continues to maintain a certain status in the Chicago area.  I'm not talking about his superstar status, but rather his philanthropic status.  Rose has a clear understanding of his place in the heart of the Windy City, and he doesn't want to let people down.  Unlike players in the past - like Charles Barkley - who have shied...
Chalk one up for Raymond Felton in the "who's better debate" that seems to have taken over New York ever since the Knicks let Jeremy Lin walk to the Houston Rockets. The surprise opinion comes from new cross town rival Deron Williams of the Brooklyn Nets. However, let's not forget that "Linsanity" sprung after Jeremy Lin outplayed Deron Williams in what became the start...
Now that the baseball season is over and the hockey season has yet to start, it's time to turn our attention to the young Detroit Pistons. The Pistons host Jeremy Lin and the Houston Rockets in the home opener on Halloween night, and Pistons fans are wondering whether their team is going to be scary or offer up some treats. Most likely, it'll be a little of both. Coach...
While many have been quick to dismiss the Chicago Bulls with Derrick Rose sidelined, coach Tom Thibodeau's team is eager to prove its doubters wrong. After six consecutive losing campaigns, the Sacramento Kings are also looking to surprise. Chicago tries to continue its recent domination of Sacramento as both teams kick off their seasons Wednesday night at the United Center...
The Chicago Bulls' drafting of Derrick Rose in 2009 kicked of the beginnings of the all-American sports fairy tale. 2 years of the ragtag, scrappy bunch, with hard-nosed Kirk Hinrich and hot-shooting Ben Gordon teaming with the ROY to lead the upstarts to rollicking back-to-back 1st round exits. In 2011 the script played out perfectly; here comes the defensive genius Coach Tom...
#1: Los Angeles Lakers: Chemistry is indeed a funny thing, but I'd be more worried about the Lakers if their starting lineup didn't include three of the most cerebral players in all of basketball.  Pau Gasol and Dwight Howard will develop the most lethal high-low attack of my lifetime, and I believe Kobe Bryant has enough respect for Steve Nash to share the ball from time to...
We close out our previews of the Southwest Division by asking the Crossover Chronicles writers their thoughts on the big questions in the Southwest Division. 1. What is Anthony Davis' ceiling for potential? What is his floor? Jeff Garcia: Not many quality big men come in the NBA Draft. Last one is arguably Tim Duncan. He reminds me of when David Robinson came into the...
NBA News

Delivered to your inbox

You'll also receive Yardbarker's daily Top 10, featuring the best sports stories from around the web. Customize your newsletter to get articles on your favorite sports and teams. And the best part? It's free!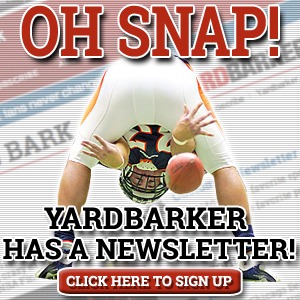 Latest Rumors
Best of Yardbarker

Today's Best Stuff

For Bloggers

Join the Yardbarker Network for more promotion, traffic, and money.

Company Info

Help

What is Yardbarker?

Yardbarker is the largest network of sports blogs and pro athlete blogs on the web. This site is the hub of the Yardbarker Network, where our editors and algorithms curate the best sports content from our network and beyond.