Found April 05, 2013 on Cuzoogle:
Wow is the season over yet for the Toronto Raptors? Granted I kind of checked out after the Rudy Gay honeymoon period ended. What a mess. At least there is the classic April potential to talk about all summer. Yep, it's that time of year where we have to endure games like an 88-78 win over the Washington Wizards at the Air Canada Centre on Wednesday. Only seven games to go in this up and down season that was meant to answer some questions on the future of the franchise. At least a few of the young guys are getting some burn. Jonas Valanciunas is showing some promise in the garbage time remaining in the year. 24 points on Wednesday was a nice surprise and certainly looks like a glimpse of things to come. So what is the point of the last few weeks? What is the purpose? I think it should be about trying out new things. This is a sandbox time of year. Let's try new lineups, new offenses and defenses. It won't hurt anything and it is a good chance for BC to know what he has going into the offseason. Although he should know what he has now. If you are injured, you sit. If you are old, you sit. This is a time to let your future stars just play. Learn from mistakes and build confidence. I have to admit, I have not watched a lot of games this season. But I do read what I can and the feeling over the whole situation is, players like T-Ross and Jonus are not getting enough time to truly show what they can do. The offseason questions I have are: Is Dwayne Casey the right coach for this bunch? What is the future of Andrea Bargnani? It seems he has outstayed his welcome. Can a team with Rudy Gay and DeMar DeRozan make it work? Is Kyle Lowry good enough to be the starting PG? The team and fans can no longer blame Jose Calderon and his lack of D. They can't blame being old and not having youth from blue chip programs. Nope, all the pieces are there. They just seem to need one more ideal piece to bring it all together. Oh and a healthy team would do it. So over the summer, if they can shore up the PG spot, trick Landry Fields to giving back his salary and somehow convince any team to trade Barganani for a true low post player, this team is in the playoffs next year. Oh, I also think it is time to change Matt and Jack/Leo. I can't actually handle Matt Devlin anymore. Just his voice for some reason really gets to me now. Next season, with my boy turning four, I should be right back into watching more games and getting that fever again for the Raps. Or maybe I am just really down on the team because I am enjoying an amazing run by my Michigan Wolverines, who are playing in the Final Four this weekend. Go Blue. I need something from the Toronto Raptors to form that bond again. There is so much else going on in life that I can't commit to a team that looks as if they are in a hamster wheel every year. I don't have the answers, I just want to be a fan again. addthis_url = 'http%3A%2F%2Fcuzoogle.com%2F2013%2F04%2F05%2Ftoronto-raptors-defeat-washington-wizards-at-acc%2F'; addthis_title = 'Toronto+Raptors+defeat+Washington+Wizards+at+ACC'; addthis_pub = '';
Original Story:
http://feedproxy.google.com/~r/Cuzoog...
THE BACKYARD
BEST OF MAXIM
RELATED ARTICLES
FULL CIRCLE
Video: A dunk so big that the bench dosido's
The Toronto Raptors Terrence Ross forced the Minnesota Timberwolves home crowd to say 'ooooh!,' as he threw down one of the hardest 360-degree dunks we have seen in a long time. The pop from the contact is furious and so was his intentions. The Raptors walked away winners on Friday 95-93   Please click here to watch this video. Video: Terrence Ross throws down the 360 power...
Toronto Raptors shooting guard Terrence Ross threw down a monster 360 slam dunk in the fourth quarter of Friday night's game at the Target Center in Minneapolis. Ross scored 7 points off the bench to help the Raptors beat the Minnesota Timberwolves 95-93. Video via NBA. Visit us at holdoutsports.com and follow us on Twitter @HoldoutSports.
Rick Adelman's milestone will have to wait - for another day at least. Rudy Gay and DeMar DeRozan made sure about that. Gay had 26 points and five rebounds to lead the Toronto Raptors to a rare road victory in the West, 95-93 over the Timberwolves on Friday night. DeRozan had 25 points and Kyle Lowry added 11 points and seven assists for the Raptors, who beat the Timberwolves...
It has to be kind of hard for fans of teams like the Toronto Raptors whose team has been out of playoff contention for some time. Do you cheer for them to win because you hate to suck? Or do you want them to lose in order to improve their chances in the draft lottery? Lucky for the Toronto Faithful they do have some talented players like Terrence Ross who on occasion give them...
The Washington Wizards have officially shutdown rookie Bradley Beal after a series of injuries tainted his first run in the NBA.   Please click here to read this story. The post Washington Wizards Bradley Beal is done for 2013 appeared first on Players View.
If you've been keeping up with me since I took over the basketball reigns here for Razzball Nation, you know I've had two guys I've been all about.  Tobias Harris and Jonas Valanciunas.  Yes the luminescent Latvian (LL).  OK, so I'm not one to talk, I'm paler than an Icelander living in Seattle.  But it sounded cool when I made it up. At the ripe young age of 20, Valanciunas...
Not trying to sound cocky, but I think we got this. According to a report via Kevin Nielsen of Sportsnet, the Toronto Raptors and the Cleveland Cavaliers are battling it out to see who will receive the honor of hosting the 2016 NBA All-Star Game. The Toronto Raptors are one of six NBA franchises to never host an All-Star Game, but they may soon be crossed off that list. The Raptors...
The news is not surprising, but it's still disappointing to Washington Wizards fans and to Bradley Beal. Beal will miss the remainder of the season thanks to a stress fracture in his right leg.  The recovery time for this injury is expected to be six weeks, so as the team announced yesterday, Beal will be done for the year.Beal is an exciting player that should help with Washington...
  104     85 4/6/2013 - Verizon Center, Washington, DC ESPN Boxscore  -  NBA.com Game Highlights The Wizards had a great start offensively, lead by John Wall who began the game shooting 7-for-8 for 15 points by the end of the 1st quarter and went psycho after that. He finished with 37 points, five assists and four rebounds. And mind you, this was all against...
Thanks to a Nugget victory in Salt Lake City on Wednesday, the Lakers (39-36) have sneaked back in the 8th spot in the west. They are now a half game ahead of the Jazz but will still need to win most, if not all, of their remaining 7 games — including tonight. The Memphis Grizzlies (51-24) come in to Staples Center as the Western Conference's hottest team with the longest...
NBA News

Delivered to your inbox

You'll also receive Yardbarker's daily Top 10, featuring the best sports stories from around the web. Customize your newsletter to get articles on your favorite sports and teams. And the best part? It's free!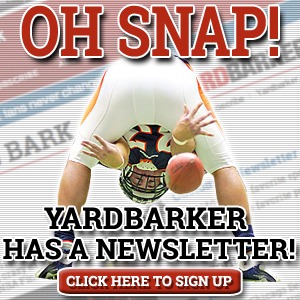 Latest Rumors
Best of Yardbarker

Today's Best Stuff

For Bloggers

Join the Yardbarker Network for more promotion, traffic, and money.

Company Info

Help

What is Yardbarker?

Yardbarker is the largest network of sports blogs and pro athlete blogs on the web. This site is the hub of the Yardbarker Network, where our editors and algorithms curate the best sports content from our network and beyond.