Found August 14, 2013 on NorthWest Sports Beat:
What to expect With the 2013-14 NBA season quickly approaching, Damian Lillard has garnered most of the attention for the Portland Trail Blazers. The attention is well-deserved, as his rookie campaign was beyond noteworthy, but there's one player who has slipped under the radar entering his second season. Meyers Leonard is coming off of a rookie year that saw both ups and downs. He never validated his No. 11 pick, but he displayed a skillset that should eventually make him a starting-caliber player. His unmet potential gives fans optimism at this stage in his career, but the question here is whether he soars or slumps during his sophomore season. Rumor has it that Meyers Leonard has been in the gym quite a bit this summer. That's good news for fans who believe, as it shows his work ethic extends well beyond the regular season and fall training camp. Leonard's biggest asset at this point is his ability to play up tempo. He can move well in transition with the rest of the crew, and his energy is unmatched by most at the center position. Meyers Leonard has the potential to be a starting-caliber center for the Trail Blazers. Where Leonard also excels is in spreading the floor. His mid-range game is excellent—a crucial characteristic of today's NBA bigs—and he's been working to extend his range out to the three-point line. But while having a three-point shooter who is seven-feet tall sounds like a good idea in theory—Arvydas Sabonis, anybody?—the fact is that he flopped in that category during the summer league. Time and practice could change that moving forward, but the more pressing issue here is having a big man who can actually play big. Leonard needs to acquire a back-to-the-basket game, if for no other reason than to keep defenses honest. Defenders are hardly afraid to stop Leonard one-on-one, and forcing them to bring a second body would create more offense for the rest of his teammates. Sticking with the theme of living at the rim, Leonard must improve his low-post defense. The big man was bullied down low during his rookie season, and not-so coincidentally, the Blazers were the worst team in the league at defending the paint. So we go back to the question that's on everybody's mind: What will Leonard's sophomore year actually look like? Will he step up to the challenge and get stronger along the way? Or will he struggle to adapt to the physical NBA game? The truth is that bringing in Robin Lopez helps his cause. On the surface, having a starting center detracts from the minutes he hopes to earn; however, a slow integration will be a plus when it comes to a young, developing player. Additionally, Leonard now has someone from whom he can learn the center position. As good as JJ Hickson was in 2012-13, he just didn't have the physical tools or defensive mindset to help groom an up-and-coming seven-footer. As a reserve, expect Leonard to play about 20 minutes a game, and look for him to get involved in the team's half-court sets. His rookie year was made up of hustle plays and scramble points, and while you don't want to take that away from him, you want to see what he can do paired alongside LaMarcus Aldridge and Damian Lillard. If Leonard continues to bulk up and keeps his three-point shooting in the practice gym, he's going to take a step in the right direction. His game isn't that of a traditional center's, but in today's NBA, having a 7'1" hybrid makes your offense that much more dangerous. CLICK HERE TO CHECK OUT THE BLAZERS BLOG IN OUR CLUBHOUSE TODAY AT NWSB!
Original Story:
http://www.nwsportsbeat.com/trailblaz...
THE BACKYARD
BEST OF MAXIM
RELATED ARTICLES
The Portland Trail Blazers have partnered up with Moda Health, and part of that new partnership includes a name change. The Rose Garden, open since 1995, will now be called the "Moda Center." According to Portland Trail Blazers: Two of Oregon's most dynamic and innovative companies are banding together in a 10-year agreement that will energize Portland's hub for sports and...
Portland is mad about their Blazers. Every day since 1995, they piled into a newly-built Rose Garden to cheer their team on.   Today, one of the unique arena names in the NBA is no more, as the Rose Garden has been re-named the Moda Center. "The Rose Garden put us on the map, the Moda Center's going to take us into the future," Trail Blazers president and CEO...
The Portland Trailblazers announced today that after 18 years of being know as the Rose Garden the NBA franchise's home will now be called the Moda Center At The Rose Quarter. Two of Oregon's most dynamic and innovative companies are banding together in a 10-year agreement that will energize Portland's hub for sports and entertainment, creating an urban showcase for healthy...
The Rose Garden, home of the Portland Trail Blazers, will be renamed the Moda Center. The Blazers and Moda Health signed a ten-year naming rights agreement. "Moda makes sense for us for a number of reasons," said Blazers President Chris McGowan. "From Day One, I always talked about securing a partnership that included a naming-rights deal with the right company is...
In one of the sadder posts of the week, we regret to inform basketball purists that the Portland Trail Blazers have renamed the Rose Garden to "Moda Center at the Rose Quarter." It was eventually bound to happen, but when it does finally go down it takes a minute to set in. "The Moda Center at the Rose Quarter" just doesn't have the same ring to it… According to the...
Goodbye, Rose Garden. Hello, Moda Center. The Portland Trail Blazers announced a 10-year agreement with insurance provider Moda Health on Tuesday to rename the Rose Garden. Blazers President Chris McGowan says a new logo should be unveiled within about a month, and the team hopes much of the new signage will be up by the season's home opener on Nov. 2 against San Antonio. ...
One thing that I did not know about Trail Blazers forward Dorell Wright was that he holds an annual roller skate party called "Skate Party". Recently, Detroit Pistons guard Brandon Jennings made an appearance at Wright's party this year and unfortunately while trying to jump on the back of an unnamed individual, he wiped out: *** Hat Tip to Cassy Athena's Instagram account...
East Oakland California a place known for danger and crime. Many view this place as the killing field were young African American males are statically more likely to end up either dead or in jail. While this statistic maybe true for the majority of people there is nothing further than the truth for Rookie of the Year Damian Lillard. Lillard who grew up in Oakland was always one...
Trail Blazers News

Delivered to your inbox

You'll also receive Yardbarker's daily Top 10, featuring the best sports stories from around the web. Customize your newsletter to get articles on your favorite sports and teams. And the best part? It's free!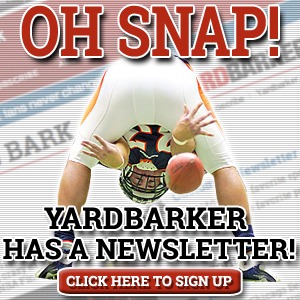 Latest Rumors
Best of Yardbarker

Today's Best Stuff

For Bloggers

Join the Yardbarker Network for more promotion, traffic, and money.

Company Info

Help

What is Yardbarker?

Yardbarker is the largest network of sports blogs and pro athlete blogs on the web. This site is the hub of the Yardbarker Network, where our editors and algorithms curate the best sports content from our network and beyond.