By Erik Horne Staff Writer ehorne@oklahoman.com SAN FRANCISCO — Jerami Grant and Terrance Ferguson laughed together as if they were in on a secret. Fresh out of a film session, the two young flyers turned the corner together at Equinox Health Club in downtown San Francisco wearing smiles and carefree demeanors.
In an interview with CBS Sports, the versatile Grant said his goals are still 'extremely high'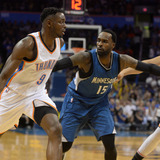 Newest Thunder acquisition Jerami Grant is already thoroughly enjoying his time in Oklahoma City. After the Thunder defeated the Minnesota Timberwolves on Saturday to improve to 5-1 on the year, the 22-year-old forward was asked by Fred Katz of the Norman Transcript if anything stood out to him about his new team. His response was an instant classic. Jerami Grant said he "already...
The Philadelphia 76ers are a beautiful mess. On Monday, they announced that Jerry Colangelo, longtime director of USA Basketball and former owner of the Phoenix Suns, will lock arms/butt heads with Sam Hinkie, as the newest and most distinguished member of a front office that's already chest deep in the most sacrificial long-term vision the league's ever seen. The hiring signals...
Jerian Grant has been slumping of late. Majorly slumping. But that all game to a halt Wednesday night when Grant's Knicks hosted the 76ers in a matchup that pitted him up against his brother, Jerami Grant. The Knicks rookie ended up having his best game in some time against the Sixers, going for 12 points, two assists and two rebounds in 20 minutes. Here's more from Marc Berman of...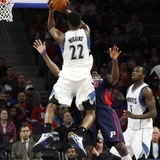 Monday night's Timberwolves-76ers game made no sense. The Sixers almost won. Then, they didn't.Andrew Wiggins was great. Jahlil Okafor vs. Karl-Anthony Towns was fun. There were loads of dunks, athletic plays and generally hectic possessions. In the end, the Wolves got their first home win of the season.If you missed any or all of the game, you don't need to watch it. All you need...
It's no secret that the Philadelphia 76ers are in the midst of an extended rebuild that's now entering a third straight season.The team won just 18 games last year, and this year doesn't project to see many more than that. But the young talent in place on the roster is excited about the development process, and Jerami Grant promises that the players will give their all, every night...
Philadelphia 76ers 99 FinalRecap | Box Score 85 Denver Nuggets Jerami Grant, SF 32 MIN | 2-5 FG | 1-2 FT | 4 REB | 3 AST | 0 STL | 5 BLK | 1 TO | 6 PTS | +24 +/-Grant got the start last night and delivered a so-so offensive performance.  That end result was especially odd to me given that he came out of the gates red hot and scored all 6 of his points in the opening minutes...
With the 39th overall pick in the 2014 NBA draft this past summer, the Philadelphia 76ers selected a combo forward from Syracuse named Jerami Grant. Grant seemed to fit the mold of the player the 76ers have been seeking under current general manager Sam Hinkie: extremely athletic but with room for development. Grant was measured at the combine as 6'6.5″ without shoes, but showed...
Raw, athletic, and talented, all words that describe Philadelphia 76ers second round pick Jerami Grant. Grant was selected with the 39th pick in this year's NBA Draft and seems to fit the mold of what Sam Hinkie and Brett Brown want in year two of the rebuilding process. The raw but talented Grant saw a lot of playing time with the Sixers as he was one of the few players who played...
MORE STORIES >>
Thunder News

Delivered to your inbox

You'll also receive Yardbarker's daily Top 10, featuring the best sports stories from around the web. Customize your newsletter to get articles on your favorite sports and teams. And the best part? It's free!