Former Boston Celtics great Kevin Garnett was in China yesterday for the release of his new sneakers, the KG4's by Anta.  While he was there the future Hall of Famer sat down with a reporter from Sina.com, a massive Chinese media site, and took part in an exclusive one-on-one interview.  As he talked with the mediator, KG touched upon family, personal relationships, his current situation in Brooklyn, and his retirement plans. He also spoke briefly about who he believed was the best power forward to ever put on a pair of basketball sneakers, despite his tendency to steer clear of such power rankings.  Unfortunately, the session's transcript was only released in Chinese.  That's where I come in. I took the liberty of translating the text (no I do not speak Chinese) so that Celtics fans could see some of the summer's craziest events from Garnett's perspective. But I should warn you. The translation isn't exactly word for word due to the large discrepancy between the two languages. With that said, I did my best to supply you with the correct questions and answers so that you are able to have the best reading experience possible.  The interview also jumps around a lot as it doesn't seem like the mediator placed the questions in the proper sequence.  However, I will say that this interview contains a lot of solid information. Whether or not it helps you come to terms with the departure of two of the franchise's biggest stars is for you to decide.  Sina:  Welcome to China. KG:  Thank you. Every time I come to China I'm always happy. Sina:  I'm glad you came to our studio. We all know that you signed with Anta again yesterday. How do you feel?  KG:  I'm very happy. I think they're great. We have had a good partnership for the past three years and they always ensure that I am able to play well on the court. I'm on the court wearing their shoes and I feel very comfortable. So now I'll be able to get used to these and I'm very happy about that. Sina:  You just told me that your daughter is learning Chinese. Why is she learning it? KG:  Yes my daughter is learning. I try to be a good father and I believe that it's important for a child to have all-around development. I think if she learns many languages she'll be able to have a brighter future. You can learn more things about culture and explore the world. Sina:  What words do you know? KG: Hello, thank you and the like. Sina:  Can you say "I love you China?" KG:  *says "I love you China" in Chinese* How was that? Sina:  Great. KG:  I want my child to be like me. Able to have fluent exchanges with the Chinese people and understand what they are saying. Sina:  The next time I hope you can bring your daughter to China. Yesterday at the conference site we saw that you launched the KG4 shoes. The price is only 399 yuan, equivalent to 60 U.S. dollars. Compared to other signature shoes, this pair of shoes is priced very low. What did you have in mind for this shoe? KG:  I told Anta that I want to have a pair of low cost shoes so that the kids can afford them. If your shoes are too expensive the kids might not be able to afford them. They'll enjoy basketball more with the right shoes. Sina:  The fans want to know what some of the features are of this shoe. KG:  The important thing, for me, is that they're very comfortable. The design is beautiful, a lot of technology, the color is nice. I love it. I'm very satisfied. Sina:  Can I see it? KG:  Of course you can see it. What are you wearing for shoes? Sina:  I'm wearing high heels. KG:  You girls should wear Anta shoes, very beautiful shoes. Everyone will wear these. I hope the kids can afford them so they can realize their dream. That's the most important thing. I came here to promote the idea to boldy chase your dreams. Never stop. Sina:  Lets get back to the questions. We know that in your previous contract you had a no-trade clause. You could've chose not to go to the Nets and went to another team. So why the Nets? KG:  I was in Boston for 5 or 6 good seasons and won a championship. But then Doc decided to leave. I don't know how long I can play so were some uncertainties. I don't know how my body will react in two years. But I will always chase the possibility of winning another championship. Jason Kidd is also my friend and he'll be a very good coach. I also really like New York and Brooklyn. So I'd say that's why I chose the Nets. I'm really looking forward to this opportunity and working with my new teammates and coaches to achieve my goal. Sina:  There were reports that you called Paul Pierce before the transaction to talk about the situation. .  KG:  We are very good friends. Our kids play together often. He came to my house and we talked for a while. Thinking about what was best for the two of us and we made a decision together to go to the Nets. Sina:  If the trade included just you and not Pierce, would you have rejected it? KG:  I would have. I would have chosen to retire rather than get traded away without him. Sina:  I heard that after this season you'll retire? KG:  That's a rumor. I was just trying to find a good destination and now that Jason Terry and Paul are going to the Nets and Jason Kidd is the coach there I'm looking forward to being there.  Sina:  That's good. The Chinese fans are looking forward to seeing you and Paul continue to play effectively in the league. We should be grateful for Pierce because if it weren't for him you would've retired.  KG:  Thank you. Sina:  When did your relationship with Pierce begin? KG:  Our relationship can be traced back a long time to when we were young. We weren't stars when we started playing together. We had mutual friends that's introduced us in Los Angeles and we played AAU together. We also spent time together during the All-Star games and our relationship just continued to grow. I don't know why we didn't play with each other earlier. Sina:  In China, if people have a particularly good relationship we let our children get married. KG: *laughs* Paul has children and I have a daughter. I don't want my daughter to get married. I want her to stay in the house. *laughs*  Sina:  I understand. Your effectiveness in Boston over the last six years led to two finals appearances, a championship, and countless memories. Which left the biggest impression on you? KG:  Every time you win a championship it's always memorable. But I will always remember the Finals in 2010 when we lost to the Lakers.  Before a game against the Lakers during the regular season that year, Doc had us all put $100 in a jar and he hid it up in the ceiling. He told us that we would retake our money when we came back here in June for the Finals.  Since we're in the East and the Lakers are in the West we only have to come to L.A. once a year. So the only time we would be able to get our money back would be during the Finals. It was a really good incentive for us. I saw the team progress slowly and when we went back to L.A. in June we saw that the money was still there. We knew what we were playing for. But unfortunately we didn't win the series. The memories and that story will always remain in my mind. It inspired me, Doc inspired me and he was a very good friend. We'll always be friends. Sina:  You just talked about joining the Nets. Jason Kidd was a fellow player and now he's your coach. How will that work out for you? KG:  Since he's my friend it will allow us to integrate easier now that we're together. He's the kind of coach that's going to call you out on your small mistakes so that you can correct those small problems. I am very optimistic for him as head coach. I trust he'll make the right decisions.  He was a winner but also a competitor and he loved to lead his team to wins. If he ever needs me to help him make the transition from player to coach then I absolutely will. Sina:  Before you joined the Nets, did you talk to Kidd at all? KG:  No I actually didn't speak to anyone for a while. I wanted to give myself a little time to think about everything. Think about what's true and what isn't. So I decided not to have contact with anyone until I had made my decision. Sina:  According to the latest league schedule, the Nets have 20 back to back games this year. Kidd said that he might not want you to play on the second night. Thoughts? KG:  Yeah. I don't know how I feel about that. I want to see how training camp goes and see how I feel throughout the year but he's the coach. If he doesn't choose to play me then what can I do? Sina:  There are news reports that you and Deron Williams put together pre-training camp workouts in L.A. recently. How was that? KG:  Every year I organize some training with 12-15 people in L.A. We practice and work out together. With Deron, we practiced together and then went out to eat to talk about the future of the team. I feel like we have some good chemistry and I like that feeling. This is kind of like the feeling I got when I first went to Boston. Very similar, very similar. I feel like the team is starting to create chemistry and that's always important when you have a new roster from one year to the next. Sina:  Now that the Nets have five superstars a lot of people have called you favorites in the East. What do you think? KG:  We're talking about everything on paper. The key to our team's future success depends on what we run into. What we actually do on the court is what's important. Sina:  Eastern Conference teams have gotten better. The Heat are always dangerous and the Bulls are getting Derrick Rose back. How would you compare the Nets to these teams? KG:  To tell you the truth, I don't know what level our team is on. We have a lot of talented players but I still don't know. The Heat have been together for a long time and have won championships. The Bulls have been together for a while now too and they have a great feeling for each other on the court. And the Pacers just added Scola. But training camp hasn't even started yet so obviously we have a lot to work on. Everything is still being said based on what's on paper. I don't want to compare us to another team. I just want to get to work. Sina:  I have to say you seem a lot different now than you do on the court. KG:  I'm serious on the court. You have to play aggressively and you have to show you mean business. But I'm very relaxed off the court. I chill with friends and people like you. I like talking to you guys. Sina:  I see. Well the Western Conference is always tough with the Spurs and Thunder being at the top of the conference. The Rockets are looking to join the mix this year. What do you think of the James Harden/Dwight Howard combo? KG:  It's not just the Rockets. Like I said, the Bulls are getting Rose back. Both the East and West have progressed. I'm looking forward to this season. Sina:  Kobe Bryant once told me he looks up to you because you give him advice. But you learned a lot from him last year when he got hurt. Plus, you both live in Los Angeles during the offseason. Are you two close? KG:  We have a couple of opportunities to meet. Kobe is one of my brothers and when he got hurt I told him that I would always support him no matter what team he played for. I do have a lot of experience so I try to be a role model for other players to look to. I lead by example and Kobe does the same. Kobe's a true friend of mine. Sina:  You've won a championship. What made you want to go after another one? KG:  I just love to play. I always have. I'll continue to play as long as my body is able to handle it. I saw this as a great opportunity and I'm going to fight for another chance to get a ring. If I retired I'd just chill with my friends and go golfing or whatever, which is cool. But I have one ring and I want to get another really badly. The more, the better. Sina:  You have two years left on your contract. But before you even consider retirement we want to know how much longer you see yourself playing. KG:  As long I can play at a high level, I'll play. I don't have any set dates. I'll wait until that day comes but until then I will continue to train and work hard. Sina:  Would you ever consider playing in the CBA? KG:  I would never say no. I believe that anything is possible even if it's not absolute. Sina:  You used to play with Stephen Marbury during your time spent on the Timberwolves. He's playing in the CBA and he's doing well. If you retired from the NBA would you consider playing with him here? KG:  Marbury won yet? Sina:  Yes he won a championship. KG:  I don't know. But I'm happy for him. I'm happy that he got a championship and like I said, I could never say no to joining the CBA. I really liked playing with Marbury back in the day. I respect his style and he always wanted to get the ball in my hands. Sina:  Have you talked to him since he left for China? KG:  We're in different countries. The time difference interferes with that. But I don't have any bad memories of him. He's always been a great guy and I congratulate him on his achievements. I wish him luck going forward. Fan:  Hello Kevin. I've loved you since you were in high school and my whole family loves watching you play. I think your easily the best power forward in the game today with Duncan and Gasol trailing right behind you. Who do you think is the best power forward to ever play? KG:  Well I don't like to define myself with one position but I love playing power forward. I can also play point guard and I obviously play some center too. When it comes to the best power forwards I think Kevin McHale and Charles Barkley are high up on the list. But when it comes to guys of my era I think Tim Duncan is the best. However McHale is the best power forward in NBA history, in my opinion, because he understood the game and played it the right way. I don't usually like to rank players but that's what I think. Fan:  KG, glad to see you. If you can win another championship do you think that would help you to decide to play a few more years? KG:  If I win another championship I wouldn't say that the motivation to defend it wouldn't be there. But who wouldn't want to retire while being at the top of the league? If i get a championship this year I'll come back and answer your question after the season. Sina:  Last season we had some concerns for Jeff Green with him coming back from injury. He didn't play all that well but we're optimistic for his future. What's your relationship with him like? KG:  He did have some injury problems but he's better now. We have a great relationship and our families are very close. Jeff and everyone else from that team are my brothers. I might have left Boston but I still wish them luck. Me and Pierce won our first title here so I'll always remember Boston. Follow @TimMacLean_
Original Story:
http://www.celticsspot.com/1/post/201...
MORE FROM YARDBARKER
NBA News

Delivered to your inbox

You'll also receive Yardbarker's daily Top 10, featuring the best sports stories from around the web. Customize your newsletter to get articles on your favorite sports and teams. And the best part? It's free!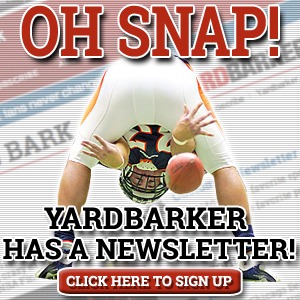 Latest Rumors
Best of Yardbarker

Today's Best Stuff

For Bloggers

Join the Yardbarker Network for more promotion, traffic, and money.

Company Info

Help

What is Yardbarker?

Yardbarker is the largest network of sports blogs and pro athlete blogs on the web. This site is the hub of the Yardbarker Network, where our editors and algorithms curate the best sports content from our network and beyond.