Found December 07, 2011 on Fox Sports Arizona:
PLAYERS:
Elston Turner
,
Rick Adelman
,
Alvin Gentry
,
Tom Thibodeau
,
Yao Ming
,
Steve Nash
,
Jared Dudley
,
Channing Frye
,
Jeff Van Gundy
TEAMS:
Phoenix Suns
,
Chicago Bulls
,
Houston Rockets
PHOENIX -- When the reference is made, a natural first reaction might be similar to how you'd respond when being introduced to the "Valedictorian of Summer School." Yeah, very little cache accompanies that one. As the semi-official "Defensive Coordinator of the Phoenix Suns," Elston Turner is aware that established perceptions -- good and bad -- carry real weight. That's why one goal in his first season as a Suns assistant coach is to plant a seed in the steel-trap minds of NBA opponents. "You think of certain teams around the league, and there's something that they're known for," Turner said this week during a break from pre-training-camp meetings at U.S. Airways Center. "I want us to develop a title around the league that we play a certain way ... whether it's grabbing, holding ... whatever it takes." Right, whatever it takes to erase some of the historical perception that a date with the Phoenix Suns usually becomes a scoreboard free-for-all. "We're going to be better," said Turner, who has interviewed for several NBA head-coaching vacancies in recent years. "I'm not sure how big the jump is going to be. But I have no doubt we'll be better. It may be in increments, gradually getting better year by year." There certainly seem to be vast acres of improvement available for a team that has ranked no higher than 23rd among NBA teams in defensive efficiency over the past three seasons. Much of the Suns' turnstile approach to defense is credited to their allegiance to vigorous offense. But individually spotlighted liabilities also do the Suns few favors when the other team has the ball. The 52-year-old Turner, a former NBA player with 14 years of experience as an assistant coach in this league, is taking a pragmatic approach to forging a defensive upgrade. "It doesn't matter what kind of system you use," he said. "You have to implement a certain approach, a certain way you have to play. Focus and awareness ... those are huge. "The energy ... the effort ... that has to be there. Without it, nothing else matters." OK, before checking with Turner on a few defensive specifics, let's take a look at how he arrived at this point in Suns time. After starring at Ol' Miss, Turner -- a defensive-minded 6-foot-5 guard -- played eight years in the NBA. His coaching future was influenced by studying the styles and philosophies of the disparate minds he played for. The list includes Dick Motta, whose Chicago Bulls teams were built on tough defense and overall physical play. As a Denver Nugget, Turner experienced the full-throttle schemes of Doug Moe. "From one extreme to the other," Turner said. "But I've been blessed to play for and coach under some guys with really different styles." Much of his development as a coach can be traced to 10 years spent with Rick Adelman. After their run in Houston ended last season, Turner joined Coach Alvin Gentry and the Suns in Phoenix. A few weeks later, Adelman was hired as head coach of the Minnesota Timberwovles. While they teamed up in Sacramento, Turner eventually was put in charge of coaxing a little defense out of a wildly productive Kings team that usually was near the top in the NBA scoring derby. His familiarity with coaching defense to a more offensive-minded audience makes him potentially a better fit in free-wheelin' Phoenix than someone from a system based on a slower overall process. "There's a lot of misconceptions out there," Turner said. "The way you evaluate a defense is not how many points you give up in a game, but how many you give up per 100 possessions. You just have to be good enough to keep the opponents' score under your score." Turner followed Adelman to Houston, where -- with previous head coach Jeff Van Gundy and assistant Tom Thibodeau having established a certain defensive bent among the holdover players -- the Rockets were second and fourth for defensive efficiency in their first two seasons. The Rockets finished 17th the next season and 19th last season, with the absence of lane-clogging giant Yao Ming generally regarded as a strong variable. And that leads us to sticking points in any lingering skepticism regarding the Suns' potential to be at least adequate on defense. "My job is to stay flexible enough to put players in positions where they can succeed," said Turner, who credits Adelman for helping him appreciate the importance of being strategically flexible. "A lot of things look good on paper, but when you factor in some of the talent you go against in this league ... well, you sometimes have to back off of that and take another look. "And if it doesn't fit your own personnel, you can't use it." With Steve Nash at point guard, Jared Dudley ticketed for considerable minutes at shooting guard and Channing Frye at power forward, Suns fans are quite aware that the potential starting lineup doesn't scream "Ball pressure and traprecover schemes!" Adjusting to individual issues associated with any of the Suns shouldn't be as difficult for Turner, who's pretty clear on his general approach. "I'm a proponent of keeping the ball in front of you," he said. That means if you don't have sufficient lateral quickness, don't go nose to nose with the world's best one-on-one players and invite dribble penetration or play all-out, passing-lane denial on the wings. There's no sense in forcing your defense into excessive rotation scramble if you lack the quickness to pull it off. "We still want to be as aggressive as possible," Turner said. "I don't want to give away any specific coverages and concepts ... but there are certain areas on the floor we like to channel the ball to." A subset of his philosophy, in descending order of importance, is (1) protect the rim; (2) keep opponents off the free-throw line; (3) eliminate clean looks from the 3-point line. It's pretty simple to read, but a lot more difficult to create with a training camp and preseason compromised by the lockout. "It hurts," Turner said. "Everything is compressed, and you're implementing a new system. Players need time and reps. It can have an effect, but we just to develop defensive chemistry." With Turner, who interviewed for a Suns' head-coaching vacancy that was filled by Terry Porter, there's someone committed to watching the team's defensive Petri dish.
Original Story:
http://www.foxsportsarizona.com/12/07...
THE BACKYARD
BEST OF MAXIM
RELATED ARTICLES
The Suns are believed to be preserving cap space for next summer.
(source feed provided no summary content for this entry)
Q: Grant Hill seems like the perfect veteran option for Miami. Not only would he probably be more receptive to a minimum deal than most of the other wings the Heat are pursuing, but his skill set is a better fit too. Nobody else on Miami's wish list (including Battier) can defend and play point-forward like Hill can. — Justin. A: It would have been nice. But Hill apparently...
Robert Sarver read through the NBA schedule last night when it was released, and he's not happy that many of the Eastern Conference's top teams won't be making their way to Phoenix, since that represents a big financial loss at the ticket counter. From the Arizona Republic: "Phoenix is the only team that will not have a home game this season against Boston, Chicago, Miami...
The Knicks are on the verge of landing Grant Hill, according to two NBA sources. Hill, the Suns free agent, deliberated for the past few days between making the jump to New York or staying with the Phoenix Suns, which are in rebuilding mode. Hill is close to accepting the...
EL SEGUNDO, Calif. -- Steve Nash is going to have a new alley-oop partner this season. Unrestricted free agent and former Los Angeles Lakers guard Shannon Brown will sign a one-year, $3.5 million deal with the Phoenix Suns, sources told ESPN the Magazine's Chris Broussard on Thursday. The deal cannot become official until Friday at 2 p.m. ET, when the league's moratorium...
Heat Index: There seems to be a feeling around the NBA that the 66-game, condensed schedule is going to be a killer for older teams. But even with veterans Steve Nash and possibly Grant Hill, the Suns still have an advantage.
The Suns will sign Brown to a one-year, $3.5 million contract and the 6-foot-4 off-guard will join the team Friday.
Shannon Brown is moving from Hollywood to Arizona, on a 1-year deal. report ESPN and Yahoo! Sports: "Shannon Brown in serious talks with Phoenix, says Brown's agent Mark Bartelstein. Not done yet but close. Likely tomorrow." "Shannon Brown is nearing a one year, $3.5M deal with the Phoenix Suns, league source tells Y! Sports."
The Sacramento Kings have offered a four-year contract valued at $20 million to Houston Rockets free agent Chuck Hayes, according to a team source. The under-the-cap Kings, according to the source, are optimistic Hayes will accept the deal, which would pay the 6-foot-6 forward in the mid-level exception ballpark of $5 million annually. Said another source close [...]
NBA News

Delivered to your inbox

You'll also receive Yardbarker's daily Top 10, featuring the best sports stories from around the web. Customize your newsletter to get articles on your favorite sports and teams. And the best part? It's free!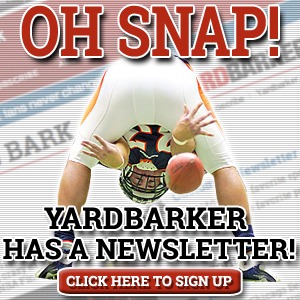 Latest Rumors
The Backyard

Today's Best Stuff

For Bloggers

Join the Yardbarker Network for more promotion, traffic, and money.

Company Info

Help

What is Yardbarker?

Yardbarker is the largest network of sports blogs and pro athlete blogs on the web. This site is the hub of the Yardbarker Network, where our editors and algorithms curate the best sports content from our network and beyond.