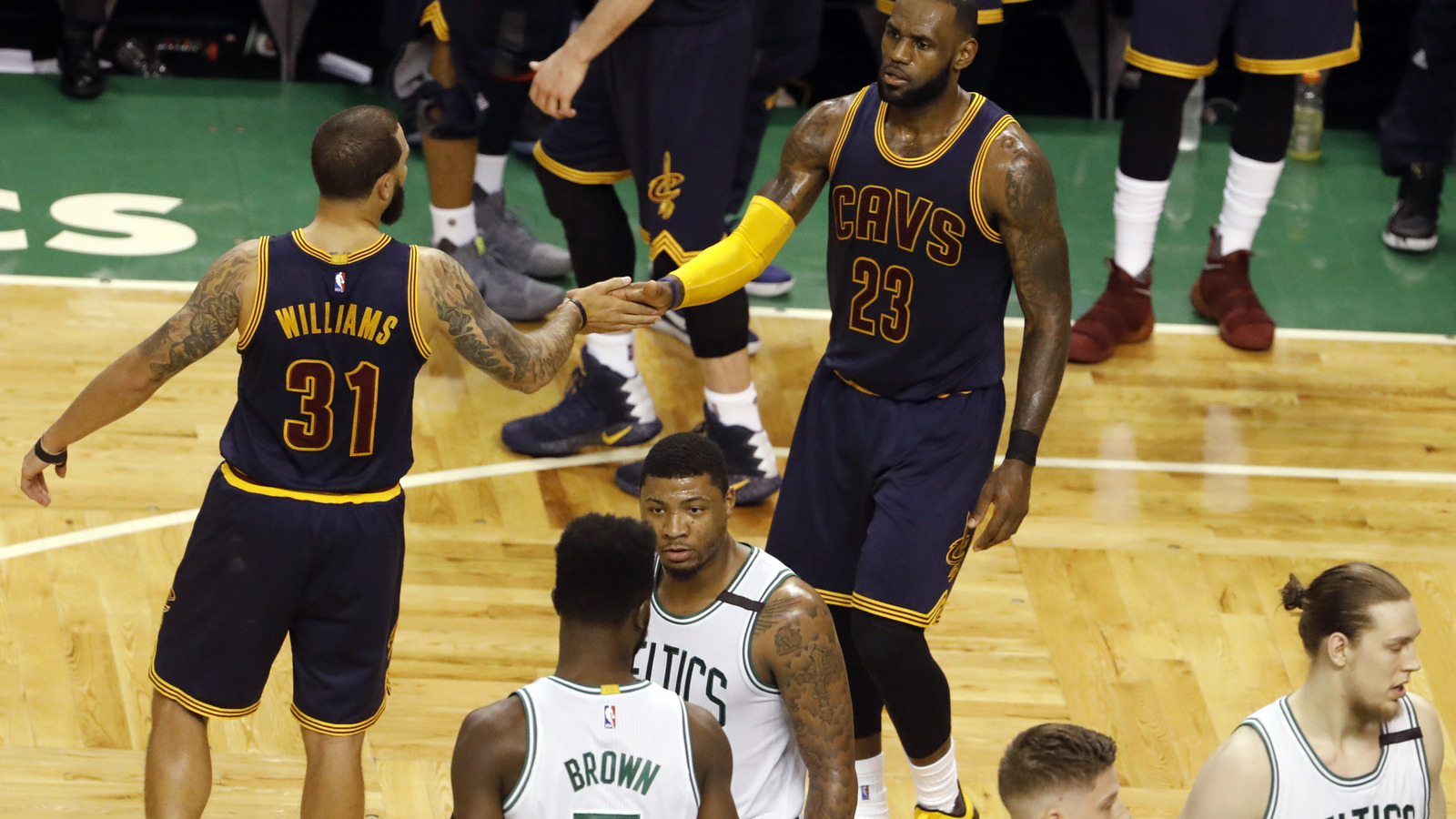 May 19, 2017; Boston, MA, USA; Cleveland Cavaliers forward LeBron James (23) reacts after a play against the Boston Celtics during the second quarter in game two of the Eastern conference finals of the NBA Playoffs at TD Garden. 
David Butler II-USA TODAY Sports
The Cleveland Cavaliers clearly were not satisfied with their 13-point easy win in Game 1 of the Eastern Conference Finals against the Boston Celtics. They decided to come out with even more focus in Game 2.
The Cavs came out blazing in the first half of Game 2, shooting 59.1 percent from the field while holding Boston to 26.8 percent. Cleveland was up by 40 points with a few minutes left in the half, which was incredible, and they took a 72-31 lead into the half. The 41-point margin at the half was the largest in playoff history.
The Celtics were so bad they got booed in the first half:
The internet probably wasn't shocked about the result, but they definitely brought the jokes. Here's a look at some of the best comments we saw about the Cavaliers' first-half beatdown of the Celtics:
The Celtics are the first team in NBA history to start tanking after they already won the draft lottery.

— TJ Beisner (@tjbeisner) May 20, 2017
Did Brad Stevens really just ask to have Cavs birth certificates checked … smh #AAULife

— Jean-Jacques Taylor (@JJT_Journalist) May 20, 2017
The NBA should've just had a NIT with all the other teams besides the Warriors and Cavs.

— Brett Anderson (@BAnderson3737) May 20, 2017
They should've just canceled the rest of the playoffs and made it Cavs-Warriors best of 25.

— Jeff Eisenberg (@JeffEisenberg) May 20, 2017
Danny Ainge will have to consult LeBron before trading any draft picks: "When are you going to the Lakers?"

— Stefan Bondy (@SBondyNYDN) May 20, 2017
If you are Brad Stevens, what do you say in a timeout when you trail 61-24?

— Rick Bonnell (@rick_bonnell) May 20, 2017
This is exactly why the Celtics didn't bother trading for Jimmy Butler prior to the deadline, and exactly why their owner made this comment.
MORE FROM YARDBARKER
NBA News

Delivered to your inbox

You'll also receive Yardbarker's daily Top 10, featuring the best sports stories from around the web. Customize your newsletter to get articles on your favorite sports and teams. And the best part? It's free!