Found August 08, 2012 on Fox Sports Florida:
LONDON (AP) -- As the shot fell through the net, Kobe Bryant held up three fingers on each hand. It was his third straight 3-pointer in the fourth quarter, enough for the U.S. men's Olympic team to finally put away stubborn Australia. Yes, all's fine with Bryant, and the Americans' gold medal hopes, as well. Bryant silenced his critics and broke open a tight game with six 3-pointers in the second half Wednesday night as the U.S. advanced to the semifinals of the London Games with a 119-86 victory over Australia. "Somebody made him mad. I could see it in his eyes," American Kevin Durant said. "I wanted him to kind of turn it on and that's what he did." On a night when LeBron James had a triple-double, the story was Bryant's awakening from his Olympic slumber. The five-time NBA champion has even said this team could have beaten the Dream Team, and on the 20th anniversary of that squad's gold medal win, he put on the kind of show that makes his claim hard to dismiss. Bryant scored all of his 20 points after halftime, finally delivering the kind of game expected of him in London. He had insisted his time would come, and none of his teammates ever doubted it. "I kind of knew what button to push with him. I was talking to him at halftime and in the third quarter and I guess I pushed the button. He woke up and to see that, I've been on the other side of the ball and had that situation before," teammate Carmelo Anthony said. Bryant, a top-five scorer in NBA history, brushed away Anthony's attempts to take credit as easily as the questions he's been hearing in London. "He was just saying, 'Let's see what we see during the season.' But by that point, I was already revved up," Bryant said. James finished with 11 points, 14 rebounds and 12 assists for the Americans, who advanced to their third straight Olympic semifinal meeting with Argentina, which beat Brazil earlier Wednesday. Deron Williams added 18 points, Anthony had 17 and Durant 14. The Americans beat the Argentines 126-97 on Monday in the final game of pool play, yet another night they didn't need much from Bryant, who came in averaging just 9.4 points and hearing whispers that something must be wrong with him, though both he and his teammates kept assuring people there was no problem. This time was different -- eventually -- after Bryant misfired on all four shots in the first half. "Just kind of searching for something to get me going, for something that would activate the Black Mamba, as Coach calls it," Bryant said. That came when Australia scored the first 11 points of the second half, cutting the Americans' lead to three after back-to-back 3-pointers by Joe Ingles. The U.S. lead was only six before Bryant, who had never gotten in an offensive rhythm in London and just minutes earlier had committed another puzzling offensive foul, finally broke out. He made a 3-pointer, then batted away a pass, chased it down along the left sideline and pulled up for another 3 that made it 70-58. James followed with a basket that pushed it to 14, and the Americans never let the Australians get much closer. Bryant made sure of it. He finished 6 of 10 behind the arc, making three straight in the fourth quarter as part of a 17-2 run to blow it open, the crowd chanting "Kobe! Kobe!" before he finally missed on a ridiculously long attempt before calling it a night. Patty Mills scored 26 points and Ingles had 19 for Australia, which had the misfortune of running into the U.S. in the quarterfinals for the second straight Olympics. "The difference in the game was their transition buckets and 3-pointers, and Kobe got a little bit sniff," Mills said. "And for great teams, that's all they need and they stretch it out." Even the Australian fans were cheering for Bryant as he walked to the locker room after a postgame interview. First, he knocked fists with the Aussies' kangaroo mascot, wearing boxing gloves on his hands. Bryant sure knocked out the Australians. Bodies fell and blood flowed in a physical first half, the Americans taking plenty of hits but delivering them as well, such as the one that sent Australia's David Barlow to the bench with a bloody nose that took a while to control. But the spirited play brought out the best in Bryant, who insists he's content taking a lesser role with other, much younger scorers such as James, Durant and Anthony willing to carry the load. He said the same things in Beijing and came through with 20 points in the gold-medal game, so the Americans know they can count on him to rise to a challenge. They expect another one from Argentina, which beat the U.S. in 2004 on its way to the gold medal, a loss the Americans avenged before winning gold in Beijing. Russia plays Spain in the other semifinal. The crowd on the first night of action at the North Greenwich Arena included NBA Commissioner David Stern and Deputy Commissioner Adam Silver, who have said they may prefer the Olympics be limited to players 23 and younger in the future. First, they saw why fans want to keep seeing America's best -- and what everyone expected from Bryant all along. "You see it all the time, but that was the first time we've seen it here," Durant said. "He got so upset and when he does that he's in another world."
Original Story:
http://www.foxsportsflorida.com/08/08...
THE BACKYARD
BEST OF MAXIM
RELATED ARTICLES
Kobe Bryant felt the game getting close, then put it away from long range. Bryant made six straight 3-pointers in the second half, LeBron James finished with a triple-double, and the U.S. men's Olympic basketball team advanced to the semifinals with a 119-86 victory over Australia on Wednesday night. Bryant scored 20 points, flashing three fingers in the air after his third...
Kobe Bryant has woken up and that is a bad thing for the other teams moving forward. Bryant has is really the only American player that has struggled in these Olympics. Bryant found his touch again in the Americans 119-86 win over Australia in a Quarterfinal match up. Also LeBron James had a monster game what else is new? Bryant really struggled in the 1st half but...
Everywhere you turn at these Olympics, Kobe Bryant has seemed to be there. He might be out at Wimbledon, then over to the velodrome, off to see women's basketball, running by the pool, zipping over to track and field, or hitting beach volleyball. Finally, nearly two weeks into the London Games, Bryant showed up on the basketball court. Bryant was there all along, of course...
Kobe Bryant scored 20 points, LeBron James recorded a triple-double and the U.S. men's team stomped into the semifinals of the Olympic men's basketball tournament with a 119-86 win Wednesday night over Australia. Seeking a gold medal to match the one they nabbed in China four years ago, the Americans will meet Argentina in the semis. The U.S. beat Argentina in Beijing, avenging...
Another team up another team down for Team USA as they trounced Australia 119-86 advancing them to the men's basketball semifinals. Flashing three fingers in the air after his third consecutive three-pointer in the fourth quarter, Bryant finished the game with 20 points and helped push the game out of reach in the late stages. LeBron finished with a triple-double, 11 points, 14...
As we've previously talked about here, the romantic tale of the 2012 London Olympics has been Team USA basketballer Kobe Bryant and Australian swimmer Stephanie Rice. And it looks like the flirtations are continuing, with the pair today seen enjoying each other's company at the Olympic cycling event. The photos, published on news.com.au show Bryant joking it up with Rice...
Kobe Bryant has already spoken to Dwight Howard following his trade to the Lakers.
During "Gay Day" in Michigan this "Christian" tells a woman to "Keep your ***** clean" so he has a more enjoyable experience when he rapes her. He then proceeds to read a passage from Isiah 13:11-22 from the Bible which he interprets as his God-given right to rape women who leave their house. Maybe Kobe Bryant was just really, really religious like this fellow. I wonder...
  Unless you have been hiding out in the jungle, you should have heard about the four-team blockbuster trade sending Dwight Howard to Los Angeles, Bynum to Philadelphia, and Andre Iguodala to Denver. Los Angeles has had a HELLUVA off-season by acquiring Steve Nash, and now they have the league's best center in their clutches. [...]
I guess this is the week for Olympic teammates to put each other on blast. First USA track teammates Dawn Harper and  Kellie Wells expressed displeasure at the coverage Lolo Jones received, now an Autrailian women's basketball  Kobe Bryant was photographed sitting with Australian swimmer Stephanie Rice during an Olympic event. It's alleged that the [...]
Yahoo! Sports reports the Magic, Lakers, Nuggets and 76ers are engaged in four-way talks about a blockbuster deal involving Dwight Howard, which would send the center to Los Angeles to team up with Kobe Bryant and Steve Nash.
Pool play is over, done with, caput!  Now comes the knockout round, and if Team USA can pull off three more victories, the United States will continue their domination of the basketball world. However, before we look forward, perhaps we should take a look back at what was an unbalanced first round of games, and particularly, which members of Team USA have been most impressive so...
NBA News

Delivered to your inbox

You'll also receive Yardbarker's daily Top 10, featuring the best sports stories from around the web. Customize your newsletter to get articles on your favorite sports and teams. And the best part? It's free!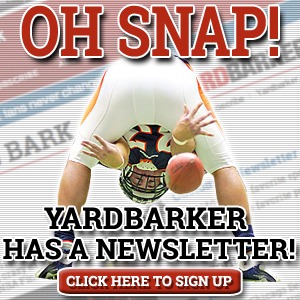 Latest Rumors
The Backyard

Today's Best Stuff

For Bloggers

Join the Yardbarker Network for more promotion, traffic, and money.

Company Info

Help

What is Yardbarker?

Yardbarker is the largest network of sports blogs and pro athlete blogs on the web. This site is the hub of the Yardbarker Network, where our editors and algorithms curate the best sports content from our network and beyond.