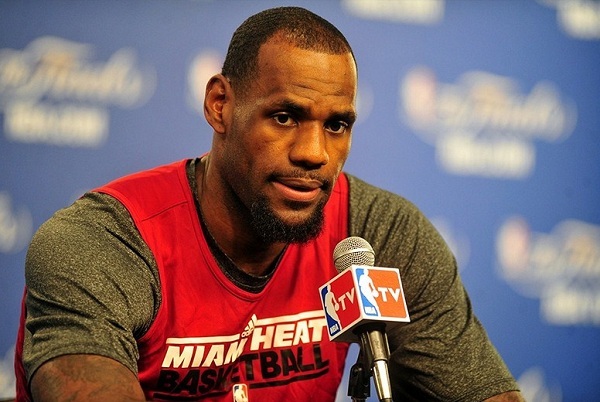 Billionaire Warren Buffet has offered praise to LeBron James for his financial savvy. According to Forbes, Warren Buffet is worth a whopping $46 billion, and is the 20th most powerful person in the United States. There are very few people who can make the salary of a star athlete look small, and he is clearly one of them. On top of being the best basketball player in the world, LeBron James has a solid amount of off-the-court activities that raise his value. With so many professional athletes going broke shortly after they retire, or even during their playing days, it's refreshing to see an athlete who is so good at off-the-court activities. James has deals with Coca-Cola, State Farm, Samsung, Nike, Dunkin' Donuts, and Baskin Robbins. And as if that all isn't enough, he also holds a minority ownership in Liverpool Football Club. And somewhere in between all this, he finds time to play some basketball. Many people are impressed by LeBron James on the court, but you can now add Warren Buffet to those who are impressed with the NBA champion's financial savvy. Via the Miami Herald: "You have to get to know him," Buffett said. "LeBron's not initially really talkative. He's savvy. He's smart about financial matters. It's amazing to me the maturity he exhibits. I know that if I had been famous at that age, I would have had trouble keeping my feet on the ground." Not many of us can say that we have endorsements from Warren Buffet, as well as moguls like Jay-Z. Pretty impressive. The crazy thing about all of this is that LeBron James has never stepped in a college classroom. Remember, he came into the NBA straight out of high school. His NBA salary obviously gives him a lot of investment leverage, but for someone with only a high school diploma to earn compliments regarding financial decisions from Warren Buffet is definitely an amazing thing -Mark Evans, Assistant Manager/Editor of Content Follow us on Twitter The post Warren Buffet Is Impressed With LeBron James' Financial Savvy appeared first on Pass The Pill.
Read the rest of this story...
MORE FROM YARDBARKER
NBA News

Delivered to your inbox

You'll also receive Yardbarker's daily Top 10, featuring the best sports stories from around the web. Customize your newsletter to get articles on your favorite sports and teams. And the best part? It's free!
Best of Yardbarker
NFL News
MLB News

Today's Best Stuff

For Bloggers

Join the Yardbarker Network for more promotion, traffic, and money.

Company Info

Help

What is Yardbarker?

Yardbarker is the largest network of sports blogs and pro athlete blogs on the web. This site is the hub of the Yardbarker Network, where our editors and algorithms curate the best sports content from our network and beyond.