Posted April 21, 2012 on AP on Fox
PLAYERS:
Klay Thompson
,
Kobe Bryant
,
Monta Ellis
,
Andrew Bogut
,
Stephen Curry
,
Ricky Rubio
,
Ray Allen
,
Reggie Miller
TEAMS:
Golden State Warriors
,
Los Angeles Lakers
,
Milwaukee Bucks
,
Minnesota Timberwolves
,
Boston Celtics
,
Washington State Cougars
(Eds: With AP Photos.) By ANTONIO GONZALEZ AP Sports Writer Klay Thompson was 7 years old when his father took him to meet Kobe Bryant inside the Los Angeles Lakers locker room. Or rather, he tried to take him. Mychal Thompson, the No. 1 overall pick by Portland in the 1978 NBA draft, had his son pull his hand back and squirm away from a place most kids can only dream about. ''He didn't want to go in to meet Kobe,'' said the elder Thompson, now an analyst on the Lakers radio broadcast. ''He was too shy.'' Spend time around his son now and it might seem little has changed in his demeanor. The Golden State Warriors' first-round pick, a strong candidate for the NBA's All-Rookie first team, is so calm and quiet that teammates often tease him just to get a reaction - or at least they try. He rarely speaks in Golden State's locker room, and his laid-back attitude might also give the impression he's timid on the court. That's just what he wants everyone to think. ''That's who he is,'' Warriors coach Mark Jackson said. ''The guy is not afraid. He thinks he's the baddest dude in the gym. He's a silent assassin.'' What a fitting nickname. Stuck on a Golden State team with more injured starters than healthy ones, Thompson has quietly put together a solid season out West. The 11th overall pick has a chance to accomplish a rare feat: earn first-team rookie honors despite being left out of the rookie-sophomore game during All-Star weekend. The slight seemed to motivate Thompson even more. The former Washington State standout spent the break back home in the Los Angeles area with his dad. Both watched the All-Star game, but when the rookie-sophomore game appeared two nights earlier, there was no chance of Klay checking in. ''I really wanted to go to Orlando and be around those All-Stars and that whole weekend,'' he said. ''I thought I was easily in the top nine rookies.'' Much has changed since February. Thompson took off following the March 13 trade that sent leading scorer and starting shooting guard Monta Ellis to Milwaukee - a move made in part because of Thompson's rise - for injured center Andrew Bogut, who is expected to team with the formidable scoring backcourt of Stephen Curry and Thompson next season. Thompson has averaged 18.3 points per game since the trade, polishing his still in-the-works game to be more than just a pure shooter with great range. He's shooting 44 percent from the floor and 42 percent from beyond the arc this season. While the 6-foot-7 guard's defense still has great strides to make, he's putting the ball on the floor more, finishing at the rim with both hands and making opponents who run him off the 3-point line pay. ''I don't know that he was comfortable enough to make that play earlier in the year,'' Jackson said. ''It's definitely an indication of his growth.'' Thompson has always been a comfortable shooter. Growing up as the son of a NBA player, he was constantly around basketball. By the time he was 13, his dad could no longer beat him in 1-on-1, moving on to H-O-R-S-E, which they play regularly during time off. ''I can still beat him with old-man shots,'' Mychal Thompson said, chuckling. ''Sleepy hooks from the 3-point line. That's about all I got on him.'' Thompson led the Pac-10 with 21.6 points per game - 11th in the nation - as a junior at Washington State and also averaged 5.2 rebounds and 3.7 assists. He was in consideration for conference player of the year before Arizona's Derrick Williams pulled away late in the regular season. Thompson slipped in last year's draft in large part because of his arrest after a game in March 2011 for investigation of marijuana possession. He was suspended for a game and made a public apology before the regular-season finale against UCLA, returning to score a Pac-10 tournament-record 43 points in a loss to Washington. Others also wondered about his athleticism and quickness. The lanky guard is not fast or flashy, and questions loomed about how he might get open against quicker NBA guards. As those around the league have quickly learned, Thompson's touch has transitioned just fine, and he's creating open shots that seem so fluid. Cleveland's Kyrie Irving appears to be a runaway choice for NBA Rookie of the Year, and Minnesota's Ricky Rubio - out for the season with torn ligaments in his left knee - will likely land second. Where Thompson finishes is still to be determined, but it will almost certainly be higher than his 11th spot in the draft. ''Talking to some of the teams' general managers and coaches throughout the season as we traveled around, they come up to me and said, `If they could redo the draft, he definitely would've been in the top six,''' Mychal Thompson said. The younger Thompson, while still reserved, has forced himself to open up to some of basketball's best past and present. He has gained knowledge from the likes of Ray Allen, Reggie Miller and Rick Barry this season. Most recently, he went around the arc twice shooting with Warriors Hall of Famer Chris Mullin in his ear a couple weeks ago. Before a home game against the Lakers last month, Thompson's rise came full circle. He was shooting on the court about two hours before tipoff, mimicking Bryant almost shot for shot on the other end. The two talked briefly, bumped fists and Bryant gave the Warriors rookie a thumbs-up as he headed through the arena's tunnel and into the Lakers locker room. Quite a turnaround for a shy kid with a shooter's touch. --- Follow Antonio Gonzalez at: www.twitter.com/agonzalezAP
Original Story:
http://msn.foxsports.com/nba/story/Wa...
THE BACKYARD
BEST OF MAXIM
RELATED ARTICLES
Golden State Warriors guard Nate Robinson is unsure of his future with the team. He's said he likes Golden State and would like to be back but isn't too optimistic about his chances. Nate's had a rebound year with the Warriors averaging 11.2 points, 2.0 rebounds and 4.5 assists over 51 games, mainly off the bench. @gswscribe: Nate Robinson, a free agent-to-be, said he would...
The Golden State Warriors had big offseason plans for Stephen Curry and Andrew Bogut. It looks as if they're going to need a new blueprint now. Curry and Bogut are each headed for another surgery on their injured ankles, casting a shadow over the future of Golden State's new franchise tandem. General manager Larry Riley said Saturday that arthroscopic surgery on Curry...
The Golden State Warriors had big offseason plans for Stephen Curry and Andrew Bogut. It looks as if they're going to need a new blueprint now. Curry and Bogut are each headed for another surgery on their injured ankles, casting a shadow over the future of Golden State's new franchise tandem. General manager Larry Riley said Saturday that arthroscopic surgery on Curry...
Golden State Warriors point guard Stephen Curry and center Andrew Bogut will have arthroscopic ankle surgery in hopes of returning for the start of next season. Warriors general manager Larry Riley says the operations will be done Wednesday in Van Nuys, Calif. Curry had surgery to repair a tendon in his right ankle last summer. He repeatedly sprained his troublesome ankle this...
NBA News

Delivered to your inbox

You'll also receive Yardbarker's daily Top 10, featuring the best sports stories from around the web. Customize your newsletter to get articles on your favorite sports and teams. And the best part? It's free!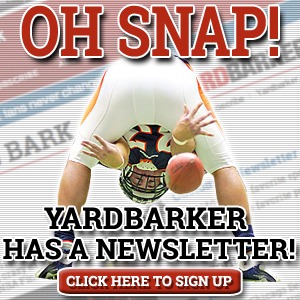 Latest Rumors
The Backyard

Today's Best Stuff

For Bloggers

Join the Yardbarker Network for more promotion, traffic, and money.

Company Info

Help

What is Yardbarker?

Yardbarker is the largest network of sports blogs and pro athlete blogs on the web. This site is the hub of the Yardbarker Network, where our editors and algorithms curate the best sports content from our network and beyond.