Found November 15, 2012 on Wizards Extreme:
mavericks 107 wizards 10111/14/2012 - American Airlines Center, Dallas, TXESPN BoxscoreNBA.com Game Highlights   I have got to give this one to Cartier Martin. Jordan Crawford played great, especially filling in for the injured A.J.Price at point guard but Cartier almost single-handedly got the Wizards their first win. He sat on the bench the entire game until 9:56 left in the 4th and came out blazing. Talk about efficiency, Martin had 14 points in just under 10 minutes while going 5-6 from the floor and 4-4 from three point range. He came up with two big defensive rebounds when it mattered too. Without a doubt, Cartier Martin is your Wizards MVP for this game. **On a side note, Randy Wittman better find some way to get Cartier in the rotation. At this point, the old 'what can it hurt' theory applies. The Wizards offense gets extremely stagnant during periods of every game, and Cartier Martin has the skill set to offset that. He needs to see more minutes going forward for this team.   Tonight's WE spotlight featured Jae Crowder (who the Wizards decided not to draft because Wizards) and Trevor Ariza. Jae Crowder had started four games in a row before being moved back to the bench for this contest. In just 20 minutes 31 and finished with 12 points, two rebounds, three assists, and two steals. Those look like decent numbers, but his impact on the defensive end is hard to tell from his stats. He looked like a very solid basketball player on both ends of the floor and hands down won the "match-up" between he and Ariza. Did I mention that the Wizards passed on drafting this guy? Hmmm, I started typing this and for a second I thought we was already on the Bad or the Ugly section. Trevor Ariza seems to be showing up every few games, but this one was clearly not one of them. In his 19 minutes on the floor, he put up four points, three rebounds, one assist, two steals, and one block. The supporting numbers are always there for Ariza as he plays the passing lanes well, but you can't put a winning team together if your starting small forward is only giving you supporting numbers. He also had a couple missed shots that reminded me of the local rec league  where old guys wearing elbow pads are trying to break the backboard shooting bricks.       THE GOOD I am tripling down on The Good, even after all my negativity.Jordan Crawford: Jordan played tough all night and I thought he filled in at point guard admirably. When he first took over for Price, he was pushing the ball and making things happen and finding open guys for easy buckets. That is something this team has been lacking all year. He finished with 21 points, four rebounds, and seven assists.Cartier Martin: As mentioned above, Cartier could not have played any better. This guys needs to find some playing time on this team. Make it happen Wittman. Kevin Seraphin: Seraphin looked outstanding in the 4th quarter. He finished the game 8-10 for 16 points, 5 rebounds, and a whopping 5 assists. 14 of his points came in the final quarter and I am not even sure if any of his shots even hit the rim. That is how pure he looked displaying his soft touch late in the game. THE BAD Bradley Beal came out of toward the end of the 1st quarter with about two or three minutes remaining, at which point he had eight points. Bradley Beal finished the game with 8 points. I understand he is a 19 year old rookie playing with AJ Price as his point guard, but the lack of overall aggression in his game is a bit concerning. He very often chooses to shoot a jumper instead of taking the ball to the hoop, pulling up several times during this game on drives I thought he should have continued with to the bucket. He continued a trend of poor shooting going 3-14 from the floor. His supporting stats where just as bad: one rebound, two assists, one steal. What happened to the aggressive rebounder from Florida? I am not throwing in the towel on Beal at all, but it is simple basketball. If your shots are not falling, take the ball to the cup. Get some easy buckets or get to the foul line. THE UGLY   If you threw up in your mouth, blame Kyle Weidie from TruthAboutIt.net I don't know if I can begin to describe how I felt when Jannero Pargo did that half-pass, fake-move and then jacked the hero-ball three pointer at the most pivotal point in the game. How are you an NBA "point guard" but don't know how to pass? On that entire run in the 4th quarter, two players really had it going: Kevin Seraphin and Cartier Martin. Neither player looked like they could miss. The Wizards get a huge stop, come down the court and Jannero Pargo does some ball fake jackup shot that made me want to break my TV. Jannero Pargo, you win ugly.
Original Story:
http://www.wizardsextreme.com/2012-ar...
THE BACKYARD
BEST OF MAXIM
RELATED ARTICLES
Now that our beloved Washington Wizards have started 0-7 my frustrations, along with every other Wizards fan, are getting close to the tipping point. Randy Wittman can't seem to put a solid and consistent rotation on the floor on a nightly basis, so I'm going to lay one out for him that would be much more beneficial to this team and to us die-hards who have been pulling our hair...
The winless Washington Wizards have waived Jannero Pargo and signed free-agent guard Shaun Livingston, bringing back a player they hope can help fill the void until John Wall returns from injury. Pargo appeared in all seven of Washington's games during its 0-7 start, averaging 3.0 points and 2.0 rebounds in 14.6 minutes. The 6-foot-7 Livingston was waived by the Houston Rockets...
Wednesday Wizards Report Image courtesy @KevinHineWoA with Wiz of Awes _________________________________________    Wizards Need Changes….NOW! After last night's blowout at the hands of the Bobcats (one of the worst statements a NBA fan can mutter), I can't tell if this is 2011 or 2012. Last year the Washington Wizards started out 0-8 and with upcoming games against the...
Earlier today we tweeted a John Wall GIF that summed up these winless, feckless Wizards rather nicely, but this one from the halftime show of last night's loss to the Bobcats (via @HouseFromDC) really takes the cake. Your 2012-13 Washington Wizards, like a karate stick to the nuts.
According to the Washington Wizards official website, the team has waived backup PG Jannero Pargo and signed free agent Shaun Livingston:   WASHINGTON, D.C. –Washington Wizards President Ernie Grunfeld announced today that the team has signed free agent guard Shaun Livingston. Per team policy, terms of the deal were not released. "We are obviously familiar with what Shaun brings...
Click here to view the embedded video. The Washington Wizards played the Charlotte Bobcats Tuesday night in a game that made all 6 viewers at home say "can't we just contract one of these teams and combine the rosters?" The game was so unappealing that even the referees appeared to tune out at one point. The Set-Up: with just over three minutes left in the 3rd quarter, Jan...
It seems the endless tweets, posts and wishes of increased stability at the point guard position finally funneled into the Wizards front office. Free agent Shaun Livingston can now put a halt to the unemployment checks and begin his hunt for real estate in the DC metro area as the Washington Wizards have announced their acquisition of the oft-traveling veteran. It's fair to...
Taint power! This past Tuesday the woeful Washington Wizards lost at home to the Charlotte Bobcats 92-76, and as poor as the outcome was on the game side of things, it paled in comparison to the halftime entertainment, which featured some high quality martial arts demonstrations, including one guy breaking a bamboo stick with his all-powerful crotch. Little known fact—this is how...
"Men Lie, Women Lie, Numbers Don't" – Jay Z Jay was not lying (pun intended). 0-6. Ladies and gentlemen, that right there is the record for your Washington Wizards. You can't make this up. Time and time again, I come up with excuses on why Wizards fans need more patience.  But it's very hard when I'm trying to explain it year in and year out.  Excuses have ranged...
CHARLOTTE, N.C. -- The Washington Wizards are a mess without injured stars Nene and John Wall. They were at their ugliest Tuesday night in a woeful 92-76 loss to the Charlotte Bobcats. The numbers told the whole story for Washington: 29.8 percent shooting from the field (25-for-84); 16.1 percent shooting from 3-point range (5-for- 31); 17 turnovers; outscored 46-24 in the paint...
After last night's loss to the deplorable Charlotte Bobcats, many fans of the Washington Wizards find themselves at a loss (most notably our own DJ Saam). The frustration is kicking in. Before long, the Phone Booth is going to be more of a ghost town than it already is. But Wizards fans: Just remember, it could always be worse. Let's go back to March 30, 2007. The Wizards...
The Bulls are among the teams that have already reached out to Jannero Pargo.
NBA News

Delivered to your inbox

You'll also receive Yardbarker's daily Top 10, featuring the best sports stories from around the web. Customize your newsletter to get articles on your favorite sports and teams. And the best part? It's free!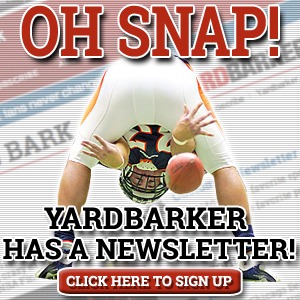 Latest Rumors
Best of Yardbarker

Today's Best Stuff

For Bloggers

Join the Yardbarker Network for more promotion, traffic, and money.

Company Info

Help

What is Yardbarker?

Yardbarker is the largest network of sports blogs and pro athlete blogs on the web. This site is the hub of the Yardbarker Network, where our editors and algorithms curate the best sports content from our network and beyond.