Found November 14, 2012 on Wizards Extreme:
PLAYERS:
John Wall
,
Richard Hamilton
,
Kwame Brown
,
Martell Webster
,
Kevin Garnett
,
Trevor Ariza
,
Jordan Crawford
,
Chris Singleton
,
Jamal Crawford
,
LeBron James
,
Kyrie Irving
,
Tristan Thompson
,
Dion Waiters
,
Chris Kaman
TEAMS:
Washington Wizards
,
Chicago Bulls
,
Philadelphia 76ers
,
Charlotte Hornets
,
Boston Celtics
,
Los Angeles Clippers
,
Cleveland Cavaliers
,
Miami Heat
,
Dallas Mavericks
"Men Lie, Women Lie, Numbers Don't" – Jay Z Jay was not lying (pun intended). 0-6. Ladies and gentlemen, that right there is the record for your Washington Wizards. You can't make this up. Time and time again, I come up with excuses on why Wizards fans need more patience.  But it's very hard when I'm trying to explain it year in and year out.  Excuses have ranged from: "John Wall isn't ready yet; John Wall needs a shot; once Nene is healthy, he will be a beast." Or even the infamous "give them time, they are young."     Well I'm sick and tired of the fact that it comes down to this.  The Wizards are off to another one of the worst starts in franchise history after last night's loss to the Bobcats, who are probably laughing at us right now.  Mind you, they are owned by one of the worst GM's, Michael Jordan.  Yeah, the same Jordan who brought in Courtney Alexander, traded away Rip Hamilton, and drafted Kwame Brown. Ok fine, I won't bring up all this past negativity.  But can you blame me? Before this season, there was a  buzz of optimism (as usual) but nobody in their right minds thought this team was a playoff team.  If anything, the words "8th spot" were thrown out there a couple of times by Wizards fans.  That's only a farfetched dream as of right now. Who are we to blame for this debacle so far? There is plenty of blame to go around.  Check out this quote from the Washington Post's Michael Lee after the embarrassing loss against the Charlotte Bobcats: "Feet buried in a bucket of ice, face buried in his hands, reserve forward Martell Webster was stewing as he contemplated how the Washington Wizards could have had such a miserable performance against the Charlotte Bobcats. Laughter emanated from the shower, but Webster made sure it quickly ceased. "We just lost!" Webster shouted. Silence fell back over the visitor's locker room at Time Warner Cable Arena."Heart is needed.  If you laugh after a loss, then you have no heart. This is not the first time either.  I've been witness to players laughing but this was when the locker room consisted of knuckleheads like Pierre, 0-Day BALTCHE and Swaggy P. Where is the Kevin Garnett passion in these players? You get to live the outstanding life that no one dreams of.  People are dying of hunger and have problem paying bills, so what? You can't give me some kind of anger for losing? Question is, why am I already looking for lottery draft picks for next year? What in the living hell is going on? You want us to pay for season tickets after the product that has been presented to us the last couple of years? Sure, John Wall and Nene are out because of unfortunate injuries but I've seen numerous other teams make the most of whatever talent they had to make up for those kind of setbacks. This is an outrage. There has to be some sort of change.  Two straight years the Wizards have ended the season on a positive note by winning games and showing tremendous effort.  The following season, we start off slow and just look like crap.  Something has to change. Trade Trevor Ariza and Jordan Crawford.  Ariza hinders the growth of Vesely and Chris Singleton and Crawford just hinders the whole team.  The man just shoots for the sake of it.  He's a poor man's Jamal Crawford (no relation). Just in general, get rid of anybody not named Booker, Nene, Wall, Seraphin, Vesely, Singelton, and Martell Webster. Start drafting better and take chances on more experienced players instead of one year college players or international players who average 2 points per game for their previous teams and expect them to ball in the biggest stage for basketball.  Right. Stop selling tickets on Groupon/Livingsocial.  I don't know how many times I curse in my head when I see those emails.  Must you stoop so low? To me, it gives out the wrong signal when you give away t-shirts along with tickets.  The t-shirts are worth more than the tickets at this point. I am not here to trash the team; I'm here to voice the frustrations as a fan and blogger for the Washington Wizards.  I could be positive and show optimism as I always do but this has gone too far.  This has hit an all-time low.  The DC United soccer team is getting more attention than the lonely Wizards, which is truly sad.  I know we must go through our lows but right now the future doesn't look bright.  Compare other teams like the Cleveland Cavaliers.  They went from having arguably the best NBA player in LeBron James to losing him, but then retaining a really good core in Kyrie Irving, Tristan Thompson, and Dion Waiters, making for a much brighter future than the Wizards.  If I was an NBA free agent and had to pick between the Wizards or Cavs, I would easily pick the Cavs. There is no doubt about it. After this season is over, the Wizards could be big player in free agency. Here is the list of NBA Free Agents after this season is over: Shawn MarionStephen JacksonAl HarringtonHedo TurkogluDavid WestDerrick FavorsJosh SmithElton BrandAl JeffersonDeMarcus CousinsChris Kaman Add in Ariza/Okafor to this list as well. I'm optimistic when it seems right.  Right now, it just does not seem right.   My mere hope at this point is that Wall can return and bring this city up from the drowning sorrows.
Original Story:
http://www.wizardsextreme.com/2012-ar...
THE BACKYARD
BEST OF MAXIM
RELATED ARTICLES
Now that our beloved Washington Wizards have started 0-7 my frustrations, along with every other Wizards fan, are getting close to the tipping point. Randy Wittman can't seem to put a solid and consistent rotation on the floor on a nightly basis, so I'm going to lay one out for him that would be much more beneficial to this team and to us die-hards who have been pulling our hair...
Earlier today we tweeted a John Wall GIF that summed up these winless, feckless Wizards rather nicely, but this one from the halftime show of last night's loss to the Bobcats (via @HouseFromDC) really takes the cake. Your 2012-13 Washington Wizards, like a karate stick to the nuts.
Wednesday Wizards Report Image courtesy @KevinHineWoA with Wiz of Awes _________________________________________    Wizards Need Changes….NOW! After last night's blowout at the hands of the Bobcats (one of the worst statements a NBA fan can mutter), I can't tell if this is 2011 or 2012. Last year the Washington Wizards started out 0-8 and with upcoming games against the...
The winless Washington Wizards have waived Jannero Pargo and signed free-agent guard Shaun Livingston, bringing back a player they hope can help fill the void until John Wall returns from injury. Pargo appeared in all seven of Washington's games during its 0-7 start, averaging 3.0 points and 2.0 rebounds in 14.6 minutes. The 6-foot-7 Livingston was waived by the Houston Rockets...
Click here to view the embedded video. The Washington Wizards played the Charlotte Bobcats Tuesday night in a game that made all 6 viewers at home say "can't we just contract one of these teams and combine the rosters?" The game was so unappealing that even the referees appeared to tune out at one point. The Set-Up: with just over three minutes left in the 3rd quarter, Jan...
mavericks 107 wizards 10111/14/2012 - American Airlines Center, Dallas, TXESPN BoxscoreNBA.com Game Highlights   I have got to give this one to Cartier Martin. Jordan Crawford played great, especially filling in for the injured A.J.Price at point guard but Cartier almost single-handedly got the Wizards their first win. He sat on the bench the entire game until...
CHARLOTTE, N.C. -- The Washington Wizards are a mess without injured stars Nene and John Wall. They were at their ugliest Tuesday night in a woeful 92-76 loss to the Charlotte Bobcats. The numbers told the whole story for Washington: 29.8 percent shooting from the field (25-for-84); 16.1 percent shooting from 3-point range (5-for- 31); 17 turnovers; outscored 46-24 in the paint...
Taint power! This past Tuesday the woeful Washington Wizards lost at home to the Charlotte Bobcats 92-76, and as poor as the outcome was on the game side of things, it paled in comparison to the halftime entertainment, which featured some high quality martial arts demonstrations, including one guy breaking a bamboo stick with his all-powerful crotch. Little known fact—this is how...
It seems the endless tweets, posts and wishes of increased stability at the point guard position finally funneled into the Wizards front office. Free agent Shaun Livingston can now put a halt to the unemployment checks and begin his hunt for real estate in the DC metro area as the Washington Wizards have announced their acquisition of the oft-traveling veteran. It's fair to...
According to the Washington Wizards official website, the team has waived backup PG Jannero Pargo and signed free agent Shaun Livingston:   WASHINGTON, D.C. –Washington Wizards President Ernie Grunfeld announced today that the team has signed free agent guard Shaun Livingston. Per team policy, terms of the deal were not released. "We are obviously familiar with what Shaun brings...
When looking at the NBA standings, that glaring donut in the Wizards' win column will certainly draw a bit of unwanted déjà vu. The Wizards, just one season removed from an atrocious 0-8 start in 2011, find themselves spiraling down a similar funnel of misfortune but somehow seem to be avoiding the panic button. How so? Well, in contrast to last season, the Wizards of present...
After last night's loss to the deplorable Charlotte Bobcats, many fans of the Washington Wizards find themselves at a loss (most notably our own DJ Saam). The frustration is kicking in. Before long, the Phone Booth is going to be more of a ghost town than it already is. But Wizards fans: Just remember, it could always be worse. Let's go back to March 30, 2007. The Wizards...
NBA News

Delivered to your inbox

You'll also receive Yardbarker's daily Top 10, featuring the best sports stories from around the web. Customize your newsletter to get articles on your favorite sports and teams. And the best part? It's free!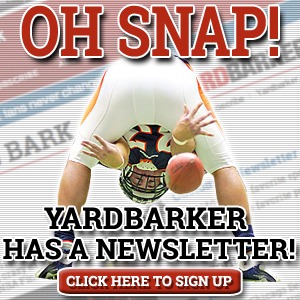 Latest Rumors
Best of Yardbarker

Today's Best Stuff

For Bloggers

Join the Yardbarker Network for more promotion, traffic, and money.

Company Info

Help

What is Yardbarker?

Yardbarker is the largest network of sports blogs and pro athlete blogs on the web. This site is the hub of the Yardbarker Network, where our editors and algorithms curate the best sports content from our network and beyond.