Found December 05, 2012 on isportsweb.com:
Now if you think that just because the Dallas Mavericks have signed guard Derek Fisher for the season is automatically going to guarantee a Championship, well you have another thing coming. Granted Fisher brings a lot of stuff to the table with his championship caliber of play and thought process, but after witnessing him in the game, you could tell that he had been sitting around a bit because he was a little slow to the draw and response on the play. But that is to be expected of someone that has not played over the last several months and he's trying to learn the ways of the Mavericks, so one should understand that he would be slower to respond to the plays since he's just learning them. Now brings the millions dollar question to mind; did we need another point guard, especially one that was 38 years old, and then we start him before your normal starting point guard, where's the thought process there? Evidently there wasn't one. I will have to admit that Darren Collison has been struggling as of late and then was hurt and didn't play, but to bench him ahead of someone you just signed to the team, I would have an issue with that if I was a player, but they all sucked it up and played ball. Now Fisher was slow on some of the plays and to regroup on defense, but there again, he hasn't played in a while, so maybe once he gets some additional conditioning and time to learn the Mavs playbook, he might do a little better. I don't mind saying that after watching the game against Detroit, it renewed my look and hope in Dallas because they looked like the team that hit the court at the beginning of the season against the Lakers on opening day. Everyone was working together, communicating, covering defensive plays and well, really, whatever needed to have been done. The only place where the Mavs struggled was at the free throw line, but when you look at the numbers, Dallas dominated in all the categories, field goals, three point percentage, rebounds and done better in protecting the ball on turnovers. They definitely looked better than how they ended November. They had won a great challenge against a very good New York Knicks team only then to go on a three game losing streak which included a smacking by the Lakers at home, then lost a close game to the hot Philadelphia 76′ers and then went to Chicago and lost another ugly one there, so as I have stated before, "welcome to the roller coaster ride". We unfortunately don't know which team will appear on the court on any given night, at least for now. So to get this win to start the month of December off on a good note, I'll take it any way we can get it. Whether they think Fisher is their "Knight in shining armor or not" is irrelevant. Now in my humble opinion, I think that Collison should start, and then have Fisher coming off the bench and be there as a learning tool for Collison; the same scenario that the Mavs were going to use if they had signed Deron Williams and kept Jason Kidd. Kidd had stated over and over again that he would be willing to be a backup to Williams if he signed with the Mavs and Fisher can do the same thing for Collison. The young guard is that, young, but he has played on some very good teams with some really good players. He played backup to Chris Paul when they were in New Orleans and did very well in both a starting role as well as a backup role, but he then went to Indiana as a started and only had to resort to the bench after an injury and George Hill took the starting position from him while he was out recouping, but unfortunately, never got the starting role back, hence that's why he came to Dallas; we needed a good, young guard to take the reins and run with it and he can. Collison is trying to fit into the system that is the Dallas Mavericks and you can't expect him to be 100% successful all the time and when he makes mistakes, teach him how to correct those mistakes; that's how you make him better and you are able to maintain that confidence that players need to have in order to be successful at their jobs. Now when you look at Dallas as a team, without Dirk in the lineup, they are going to have to rely on others to take this team and make it be a great team so that they don't fall off the grid and there is no hope for recovery and they certainly can't expect Dirk to be the team's saviour upon his return. What I liked about the game against the Pistons, is they didn't give up at all. O J Mayo had one of his best games of the season and probably one of his best games over the last couple of seasons with leading the Mavs with 27 points. But it just wasn't his points that was good, granted shooting 10 of 21 from the field and connecting on 6 of 9 three point attempts was great, but it was his attitude that he had throughout the whole game. Yes, he got a tech called on him because he didn't think he really fouled the guy and was just trying to plead his case, but with the new "rule", you look cross-eyed at a ref and he doesn't like it, you'll get slapped with a "T" in a heartbeat. But Mayo had the swagger back in his step, the look of the tiger in his eye and was making it all work on both ends of the court which led to the rest of the team step up and try to do the same. It worked for Elton Brand as well; this was his best game yet. He had 17 points, 12 rebounds and 4, yes 4 blocks for the night. Now bad at all for an older statesman of the game. Now here's where I think Fisher will play a vital role for the Mavs and that is when you add him to the roster with veteran players like Brand, Vince Carter, Shawn Marion and Dirk, these are your leaders, your teachers, the mentors of the game that the younger guys can learn from. Those players such as Collison, Mayo, Roddy and such. You have to have an equal balance of veteran leadership and youthfulness on the team, or you teeter-totter one way or the other. This team can benefit from the leadership they have and build from it for the future. These guys are not going to be able to play forever. So now we take this win, this high self-esteem to Los Angeles and face the Clippers and see if we can do the same thing there. We have to stay as positive as we can before we are back to full roster capacity and it looks like the return of Dirk is coming soon since now he has his mentor from Germany here and working on his rehab even more. The only thing that made this win sweeter and the game better, was it was before the wounded soldiers in the annual "Seats for soldiers night" at the American Airlines Center in Dallas. For the last several years, season ticket holders give up their floor seats for wounded soldiers from Brooke Army Medical Center in San Antonio and needless to say, these games always are great for the fans to see; it seems that we put on an extra show for the soldiers. I think an extra "thank you" needs to go out to actor, Gary Sinise, who plays a big part in this as well. And with that I will bid you a good day and say good luck and let's go Mavs!
Original Story:
http://feedproxy.google.com/~r/isport...
THE BACKYARD
BEST OF MAXIM
RELATED ARTICLES
Dirk Nowitzki is still not exactly close to returning.  However, Wednesday he resumed basketball activities for the first time since his surgery.  Nowitzki underwent right knee surgery on October 19th.  He was not expected to miss much time, but his recovery was slower than anticipated.  The injury is Nowitzki's first severe injury. Tim Macmahon of ESPN Dallas says Nowitzki...
The Dallas Mavericks had a rough night last night against the LA Clippers when they lost 112-90.  Caron Butler threw down a huge jam on Chris Kaman's face, and Blake Griffin threw down a left handed dunk on Elton Brand.  Owner Mark Cuban didn't look very happy throughout the game, and with about a minute left in the game he decided to take a nap because he just couldn&...
And here I didn't think anyone still wore those non-collared shirts with buttons. Just Cubes being Cubes, right? Mark's team is now 2-7 on the road. Meanwhile, last light I watched a DVR of Shark Tank where Cubes bought part of a Christmas tree farm. His NBA team is struggling and Cubes is investing in a six-week per year business. What the hell is going on with this guy? Meanwhile...
O.J. Mayo scored 23 points, including the go-ahead jumper with 35 seconds to go, and the Dallas Mavericks held on to beat Phoenix 97-94 on Thursday night, the Suns' fifth loss in a row. Brandan Wright and Darren Collison scored 16 apiece for Dallas. Wright's total was a season high. Chris Kaman added 15 points. Markieff Morris had 15 points and a career-best 17 rebounds...
Dirk Nowitzki underwent arthroscopic surgery on his right knee in October.
Dallas Mavericks forward Dirk Nowitzki took a key step forward in his rehab Wednesday, resuming running and taking shots prior to the team's game against the Los Angeles Clippers at Staples Center. Nowitzki has been sidelined all season after undergoing arthroscopic right knee surgery in mid-October, but the timetable for his return remains uncertain. "The swelling is...
PHOENIX (AP) -- O.J. Mayo scored 23 points, including the go-ahead jumper with 35 seconds to go, and the Dallas Mavericks held on to beat Phoenix 97-94 on Thursday night, the Suns' fifth loss in a row. Brandan Wright and Darren Collison scored 16 apiece for Dallas. Wright's total was a season high. Chris Kaman added 15 points. Markieff Morris had 15 points and a career...
Not only will the Dallas Mavericks be bringing some former Los Angeles Clippers into this matchup, they'll see some familiar faces as well. The Clippers can stretch their win streak to four Wednesday night and hand the Mavericks a third straight road loss. Dallas (8-9) features a pair of former Clippers big men in Elton Brand and Chris Kaman. While Brand has faced Los Angeles...
Earlier we had Blake Griffin's teammate Caron Butler throwing down on Chris Kaman's face, now we have Griffin throwing down on Elton Brand.  This isn't one of his biggest dunks by any means, but it was very impressive mainly because it was left handed.  Not many players in the NBA have the talent to throw down a huge dunk with their opposite hand.  Check out the dunk...
The cynic in a lot of us wonders if David Stern wouldn't be so concerned with intentional fouls if it wasn't for who was being intentionally fouled and what team that guy plays for. But it's Dwight Howard and it's the Lakers, so it can't be right. The integrity of the game is comprised. The fans are cheated. Heat fans don't want to watch Spurs scrubs. Wait...
It was a good day for LA basketball on Wednesday night. The Lakers won and the Clippers beat the Dallas Mavericks. You knew it was going to be a tough night for former Clippers center Chris Kaman after witnessing this first quarter dunk on him by Caron Butler. He was the victim of two during [...]
Mavericks News

Delivered to your inbox

You'll also receive Yardbarker's daily Top 10, featuring the best sports stories from around the web. Customize your newsletter to get articles on your favorite sports and teams. And the best part? It's free!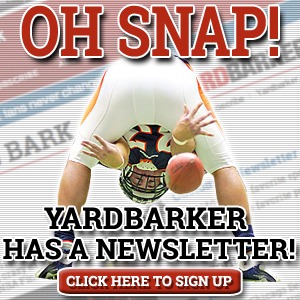 Latest Rumors
Best of Yardbarker

Today's Best Stuff

For Bloggers

Join the Yardbarker Network for more promotion, traffic, and money.

Company Info

Help

What is Yardbarker?

Yardbarker is the largest network of sports blogs and pro athlete blogs on the web. This site is the hub of the Yardbarker Network, where our editors and algorithms curate the best sports content from our network and beyond.