Found December 27, 2012 on Fox Sports Southwest:
PLAYERS:
Kevin Durant
,
Russell Westbrook
,
Serge Ibaka
,
Darren Collison
,
Dirk Nowitzki
,
Chris Kaman
,
O.J. Mayo
,
Mark Cuban
,
Shawn Marion
,
Rick Carlisle
,
Vince Carter
,
Brandan Wright
,
Rodrigue Beaubois
,
Dominique Jones
,
Hasheem Thabeet
,
Jae Crowder
,
Reggie Jackson
,
Eric Maynor
TEAMS:
Oklahoma City Thunder
,
Dallas Mavericks
OKLAHOMA CITY (AP) --Kevin Durant scored 40 points while Russell Westbrook added eight of his 16 points in overtime to help the Oklahoma City Thunder beat Dallas 111-105 on Thursday night for their 11th straight win at home. Serge Ibaka added 19 points and matched his season high with 17 rebounds as Oklahoma City charged back from 10 points down in the final 7:17 of regulation and found a way to win after losing back-to-back games for the first time this season. Darren Collison scored a season-best 32 points for Dallas. Dirk Nowitzki scored nine points in his second game back after offseason knee surgery, showing some rust down the stretch. Westbrook turned the game around with six straight points after the Mavs had gone up 104-101 on Chris Kaman's bucket inside midway through overtime. Westbrook had a layup, hit a jumper over Nowitzki and then made a leaping steal of an O.J. Mayo pass that led to a fast-break layup. The sequence left Mavericks owner Mark Cuban shaking his head in his seat near the team's bench. Mayo was fouled on Dallas' next possession while shooting a 3-pointer, but he missed the first two foul shots with 33 seconds left as the sold-out Chesapeake Energy Arena crowd roared louder with each miss. Westbrook hit two free throws after that to put it away -- this time for good. Collison came up with a desperation 3-pointer at the buzzer to send it to overtime after Dallas had given up the lead for the first time since the opening 4 minutes. Shawn Marion inbounded from the sideline with 2.2 seconds left, collected a deflected pass and headed toward the lane before kicking the ball out to Collison, who caught the ball in mid-air and heaved it toward the basket for the tying 3 from the right wing. Replays showed he released the shot with one-tenth of a second left on the clock. Still working his way back into shape, Nowitzki proved to be a liability during Oklahoma City's 17-6 fourth-quarter comeback. He sagged off of Durant far enough that the three-time NBA scoring champion could drill a 3-pointer from the left wing, then was trailing a play when O.J. Mayo backed into him and lost the ball to set up Durant's fast-break dunk and three-point play. Durant's right-handed hook shot from the right block gave Oklahoma City its first lead since the opening 4 minutes at 96-95 with 1:57 to play. Oklahoma City came up empty on three chances to extend the lead -- after back-to-back offensive rebounds by Ibaka -- but Durant hit a pair of free throws with 3.7 seconds left after Westbrook stole the ball from Mayo and dove to cover it while calling timeout. In overtime, Carlisle pulled Nowitzki in favor of Marion for defense at one point. Kaman ended up with 17 poitns and Marion chipped in 14 points and nine rebounds for the Mavericks, who were swept on a treacherous three-game road trip that featured stops at West contenders Memphis, San Antonio and Oklahoma City despite getting Nowitzki back. Dallas has lost seven of eight. Dallas had been 11-1 this season when leading at the beginning of the fourth quarter and 11-2 after holding a 10-point lead or larger. Mayo, who had been averaging 20.6 points, scored only four and has 29 total over the last four games. Oklahoma City had won 12 in a row before losing back-to-back games at Minnesota and Miami. The franchises have grown quite familiar over the past two seasons, with each team taking a turn knocking the other out of the playoffs -- in addition to their proximity along Interstate 35 and a handful of preseason matchups to go with the usual regular-season meetings. Dallas eliminated Oklahoma City in the Western Conference finals before winning the NBA title in 2011 and the Thunder swept the Mavs in the first round last season. Other than Nowitzki and coach Rick Carlisle, there aren't many remnants of those Dallas teams left. An offseason overhaul left Marion, Vince Carter, Brandan Wright and Rodrigue Beaubois as the only Mavericks remaining from those clashes. Collison scored 14 points with a blend of 3-pointers, layups, a jumper and a pair of free throws as Dallas got out to a 29-19 first-quarter lead. Dominique Jones drove for right-handed power slam against 7-foot-3 center Hasheem Thabeet and Jae Crowder converted a four-point play as the Mavs fought of an Oklahoma City comeback to lead 43-32. The Thunder wiped nearly all of the deficit away, limiting Dallas to just one bucket over the final 6 minutes of the first half to draw within 45-43 after Ibaka missed a pair of free throws, then came soaring in to dunk the rebound off of Durant's second-chance jumper. The Mavericks responded right away after their 11-point advantage had been erased, getting a pair of layups from Collison during a string of 10 straight points early in the third quarter. Kaman's jumper from the right side made it 55-45 with 9:05 left in the period. Notes: Beaubois, a reserve guard for the Mavericks, did not play because of an illness. Carlisle said he hoped to have Beaubois back for Friday's home game against Denver. ... Reggie Jackson took Eric Maynor's minutes as Westbrook's backup at point guard for the second straight game. ... Durant remained first among Western Conference frontcourt players in NBA All-Star balloting returns announced Thursday. Westbrook stayed in fifth among guards. Nowitzki, who has made 11 straight All-Star games, was 13th in the frontcourt. ... Ibaka had a double-double by halftime for the first time in his career.
Original Story:
http://www.foxsportssouthwest.com/12/...
THE BACKYARD
BEST OF MAXIM
RELATED ARTICLES
OKLAHOMA CITY For most of Thursday's game, the Thunder looked like they were on a losing streak and it looked like Russell Westbrook was somewhere between uninterested and lost. Westbrook was dreadful 2-of-9 in the first half, 4-of-14 after three quarters and other than Kevin Durant, the team wasn't much better. They trailed the below-average Mavericks by as much as 11...
A TAD BIT SUGGESTIVE
On Christmas day, Kevin Durant was featured in a Sprint commercial spot entitled, "Pajamas." In the spot, a man wakes up in his own pj's but in Kevin Durant's body to the surprise of his son and the ummmm "excitement" of his wife who has plans for her hubby's new physique. Take a look.   [...]
For every moment of greatness Russell Westbrook has with the Oklahoma City Thunder, he has another that frustrates the heck out of his teammates and the fans. When Westbrook is under control and not trying to force the issue, he is one of the best point guards in the NBA. On Christmas Day against the Miami Heat, he was not that guy. Westbrook scored 21 points, but he was only 5-for...
BASELINE TO BASELINE
The Oklahoma City Thunder faced off Thursday night against the Dallas Mavericks, and midway during the third quarter Kevin Durant exhibited – as if we needed refreshing – shy he's an insane athlete and a top player in the game. In the video below, Durant followed a block with a coast-to-coast slam over Chris Kaman. [...]The post Kevin Durant's Block, Coast-To-Coast Slam ...
Kevin Durant scored 40 points while Russell Westbrook added eight of his 16 points in overtime to help the Oklahoma City Thunder beat Dallas 111-105 on Thursday night for their 11th straight win at home. Serge Ibaka added 19 points and matched his season-high with 17 rebounds as Oklahoma City charged back from 10 points down in the final 7:17 of regulation and found a way to win...
Oklahoma City Thunder star Kevin Durant can pretty much do it all. Last night in the Thunder's overtime win over the Mavericks he showed off all those skills. In the 3rd quarter of the game Durant block the shot of Mavericks point guard Darren Collison. He grabbed the rebound, and then dribbled the whole way down the court a dunk on the Mavericks Chris Kaman. Durant threw down...
Jeff Green supported his "Thunder Buddy" Kevin Durant last night, as he wore the Durantula's signature shoe the Nike KD V. Jeff's pair featured a black upper with a while midsole. This colorway has not been released to the public. However the KD V is available for customization on NIKE ID as we speak. You can make this exact pair with the options on NikeID. You What...
Kevin Durant is athletic. Stating the obvious? Yes, but it's always fun to have a reminder as to why that statement is, obvious. Check out KD block a shot at one end and then follow it up with a dunk on Mavericks center Chris Kaman. Who wants to eulogize  Chris Kaman? Thunder also walk away [...]
HOUSTON -- With their top two scorers sufficiently equipped to thrive at an accelerated pace, the Oklahoma City Thunder blitzed the game-weary Houston Rockets 124-94 on Saturday night at Toyota Center. Thunder guard Russell Westbrook posted 28 points, eight rebounds and eight assists while forward Kevin Durant added 26 points despite a 1-for-8 shooting start to pace Oklahoma City...
Kevin Durant went HAM last night to say the least.  Durant dropped an easy 40 on the Dallas Mavericks to help the Thunder win in overtime.  Make sure to check out the crazy shot by Darren Collison that took the game to overtime.  Durant is second in scoring behind Kobe Bryant and a clear top 3 pick for MVP honors along with LeBron James and Carmelo Anthony.  Last night he had...
Mavs - Thunder was an absolute highlight fest last night. The last: OKC's Kevin Durant blocks Darren Collison's layup attempt (he's more comfortable with circus threes) -- then goes coast-to-coast... Full story at Bob's Blitz ~ http://www.bobsblitz.com
OKLAHOMA CITY-- Kevin Durant poured in 40 points to lead the Oklahoma City Thunder to a 111-105 overtime victory over the Dallas Mavericks on Thursday at the Chesapeake Energy Arena. The win ended a two-game losing streak for the Thunder, but it didn't come without its share of drama. Oklahoma City trailed 104-103 with 1:04 left in overtime. Russell Westbrook, who was having...
NBA News

Delivered to your inbox

You'll also receive Yardbarker's daily Top 10, featuring the best sports stories from around the web. Customize your newsletter to get articles on your favorite sports and teams. And the best part? It's free!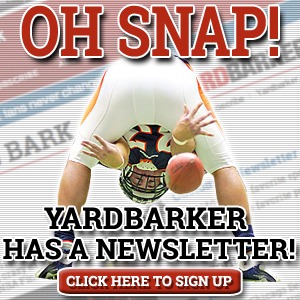 Latest Rumors
The Backyard

Today's Best Stuff

For Bloggers

Join the Yardbarker Network for more promotion, traffic, and money.

Company Info

Help

What is Yardbarker?

Yardbarker is the largest network of sports blogs and pro athlete blogs on the web. This site is the hub of the Yardbarker Network, where our editors and algorithms curate the best sports content from our network and beyond.