Found July 27, 2012 on Sports Junkie Online:
PLAYERS:
Meyers Leonard
,
Adonal Foyle
,
Michael Doleac
,
Chris Mihm
,
Joel Przybilla
,
Etan Thomas
,
DeSagana Diop
,
Rafael Araujo
,
Andris Biedrins
,
Robert Swift
,
Channing Frye
,
Andrew Bynum
,
Hilton Armstrong
,
Joakim Noah
,
Brook Lopez
,
Cole Aldrich
,
J.J. Hickson
,
LaMarcus Aldridge
,
Joel Freeland
,
Damian Lillard
TEAMS:
Portland Trail Blazers
,
Atlanta Hawks
,
Charlotte Hornets
,
Golden State Warriors
,
Phoenix Suns
,
Los Angeles Lakers
,
Chicago Bulls
,
Brooklyn Nets
,
Oklahoma City Thunder
In order to forecast what Portland Trail Blazers rookie center Meyers Leonard could potentially do in his rookie season, I've taken on the task of breaking down every center drafted in the second half of the lottery from the 1997 through 2011 drafts to get a range of statistics, then do my best to predict what his rookie season might look like. Here are the players who fit that criteria:
1997 - #8 Adonal Foyle (Warriors) - 11.9 mins, 3.0 pts, 3.3 rebs, 0.9 blk, 40.6% FG
1998 - #12 Michael Doleac (Magic) - 15.9 mins, 6.2 pts, 3.0 rebs, 0.3 blk, 46.8% FG
           #13 Keon Clark (Magic) - 14.6 mins, 3.3 pts, 3.4 rebs, 1.1 blk, 45.0% FG
1999 - #12 Aleksander Radojevic (Raptors) - 8.0 mins, 2.3 pts, 2.7 rebs, 0.3 blk, 28.6% FG
2000 - #7 Chris Mihm (Cavaliers) - 19.8 mins, 7.8 pts, 4.7 rebs, 0.9 blk, 44.2% FG
           #9 Joel Przybilla (Bucks) - 8.2 mins, 0.8 pts, 2.2 rebs, 0.9 blk, 34.3% FG
           #12 Etan Thomas (Mavericks) - 13.1 mins, 4.3 pts, 3.9 rebs, 0.7 blk, 53.6% FG
2001 - #8 DeSagana Diop (Cavaliers) - 6.1 mins, 1.4 pts, 0.9 rebs, 0.3 blk, 41.4% FG
2002 - none
2003 - none
2004 - #8 Rafael Araujo (Raptors) - 12.5 mins, 3.3 pts, 3.1 rebs, 0.1 blk, 43.4% FG
           #11 Andris Biedrins (Warriors) - 12.8 mins, 3.6 pts, 3.9 rebs, 0.8 blk, 57.7% FG
           #12 Robert Swift (Sonics) - 4.5 mins, 0.9 pts, 0.3 rebs, 0.4 blk, 45.5% FG
2005 - #8 Channing Frye (Knicks) - 24.2 mins, 12.3 pts, 5.8 rebs, 0.7 blk, 47.7% FG
           #10 Andrew Bynum (Lakers) - 7.3 mins, 1.6 pts, 1.7 rebs, 0.5 blk, 40.2% FG
2006 - #10 Mouhamed Sene (Sonics) - 6.0 mins, 1.9 pts, 1.6 rebs, 0.4 blk, 36.7% FG
           #12 Hilton Armstrong (Hornets) - 11.3 mins, 3.1 pts, 2.7 rebs, 0.5 blk, 54.4% FG
2007 - #9 Joakim Noah (Bulls) - 20.7 mins, 6.6 pts, 5.6 rebs, 0.9 blk, 48.2% FG
           #10 Spencer Hawes (Kings) - 13.1 mins, 4.7 pts, 3.2 rebs, 0.6 blk, 45.9% FG
2008 - #10 Brook Lopez (Nets) - 30.5 mins, 13.0 pts, 8.1 rebs, 1.8 blk, 53.1% FG
2009 - none
2010 - #11 Cole Aldrich (Thunder) - 7.9 mins, 1.0 pts, 1.9 rebs, 0.4 blk, 53.3% FG
2011 - none
If you take a look at the 19 players on this list, you have four tiers of players.
All-NBA - 1 (Andrew Bynum)
Borderline All-Stars - 2 (Joakim Noah, Brook Lopez)
Regular rotation players - 7 (Spencer Hawes, Channing Frye, Andris Biedrins, Joel Przybilla, Chris Mihm, Etan Thomas, Adonal Foyle)
Fringe rotation players/busts - 9 (Michael Doleac, Keon Clark, Aleksander Radojevic, DeSagana Diop, Rafael Araujo, Robert Swift, Mouhamed Sene, Hilton Armstrong).
Out of all these players, ten received what I'd consider regular rotation minutes in their rookie seasons (Doleac, Clark, Mihm, Thomas, Araujo, Biedrins, Frye, Noah, Hawes, Lopez). Seeing that as of right now, Meyers Leonard is the only "true" center on the Blazers roster, I'll try and project based on the assumption he'll be receiving regular rotation minutes. Here's a corresponding breakdown of the minutes of those players that fit my requirements.
High: 30.5 (Lopez)
Average: 17.7
Low: 12.5 (Araujo)
Leonard may be the only "true" center on the roster, but J.J. Hickson saw regular playing time there last season, and both LaMarcus Aldridge and Joel Freeland could slide to the '5' as well. I currently think that Leonard is likely the fourth big man in the rotation. Aldridge will always get his minutes (his five-year average is 37.08 minutes/game), and the team will likely want to know what it potentially has with Hickson, who was re-signed to a one-year deal. Freeland signed a three-year, $9 million deal this offseason, and the Blazers wouldn't pay someone that kind of money to not see the court. so I'd expect him to be the first big man off the bench. Knowing what we do about the situation, I'd guess Leonard ends up with around 16 minutes/game.
Going on the forecast of Leonard seeing 16 minutes/game, here are the players within four minutes (12-20) of his guidelines, projected out to 16 minutes.
Doleac -  6.2 pts, 3.0 rebs, 0.3 blk
Clark - 3.6 pts, 3.7 rebs, 1.2 blk
Mihm - 6.3 pts, 3.8 rebs, 0.7 blk
Thomas - 5.3 pts, 4.8 rebs, 0.9 blk
Araujo - 4.2 pts, 4.0 rebs, 0.1 blk
Biedrins - 4.5 pts, 4.9 rebs, 1.0 blk
Hawes - 5.7 pts, 3.9 rebs, 0.7 blk
Average per 16 minutes - 5.1 pts, 4.0 rebs, 0.7 blk
Looking at these players, he's already a more refined offensive player than Biedrins, Araujo, Thomas and Clark were at this stage. Leonard should do a decent job on the boards with his combination of size and athleticism, but probably isn't the raw rebounder in the mold of Thomas, Araujo or Biedrins. As far as shot-blocking goes, Leonard should again project better than Doleac, Araujo and Hawes.
As far as the current roster in Portland, nobody is a near-elite to elite rebounder, with J.J. Hickson and LaMarcus Aldridge the team's two best. Leonard also seemed to have good chemistry with fellow rookie Damian Lillard in Summer League, and should be a solid threat in the pick and roll. By factoring in his areas of strengths and weaknesses, as well as team strengths and projecting out to 16 minutes, here's my final projection for Meyers Leonard's rookie campaign:
6.4 points, 4.2 rebounds and 1.0 blocks in 16.0 minutes
I see Leonard as the fourth big man in the rotation, though how quickly he develops, as well as the Blazers on-court success (or failure) and potential frontcourt injuries could result in a spike in minutes and an increase in my projected statistics.
Original Story:
http://sportsjunkieonline.blogspot.co...
THE BACKYARD
BEST OF MAXIM
RELATED ARTICLES
Mark your calendars Rip City Portland Trail Blazers fans can officially start planning their 2012-13 NBA season. The NBA schedule was released Thursday and the Blazers have a number of marquee matchups that should help set the tone and evaluate where the team truly is at certain points next year. With so many new faces on the team's current roster, anticipation is high, and the...
2012-2013 Rip City Opponents The 2012 NBA offseason is underway. The NBA draft has been completed, the NBA summer league in Las Vegas is over, all there is to do now is sit back and watch some USA basketball from the Olympics. Onto present matters. The 2012/13 National Basketball League schedule came out today. The Rip City roster has six new names on it since June's NBA draft...
The pressure of being a lottery pick in the NBA can drive rookies to success, but it can also be what drives prospects out of the league all together. The Portland Trail Blazers didn't hold back this summer when they drafted a mid-major star to be their point guard of the future, and at this phase in the rebuilding process, it appears that the team's success relies heavily upon...
What do you see? Are they going places? Of course. Up? Perhaps. Down? Hopefully not. And there in lies the mystery. Where is Portland's prized basketball team headed, and will we enjoy the journey, as well as the end result? Fans (myself included) so often forget to apply reason when looking through the scope of reality as it is pointed at the team closest to their hearts...
NBA News

Delivered to your inbox

You'll also receive Yardbarker's daily Top 10, featuring the best sports stories from around the web. Customize your newsletter to get articles on your favorite sports and teams. And the best part? It's free!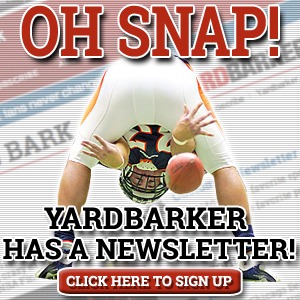 Latest Rumors
Best of Yardbarker

Today's Best Stuff

For Bloggers

Join the Yardbarker Network for more promotion, traffic, and money.

Company Info

Help

What is Yardbarker?

Yardbarker is the largest network of sports blogs and pro athlete blogs on the web. This site is the hub of the Yardbarker Network, where our editors and algorithms curate the best sports content from our network and beyond.