Originally written November 27, 2012 on
Cuzoogle:
So here we sit on Nov. 27th, 3-11 and at the bottom of the very talented Atlantic Division. Morale is low and with a stretch of road games coming up, the bleeding is not likely to stop. Did the Raptors entire season turn with that first game loss to the Indiana Pacers? The way it is unfolding, quite possibly. The Raptors should of won that game and the way they lost started a spiral of heart breaking losses that very few teams have gone through in recent memory. They looked excited and full of life for 95% of that game. Kyle Lowry was fitting in and was already the roster move of the year. Fans were alive and the ACC was electric. 2012-13 was going to be the Raptors year. Then they fell apart and lost and the spin was, well it was a good showing and it is only game 1. But really, since, the only game that was really never in question was a win over the Minnesota Timberwolves. Since they have had their guts ripped out in losses to Utah, Detroit, San Antonio, Indiana (again), Philly and you could even say their game with the Nets. Those are 6 games that the Raptors could of very well won. That would be a record of 9-4. Yes, they have played that well, they just have failed to close, or even show they know what closing is. A win on opening night could of been the confidence boost that very easily could of pushed a few of those games into the win column. The disaster against Philly where they went and had dinner during the second quarter and the OKC games were write offs before halftime, but every team has those games. It all fell apart on opening night. Landry Fields is MIA, Lowry has turned into a chuck and Bargnani is great one night, horrible the next. DeRozan has been solid but as the face of the franchise now, he has to start closing out and forcing the team to win. Hell, the only consistent player all year has been Jose Calderon and over half of Raps Nation wants him on the next bus out of town (daily). Oh what could of been. I honestly think the Raptors whole season turned at the end of Game 1. They have less of a chance to bounce back than Rob Ford does and that is saying something. So Houston, Memphis and Phoenix this week eh? God God. The only saving grace would be the Washington Wizards and thankfully we don't play them any time soon. addthis_url = 'http%3A%2F%2Fcuzoogle.com%2F2012%2F11%2F27%2Fwhat-if-the-raptors-had-won-that-first-game%2F'; addthis_title = 'What+if+the+Raptors+had+won+that+first+game%3F'; addthis_pub = '';
Original Story:
http://feedproxy.google.com/~r/Cuzoog...
MORE FROM YARDBARKER
NBA News

Delivered to your inbox

You'll also receive Yardbarker's daily Top 10, featuring the best sports stories from around the web. Customize your newsletter to get articles on your favorite sports and teams. And the best part? It's free!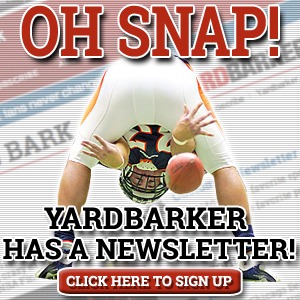 Latest Rumors
Best of Yardbarker

Today's Best Stuff

For Bloggers

Join the Yardbarker Network for more promotion, traffic, and money.

Company Info

Help

What is Yardbarker?

Yardbarker is the largest network of sports blogs and pro athlete blogs on the web. This site is the hub of the Yardbarker Network, where our editors and algorithms curate the best sports content from our network and beyond.