Found September 10, 2012 on Project Spurs:
PLAYERS:
Anthony Davis
,
Monty Williams
,
Gregg Popovich
,
Tim Duncan
,
Greivis Vasquez
,
Manu Ginobili
,
Matt Bonner
,
Tiago Splitter
,
Gary Neal
,
Nando De Colo
TEAMS:
New Orleans Pelicans
,
San Antonio Spurs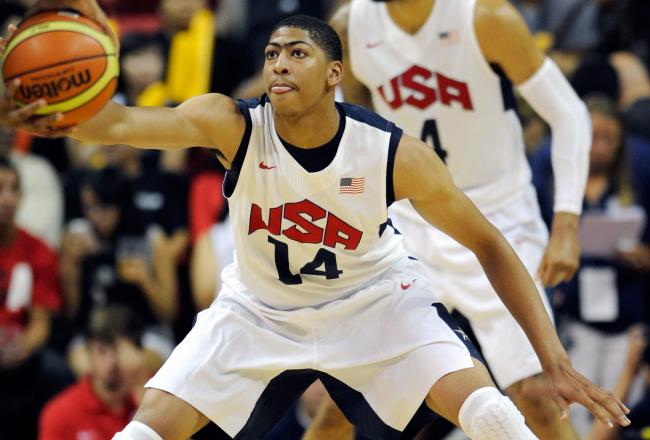 If you're in the San Antonio area over the next few days, keep your eyes peeled for a unique site.  It's a 6'10" really skinny guy, will most likely be wearing Nike gear and might even have a gold medal around his neck.  Need another tip? Fine, he'll have one eye brow.  That's right kids, the number one pick himself, Anthony Davis is in the Alamo City according to his very own Twitter page.
What's good to eat in San Antonio?

— Anthony Davis (@AntDavis23) September 9, 2012
For the record, I said Rosario's in part because I assumed he was staying downtown.  Anyways, what on earth is "Unibrow" doing in the Alamo City?  Assuming there isn't some Team USA event in San Antonio this week (from what I can tell there isn't, but the USA Basketball website is terrible), my first and most logical guess was that Hornets head coach Monty Williams and his own personal Obi-Won Kenobi, Gregg Popovich, organized some work out sessions with Davis and Tim Duncan kind of like how Duncan worked out with Roy Hibbert, Nene and others last fall.  This theory was more or less confirmed when Hornets point guard Greivis Vasquez tweeted he was in San Antonio for a week of hard work.  But then, the plot thickened. Observe!
What the hell is happening in San Antonio? RT @antdavis23: @jharden13 you coming to San Antonio bro?

— Trevor Zickgraf (@yowhatupT) September 10, 2012
*James Harden in the Alamo City too?  What kind of odd facial hair convention is going on in San Antonio this week?  Could Harden also be coming in for a week of hard work?  Is the American Manu Ginobili going to learn how to be even more like Manu 1.0?  Maybe.  But here are some other possibilities:
*Editor's Note: Davis removed the tweet to Harden a few hours after he sent it out, so we used Trevor's retweet instead.
1. Spurs have acquired Davis, Vasquez and Harden for Matt Bonner, Tiago Splitter, Gary Neal and Nando De Colo. Fact No.1: This works in ESPN's Trade Machine. Fact No. 2: Pop and R.C. Buford would literally have to be Jedis in order to pull off this mind trick of a deal.
2. Harden and Davis are teaming up to be the next great Lucha Libre USA tag team.  Wouldn't Harden's beard and Davis' eyebrow make them an amazing tag team.  Harden could groom his beard in to a giant version of Jim "The Anvil" Neidhart and Davis could wear a lucha libre mask with the eyebrow section cut out.  Merchandise gold.
3. Harden and Davis are both taking a college course before the season starts and need to visit all of San Antonio's missions and write a report before they can get credit for the class.  I recommend a Rainbow Raspa from the vendor outside the Alamo.
4. All three guys are roller coaster enthusiasts and will be visiting Sea World and Fiesta Texas.  Has anyone told them the Rattler is shut down? Little known fact: Anthony Davis, roller coaster enthusiasts that he is, developed his unibrow from all the riding.  High velocity winds just smushed his two eye brows in to one.
Those are my guesses as to why they're here.  Remember to be on your best behavior if you see them, San Antonio.  Or kidnap them like Daniel Stern and Dan Akroyd in Celtic Pride.  Either way, don't let them leave.  Spurs could use a shot blocker, another slasher and a back up point guard.
Photo: Getty Images/David Becker/Bleacher Report
Original Story:
http://www.projectspurs.com/2012-arti...
THE BACKYARD
BEST OF MAXIM
RELATED ARTICLES
Former Duke forward Lance Thomas is being sued for the remaining balance of a nearly $100,000 jewelry bill from 2009 — bringing into the mix potential NCAA violations for the Blue Devils basketball program. The pristine image of Duke basketball program has now come into question and its 2010 national title could be be in jeopardy, as well. Thomas — a former New Jersey basketball...
We told you Monday Anthony Davis, Greivis Vasquez and maybe James Harden were all in San Antonio for some reason.  We then listed some silly reasons why we thought they'd be in San Antonio.  We also suggested that the most logical reason that Unibrow and others were in town was for some sort of workout with members of the San Antonio Spurs.  Turns out that's exactly...
San Antonio Spurs guard Nando De Colo will be living the NBA rookie life heading into next season but that doesn't mean he is going to be intimidated by playing on basketball's biggest stage. In an interview with French site Nordeclair, De Colo exclaimed how much he is happy to be living his NBA dream and mentioned he once had a Scottie Pippen poster as a kid. ...
San Antonio Spurs guard Patty Guard has a phenomenal run at the 2012 Olympics for Australia. He was the leading scorer for the entire tournament (21.2 points per game) and hit a buzzer-beating shot versus Russia for the upset. Speaking of the buzzer-beater, Mills revealed (in video below) the play was not meant for him and that Team Australia coach Brett Brown (also a Spurs...
When San Antonio Spurs guard Tony Parker isn't playing 82 regular season games and several playoff games, he is just as busy in the offseason. After the Spurs lost to the Oklahoma City Thunder in the Western Conference Finals, Parker didn't have much time before he was in France training for the Olympics and playing in friendlies. He's been just as busy after the...
Before heading back to San Antonio for training camp, Tiago Splitter will be in Sao Paulo Brazil to participate in NBA 3X, according to Terra.com. NBA 3X is a program the NBA puts on to promote basketball through three-on-three competitions, a slam dunk competition, skills challenge and several other activities. The tournament aims to attract more fans to the sport...
For NBA players, the offseason is a brief couple of months where they get to relax, spend time with family and friends and enjoy life a little bit before the grueling NBA schedule takes it all away. For international players, it gets a bit trickier. Even with the time off, it's still quite a challenge to the schedule to hop on a plane and travel halfway across the world. ...
After a mediocre rap career, is San Antonio Spurs' Tony Parker now trying his chops as a music composure? Well maybe not but apparently TP can tickle the ivory and can play the piano. Who knew Parker had such diverse talents. At least he isn't riding a motorized skateboard without a helmet. Tony Parker on WhoSay
After rumors started floating around that the San Antonio Spurs might actually be genuinely interested in former Washington Wizards big man Andray Blatche, there was a little excitement generated by the fact that the team may be addressing their big weakness. The Spurs have all the talent they need at the guard spot, but the post players leave a lot to be desired. Of course...
The San Antonio Spurs' training camp is fast approaching which means the team is going to continue to look at players to fill the camp roster. The Spurs have already looked at a variety of players, and up next they will workout forward Japeth Aguilar (via ABS-CBNnews) this week. The 25-year old Aguilar is a former Philippine Basketball Association No. 1 draft pick and...
On Saturday, San Antonio Spurs draftees Adam Hanga and Davis Bertans struggled individually, as both of their teams fell in their second to last game of the 2013 FIBA Eurobasket qualifier. Hanga and Hungary fell to Croatia 81-79, making it almost all but impossible for them to qualify for the 2013 Eurobasket games. Hanga's main struggles were staying on the court in this...
The 2012 NBA season is about a month and a half away, but it's never too early to start making predictions. Here are my top ten impact rookies this year. 1.     Anthony Davis/Austin Rivers- New Orleans Hornets- I'm going to have to group these two together. Even though Davis was taken as the number one overall pick and Rivers was 10 both of them will come in and change...
NBA News

Delivered to your inbox

You'll also receive Yardbarker's daily Top 10, featuring the best sports stories from around the web. Customize your newsletter to get articles on your favorite sports and teams. And the best part? It's free!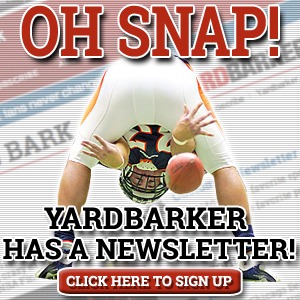 Latest Rumors
The Backyard

Today's Best Stuff

For Bloggers

Join the Yardbarker Network for more promotion, traffic, and money.

Company Info

Help

What is Yardbarker?

Yardbarker is the largest network of sports blogs and pro athlete blogs on the web. This site is the hub of the Yardbarker Network, where our editors and algorithms curate the best sports content from our network and beyond.