Found November 02, 2013 on In The Neutral Zone:
We're all a little bit shocked after seeing Miami slump to a 1-2 record after their first three games of this season, plenty of people expected the Heat to come out of the blocks firing as they opened a season which could see them win their third successive NBA Championship, but somethings cooling the air in South Beach. Lebron and co. haven't been working in tandem to start the season (Courtesy csnne.com) The Heat have only won one game so far, against the Chicago Bulls, which is no doubt the only bright point of this extremely young season considering their shock loss to Philadelphia, and failed effort against Brooklyn on Friday. You could argue that the Heat haven't played well, or that the teams they've played have been playing extremely well or even that Miami haven't had luck go their way. But after seeing the games, you have to say it's a combination of all three. During their first game, Miami looked to have set right back from where they left last season, moving the ball well, playing strong defense on the likes of Derrick Rose and utilizing their bench players effectively. But look ahead to the shock upset away at Philly and you see a completely different story, Philadelphia got out early and looked dominant in the first quarter, going on a 19-0 run to start the game. Yes, Michael Carter-Williams played out of his skin, nearing a quadruple double and exploiting some shoddy passing from the Champs to help give Philly the 110-114 win, and Miami were without Shooting Guard Dwyane Wade, but should we be expecting Philadelphia to do this to the reigning Champs? We don't think so. The biggest part of the game though was Miami's inability to stop a team who are arguably one of the worst in the league (no offence intended to Philadelphia fans). Miami got over their poor start to lead by nine going into the final quarter, but could not stop the 76ers young team, who took advantage of an awful fourth quarter shooting performance by the Heat (only 5-22). Many Heat fans will say it was a 'freak' result, something which if played a hundred more times would not end with a Philly win, but either way, it happened. The Heat then travelled to Brooklyn to face the new-look Nets, who are considered one of the most legitimate challengers for the title after their recent acquisitions and fell again, this time 101-100. Miami again looked sluggish, only really pushing Brooklyn close towards the end of the game, but the Nets battled through the late rally to secure the win on their home floor. The Heat were outplayed and out-sized by Brooklyn after finding themselves in foul trouble, and failed to recover late on, leaving them with a not so expected 1-2 record so far this season. Again, this could be chalked down to bad luck, maybe some iffy calls from the refs, but either way the Heat failed to cruise by Brooklyn like some people expected, although arguably Brooklyn will offer the best challenge to Miami in the East this year. But when push comes to shove, the blame has to be put on Miami, they simply haven't been as effective as last year, and it's showing on the court. But we have no doubt we'll be seeing Lebron, D-Wade and Chris Bosh find their form and make a run similar to last years' on their way to a relatively comfortable playoff birth confirmation. Hopefully though they will be getting out of this slump pretty soon, otherwise people may be throwing more and more questions about Miami's chances of a three-peat this season across the forums. Either way, we doubt we'll be seeing this poor form last much longer… 2 total views, 2 views today Read More NBA at Bouncy Orange Ball
Original Story:
http://intheneutralzone.com/whats-coo...
THE BACKYARD
BEST OF MAXIM
RELATED ARTICLES
When you're LeBron James, simply having your own Lamborghini Aventador Roadster doesn't quite cut it. That's why the Miami Heat superstar availed himself of the services of Lou La Vie, an exotic auto rental business based in Miami. And while King James would never have the need to rent a luxury automobile, Lou La Vie, […]The post Paint job on LeBron's Lamborghini matches...
Gabrielle Union didn't play a single second for the Miami Heat last season but that doesn't mean she isn't deserving of her own championship ring. Especially when she has to put up with boyfriend Dwyane Wade's sloppy habits off the court. The beautiful actress got the extra bling from Wade Tuesday night after the 2013 NBA champion Heat home opener against...
Several members of the Miami Heat played as another team Halloween night in New York City. They called themselves The Heatles. LeBron James, dressed as Michael Myers from "Halloween," and Chris Bosh, the Joker, were among the players who enjoyed Thursday evening partying at the Manhattan club Tao. James and Roger Mason Jr. (Superman gorilla character Grodd) posted photos...
Since the Miami Heat didn't play on Halloween night, Miami's LeBron James got to actually dress up on All Hallow's Eve. Check out the below Instagram photo which shows King James as the classic Halloween serial killer, "Michael Myers" and clearly, you don't want to mess with LeBron "Mike Myers": Looking for a group shot from the Miami Heat costume extravaganza, we...
Guess who was courtside Sunday night as the Miami Heat played the Washington Wizards at American Airlines Arena. Lil Terio's world tour continued in Miami. Following the Heat win, Terio flicked it up with LeBron James and Dwyane Wade. A shout out is owed from King James as he dropped the Terio trademark – not really, but really- "Ohh kill 'em" in his most recent Samsung...
As one of the NBA's top trendsetters, Dwyane Wade's novel way of dressing has influenced players across the league. He's constantly recognized among the best-dressed athletes, with a standout style from head-to-toe. Now the hoops star and style icon is capitalizing on the latter. Wade has collaborated with Stance Socks to develop a signature collection. He's no stranger to...
How did some of your favorite jocks spend Halloween? Check out costumes from the Miami Heat – LeBron James went as Michael Myers from the classic horror flick, "Halloween" – Kobe and Vanessa Bryant, Floyd Mayweather Jr. teamed up with Lindsey Lohan. Seriously. Gilbert Arenas and his wifey Laura Govan and more. Kobe Bryant and his wife Vanessa dresses as Zorro and Elena...
Extra pass, easy win. It's a tried-and-true formula for the Miami Heat. LeBron James scored 25 points, Chris Bosh added 24 and the Heat beat the winless Washington Wizards 103-93 on Sunday night to snap a rare two-game slide. Dwyane Wade scored 20 points for Miami, which hasn't dropped three straight regular-season games since Jan. 10-13, 2012. The Heat (2-2) had 32 assists...
For most NBA teams that win a Championship, it's not just the players and coaches that receive a ring. Executives, key members of the organization and significant others get rings also. Remember last season following the Heat receiving their rings, LeBron James and his wife- then fiancé, Savannah James along with Dwyane Wade and Gabrielle Union proudly posed with their new hardware...
Final Score: Miami Heat 103 – 93 Washington Wizards The Miami Heat have managed to snap their early 2-game losing streak and defeat the Washington Wizards in the American Airlines Arena. Washington Wizards started out strong, going on a 9-2 run, but then the Miami Heat started a run on their own, taking the lead and ...The post Miami Heat Take Down Washington Wizards In Southeast...
After the mini war of words between the Brooklyn Nets forward Kevin Garnett and Miami Heat star LeBron James, it appears that the King decided to not answer anymore questions regarding that team up in Brooklyn. Check out the below tweet from the ESPN Heat Index writer Brian Windhorst gets a definitive answer from the two-time champion: LeBron: "I'm not answering any more...
TNT released an awesome new ad this week showing the "future" of the NBA. In the ad, James Harden wins an MVP award, Derrick Rose scores 70 points in a game and.... LeBron James participates in the dunk contest. Watch the spot below: If we're being realistic, we're never going to see LeBron in the dunk contest in real life. So this commercial lets...
NBA News

Delivered to your inbox

You'll also receive Yardbarker's daily Top 10, featuring the best sports stories from around the web. Customize your newsletter to get articles on your favorite sports and teams. And the best part? It's free!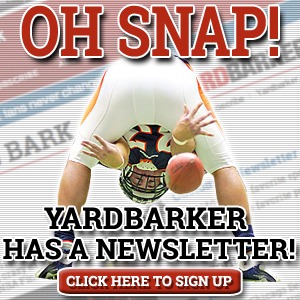 Latest Rumors
Best of Yardbarker

Today's Best Stuff

For Bloggers

Join the Yardbarker Network for more promotion, traffic, and money.

Company Info

Help

What is Yardbarker?

Yardbarker is the largest network of sports blogs and pro athlete blogs on the web. This site is the hub of the Yardbarker Network, where our editors and algorithms curate the best sports content from our network and beyond.