Found January 23, 2013 on Waiting For Next Year:
While We're Waiting serves as the early morning gathering of WFNY-esque information for your viewing pleasure. Have something you think we should see? Send it to our tips email at tips@waitingfornextyear.com. "Speights is signed for $4.2 million this season and has a player option for $4.5 million next season. For a team so close to the luxury tax like the Grizzlies, that's an unnecessary and unacceptable contract. For a rebuilding team like the Cavs, that's chump change. The Cavs are dangerously close to the salary floor for next season anyway and Dan Gilbert has no problem spending that kind of money. Even with the player option for next season, Speights' contract does nothing to seriously impact the Cavaliers' cap space. This is an example of the new CBA at work. The luxury tax punishments are so harsh that a team with cap space is able to swoop in and grab some nice assets in exchange for sacrificing a bit of cap room. As we have seen, Chris Grant will not simply take on bad contracts for the sake of it (that means you, Jeff Green). He wouldn't take Kris Humphries this past summer when the Brooklyn Nets were trying to trade for Dwight Howard unless the Cavs got a draft pick in return. The Grizzlies needed a trade partner to shed some salary and keep their core intact. The Cavs are in the midst of another rebuilding year and have plenty of cap room. Advantage: Cavs. Chris Grant had the leverage and the results of the trade negotiations speak to that." [Kaczmarek/Fear the Sword] —- "But this is a bet worth making for Cleveland, especially after missing out on similar opportunities to rent its cap space last summer. Cleveland drove a very hard bargain on such deals, sometimes demanding multiple first-round picks from teams, including the Wolves, searching for a salary dump, according to several league sources. They've softened here, and they've gotten a nice asset." [Lowe/Grantland] —- "Can these men do what so many other Browns coaches and player personnel officials have failed to do? Can Chudzinski and Lombardi bring the Browns back to the playoffs? The short answer is, maybe. That's not because of the hires of Chudzinski and Lombardi though. I think the two men who will have a bigger impact on the success of the Browns are their two new coordinators. The Browns have hired Norv Turner as their offensive coordinator and Ray Horton as their defensive coordinator." [Gridiron Gab] —- "Simon measured at 6'1 and a half, 256 pounds at the official Senior Bowl weigh-in on Monday. This week and over the next few months he'll try to show the NFL his knee is healthy and he's athletic enough for a potential move to linebacker, either in a 4-3 or a 3-4 defense. It's about new beginnings, even making good with that guy from Michigan. "Denard and I have gotten to know each other a little bit," Simon said. "He's a great guy and I'm happy to have him on my team so I don't have to chase him around and game-plan around him. "He's a tremendous athlete. I look forward to seeing him be able to let loose a little bit and perform. The old stuff is out the window and everybody is here trying to make a new start." [Jackson/FSO] —- "Waiters had an off-night, shooting 3 of 12. Five of his shots were at the rim, though obviously he couldn't finish. He missed an open three and dished three assists with zero turnovers. One aspect of Dion's role in the offense that frustrates me, is that when off the ball, he meanders away from the play. He is frequently 30 to 35 feet from the basket when someone else has the ball. The game turns into 4 on 5. He needs to learn / be taught about some action to perform when off-the-ball." [Hetrick/Cavs the Blog]
Original Story:
http://www.waitingfornextyear.com/201...
THE BACKYARD
BEST OF MAXIM
RELATED ARTICLES
In the land of repurposed jerseys, Cleveland fans can feel free to dust off those of Jamario Moon, Darius Miles, JJ Hickson and Larry Hughes kits. Ealier this week when Cleveland Cavaliers general manager Chris Grant somehow managed to turn Jon Leuer into power forward Marreese Speights, shooting guard Wayne Ellington and point guard Josh Selby as well as a first-round pick that...
Tristan Thompson is destroying in his sophomore season. The Cleveland Cavaliers power forward has excelled in Anderson Varejao's absence (out for the season with a blood clot in his lung). In 40 minutes Tuesday, Thompson threw down on the Celtics on the way to a 95-90 win. Thompson finished with 21 points (9-18 FG, 3-3 FT), nine rebounds, five assists, a steal and a block...
The Cavaliers have assigned newly acquired guard Josh Selby to their Canton affiliate in the NBA Development League. Selby joined the Cavs on Tuesday in the trade from Memphis along with center Marreese Speights, guard Wayne Ellington and a future first-round draft pick. Cleveland sent forward Jon Leuer to the Grizzlies. Selby played in 10 games for the Grizzlies, averaging two...
The Memphis Grizzlies and Cleveland Cavaliers completed a four player trade. The deal allows the Grizzlies to shed $6 million in payroll to slide under the luxury tax bar. Please Click Here To Read This Story The post Memphis Grizzlies and Cleveland Cavaliers complete four player trade appeared first on Players View Dot Net.
GEE WHIZ!
Video: Kaboom! Gee just stepped in the room
CLEVELAND (AP) -- Kyrie Irving scored 15 of his 40 points in the fourth quarter, including several key late baskets, to lead the Cleveland Cavaliers in a 95-90 victory over the Boston Celtics on Tuesday night. Irving scored 11 points in the final 2:33 on four layups and three free throws to give Cleveland back-to-back wins at home for the first time this season and send Boston to...
There's nothing like an injury to rock your fantasy team, and when it's the 14 points, 14 rebounds production of Anderson Varejao that goes by the wayside, you have to find a replacement. Tristan Thompson should continue to see the bulk of minutes. Here is some other news from the M*A*S*H unit, and see if you notice a pattern: Lou Williams – After having a good season as...
EDIT: It appears this trade is agreed upon and just waiting for league approval. According to ESPN's Brian Windhorst, the Cleveland Cavaliers and Memphis Grizzlies are in talks on a deal that would see Jon Leuer sent to Memphis and Marreese Speights, Wayne Ellington, and Josh Selby coming to Cleveland. Per Windhorst, draft picks would also be included in the deal. The Grizzlies...
JOKES CONTINUE
Hey, look, another Manti Te'o hoax girlfriend joke.Cavs doing a Manti Te'o Kiss Cam with people next to empty seats. Wow.— Scott @ WFNY (@WFNYScott) January 23, 2013Definitely not the first sports team to make fun of Teo. The Dallas Stars did a similar thing but showed the empty seat as Manti Te'o girlfriend, Lennay Kekua. 
Boston came into this game hurting. Losers of 3 straight, the Celtics surely looked at this game in Cleveland as a prime opportunity to get things back on track. Kyrie Irving had other ideas. "Mr 4th Quarter" disguised himself as "Mr 1st Quarter" in this one as he came out looking to make a statement against the East's All-Star starting PG Rajon Rondo. Irving was aggressive...
CLEVELAND -- Point guard Kyrie Irving fired in a game-high 40 points in the Cavaliers' 95-90 victory over the Boston Celtics on Tuesday at Quicken Loans Arena. The loss was the Celtics' fourth in a row. Irving, gunning for a spot on the Eastern Conference All-Star team, was 16 of 24 from the field, 1 of 3 from behind the arc and 7 of 7 from the foul line. It was the second...
NBA News

Delivered to your inbox

You'll also receive Yardbarker's daily Top 10, featuring the best sports stories from around the web. Customize your newsletter to get articles on your favorite sports and teams. And the best part? It's free!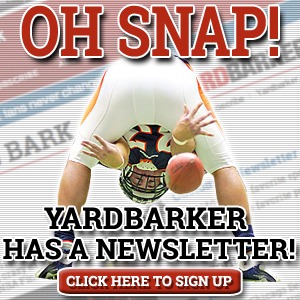 Latest Rumors
Best of Yardbarker

Today's Best Stuff

For Bloggers

Join the Yardbarker Network for more promotion, traffic, and money.

Company Info

Help

What is Yardbarker?

Yardbarker is the largest network of sports blogs and pro athlete blogs on the web. This site is the hub of the Yardbarker Network, where our editors and algorithms curate the best sports content from our network and beyond.