Found August 14, 2012 on Waiting For Next Year:
While We're Waiting serves as the early morning gathering of WFNY-esque information for your viewing pleasure. Have something you think we should see? Send it to our tips email at tips@waitingfornextyear.com.
Yep. Good thing the new CBA fixed this. "When a child cries in the NBA, he gets to spank his parents. This is one lesson of the Dwight Howard saga, which is finally over, or at least on hiatus, until Howard says he won't re-sign unless his team plays three home games a year on Mars, forcing the franchise to buy Mars rover Curiosity to make it happen.
In the meantime, Howard is a Laker, and how rich is that? He nuked his old franchise in Orlando, establishing himself as the best all-around franchise-destroying star in the NBA. He complained like Carmelo, got his coach fired like Jason Kidd, and ditched adoring fans like LeBron — and, like all the all-time greats, he brought something new to the game: world-class waffling, which hurt Orlando even more. " [Rosenberg/SI]
—-
Check out Craig's take on the game against Detroit on Cleveland.com. [CLE.com]
—-
"Cribbs enters this season on the last year of his contract. In the past, he has voiced his displeasure when his deal was not re-done, and last season, he voiced his displeasure at his limited role in the offense while the team was losing. He even asked to be put on more special teams. This season his role could diminish, or if things go the way he seems to expect when the games count it could increase.
Either way, he promised one thing: He would more quiet about his role.
"I just want to win," Cribbs said. "If guys are capable in front of me and they get the job done, I'm all for it. You won't hear me unless we're not winning off the break and I know I can help us win. As long as we're winning, I'm going to sit there and score 100 TDs on returns and make 100 tackles. The only time you'll hear me is if we're not winning and I can give us a chance to win. That's the only time you'll hear my voice." [McManamon/FSO]
—-
Could the baseball stirrup trace it's inception to Cleveland? "Let's piece together this puzzle as I have found them jigsawed apart. According to the Cleveland Indian Encyclopedia, Nap's infection sidelined him immediately, he was out the next day. And according to Baseball Reference, his first game missed was June 30th (I had articles confirming the dates that I seem to have misplaced). Cleveland played 3 games in Detroit, followed by 5 games at home from June 26th to July 1st, including a double header at League Park against the Tigers. So unless my brain-pan has forsaken me yet again and given me the roofus-goofus, we can point to June 29th, 1905, during the course of a double header that Tiger shortstop Charley O'Leary slid into second spiking Nap Lajoie's left ankle, which left untreated, beyond tobacco spit or rubbing dirt on it, got infected overnight, and nearly killed him. And with this, we have our date for immaculate stirrup conception." [UniWatch]
—-
Finally, A-Rod put his Miami mansion up for sale. Can you spot the Indians inspired artwork? [Sotheby's]
Original Story:
http://www.waitingfornextyear.com/201...
THE BACKYARD
BEST OF MAXIM
RELATED ARTICLES
Houston Rockets GM Daryl Morey's offer for Dwight Howard has been leaked, and it's not as good as some thought.Photo Credit: wikipedia.org/Creative Commons As we all know by now, the the Dwightmare is over, and the long-time disgruntled center is now a member of the Los Angeles Lakers. Since the trade went down, the Orlando Magic's front office has faced much criticism from...
Over the weekend, NBA star Shaquille O'Neal was attending Comic-Con for some reason still not known to us but it gave some reporters the opportunity to talk about the Dwight Howard trade.Check out the below video of the Big Aristotle talking about the mega-trade that sent Dwight Howard to the city of angels in a rather comical way:(Courtesy of Total Pro Sports)
  Dwight Howard will keep his beaming smile much to the chagrin of teams and fans across the league.  After a year of committing some of the biggest PR blunders in NBA history, Howard has found himself in exactly the position he had hoped for- competing for a championship in a highly lucrative market.   As part of a four-team trade on Friday, Howard became the newest center...
Howard is all smiles now that he's out of Orlando Well, the NBA off-season dust has settled and most of the moving parts have come to rest. Although I wouldn't exactly call this summer a power shift, I would say that the past couple months of player movements have altered the course of multiple NBA franchises. With that in mind, here's a couple of winners and losers of this...
When the Dwight Howard saga came to a merciful end last Friday after his trade to the Lakers, NBA fans in small markets rolled their collective eyes, and settled in for another big market championship that will almost assuredly take place next June. Blazers fans were in the mix, and it was made more painful that their bitter rivals to the south once again reaped the rewards of an...
One of the funnier moments from this past Olympics was the McKayla is not impressed phenomenon. It even has it's own website. A silver medal doesn't impress the young gymnast and apparently neither does the Lakers trade for Dwight Howard. KG of course is also not impressed with L.A.'s new clown. Related: KG to Howard: "Paint your face, clown!" About Afternoon...
Not to say I told you so, but I told you so. When the Orlando Magic fired head coach Stan Van Gundy in an attempt to appease Dwight Howard, a lot of wannabe devil's advocates tried to call the move something other than what it was: an absolutely stupid move borne of shortsightedness and ignorance. The devil's advocates thought they sounded smart when they insisted that the...
Let's not go handing the next NBA championship to the Lakers just yet. Even with Dwight Howard in the fold along with Kobe Bryant, Pau Gasol, Steve Nash and Metta World Peace, there are plenty of question marks surrounding the Lake Show that would prevent the Forum Blue and Gold from raising another banner at the end of next season. Besides, LeBron James is still the best player...
Now that the Olympics are over, and while football is still an interminable number of weeks away, the sports news cycle has just about ground to a halt.  The baseball trade deadline has come and gone, the Dwight Howard saga has come to a merciful (and predictable) end, and there's just not a whole lot [...]
Stan Van Gundy and Dwight Howardcredit: sports.cbsimg.net Former Orlando Magic head coach Stan Van Gundy is never at a loss of words; actually, it seems like sometimes he is looking for something to say. We all remember that terribly awkward press conference last season where he told reporters that Dwight Howard wanted him fired, only to have Dwight walk in on the media session....
While all the Dwight Howard talk has been about the Los Angeles Lakers don't forget about the Philadelphia 76ers. 76ers head coach Doug Collins called the Olympics for NBA. During one of the broadcasts here is what he had to say about the four team trade. "When you think about adding Andrew Bynum, a big man who can score in the paint, rebound and block shots —...
NBA News

Delivered to your inbox

You'll also receive Yardbarker's daily Top 10, featuring the best sports stories from around the web. Customize your newsletter to get articles on your favorite sports and teams. And the best part? It's free!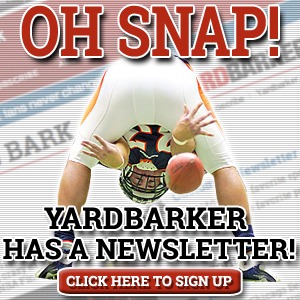 Latest Rumors
Best of Yardbarker

Today's Best Stuff

For Bloggers

Join the Yardbarker Network for more promotion, traffic, and money.

Company Info

Help

What is Yardbarker?

Yardbarker is the largest network of sports blogs and pro athlete blogs on the web. This site is the hub of the Yardbarker Network, where our editors and algorithms curate the best sports content from our network and beyond.