Found March 29, 2013 on From the Perimeter:
(Photo by Mike Ehrmann/Getty Images) As the Miami Heat's 27-game win streak came to a bitter end in Chicago on Wednesday, a timeless debate resurfaced: who is the greatest player in NBA history? Despite the fact that LeBron James and his team fell short in the house that Michael built, James has begun to show signs that he's superior to Jordan. Basketball enthusiasts and purists are seldom comfortable with challenging Michael's position as the "G.O.A.T." They look at his myriad of accolades, competitive fire and assertion of dominance as key factors in being the most talented player this game has ever seen. However athletically, James has a clear edge on the man he once idolized. At 6'8″, 250 pounds, James is a man among boys in a league filled with dominant athletes. He was a highly touted football star as well as a basketball phenomenon throughout his high school career. His conditioning and brute strength coincide with lightning-quick speed and sensational footwork, making James nearly indefensible. Early in his career, James could be forced to shoot an outside shot and defenders would hope to contain his driving abilities. The ever-improving James now shoots 39% from downtown and is a consistent threat all over the floor. His post-game has shown significant improvement from his days in Cleveland as well. As a defensive presence, LeBron James is a menace. Although his career blocks and steals do not even compare to Jordan's, James posts a better career defensive rating (points allowed per 100 possessions) coupled with a better block percentage. However, DWS (Defensive Win Shares) is the most important defensive statistic of all, measuring total estimated wins attributed to a player's defense. Through nearly 10 NBA seasons, LeBron James has 47.5 DWS. Michael Jordan's 10-year DWS was 42.1. In his first nine seasons in the NBA, James is ahead of Jordan's 9-year pace in total rebounds and assists. Additionally, James has so far posted 36 career triple-doubles while Jordan had 28 in his entire career. Despite a clear advantage in this category, LeBron could have almost twice as many triple-doubles as he currently does. On 24 separate occasions James has been one rebound or assist short of a triple-double. If he hadn't come up short on all of these opportunities, his career triple-doubles mark would be at 60, instead of 36. Numbers never lie, but they can be deceiving. A large portion of statistical categories belong to Jordan, but James's career is nowhere near over. Right now, LeBron James is not the greatest player of all time. Although he's spent a decade in the NBA we cannot decipher his greatness just yet. When all is said and done, James' accolades will speak for themselves. "Five beats one every time I look at it" once said his airiness not too long ago regarding the James vs. Bryant debate. As far as titles and 80+ point games go, Bryant has the edge on James. He also has 20 more career win shares (estimated number of wins contributed by a player). However, Bryant is 6 years older than LeBron and continually produces at a high level. He also has a ring for every finger on one hand, while James believes that his one ring can be placed on a particular finger towards his critics. But can greatness truly be measured by playoff success? At the pace James is setting, he will likely surpass Jordan and Bryant in categories that don't include titles. Jordan has five career regular season MVP's, while James is on track for his fourth at the end of this season. All-star games are somewhat irrelevant when fans are allowed to vote, but James needs only 5 more to tie Jordan's mark of 14. Michael Jordan was named to 10 all-NBA first teams, and LeBron James will be named to his 7th in a few weeks. Intangibles might be the most important aspect of determining a G.O.A.T. Competitive edge and overcoming adversity are two factors that Jordan and James share. Both men experienced adversity in their childhood. James dealt with poverty and growing up in a single-parent home, with basketball as his outlet. Jordan was cut from his high school varsity team his sophomore year, but persevered and was eventually named a McDonald's All-American his senior year. Both athletes possess a competitive fire and desire to win, but Jordan rarely experienced criticism at the level that LeBron has. Leaving Cleveland for South Beach turned James into somewhat of a villainous figure in pro sports. The pressure to win a championship weighed on him until the end of last season, and he has since become a more admirable and charismatic athlete. Jordan never had pressure to be great. He was always great in the eyes of the fans, and possessed nearly every quality of the perfect role model. Who is the G.O.A.T.?  Myriad answers will span generations. Jordan, James and perhaps even Kobe Bryant will be considered as fans continue to debate this hot-button issue that rages on in basketball culture and lore.
Original Story:
http://fromtheperimeter.sportsblognet...
THE BACKYARD
BEST OF MAXIM
RELATED ARTICLES
LeBron James spoke out about the way he gets officiated on Wednesday night, saying he is starting to get concerned about how physical he believes some opponents are against him. James made the comments to reporters huddled around his locker in Chicago not long after he and the Miami Heat had their 27-game winning streak snapped, with the Bulls prevailing 101-97. He cited two specific...
Normally I like my posts to have some kind of substance to them be it my whit and wisdom (go ahead and laugh) or a video clip of something cool.  This post has neither. What it does have is a hilarious LeBron James meme. In case you've been out of the country and on a desolate island with no WiFi (so, Survivor contestants) the Miami Heat have been streaking. No...
LeBron James – one of the league's most physical players – is upset with the "rough" treatment he's received this season. He ******* whined sounded off following last night's loss to the Bulls: "Those are not basketball plays and it's been happening all year," James said after the game, in reference to the two hard fouls. "And I was able to keep my cool and...
After the Chicago Bulls ended the Miami Heat 27-game winning streak, a rather dejected LeBron James found his way down the visitor's tunnel at the United Center.Before he disappeared from view of the rowdy Chicago crowd, one Bulls fan attempted to jack his headband right off his head:Nice try dude...Nice try...
LeBron James was called for a flagrant foul Wednesday during the Miami Heat's game against the Chicago Bulls after putting a shoulder and elbow into Carlos Boozer, who was setting a screen on him late in the game. James' forceful shoulder into Boozer seemed to be retaliation for getting hit in the head on his team's previous possession. He was called for a flagrant-1 foul,...
CAN'T TAKE IT ANYMORE
The Heat's winning streak came to an end Wednesday against the Bulls and LeBron appeared to be most frustrated about two hard fouls against him during the game.
HEAT CHECK
Danny Ainge recently said that LeBron needs to stop doing so much complaining, and that apparently did not sit well with Pat Riley, to say the least.
(Eds: With AP Photos.) By JIM LITKE AP Sports Columnist Losing game after game is nerve-racking, sure, but after a point, so is winning. Seconds after the NBA's second-longest winning streak was history, LeBron James and his Miami Heat teammates walked off the floor solemnly in single file, their mood seemingly as dark as their black road jerseys. But moments later, inside the...
"Let me calculate my thoughts real fast before I say (what I want to say)," James said. "I believe and I know that a lot of my fouls are not basketball plays. First of all, Kirk Hinrich in the first quarter basically grabbed me with two hands and brought me to the ground. The last one, Taj Gibson was able to collar me around my shoulder and bring me to the ground. Those are...
The streak that some thought may never end, finally did. The Miami Heat ran out of magic and dropped last night's game to the Chicago Bulls, 101-97, putting an end to their 27-game win streak. As they did a number of times over the past two months, the Heat fell behind by double-digits in the first half, only to come roaring back in the second half and take the lead. This time...
The Miami Heat's improbable 27 game winning streak came to a halt on Wednesday night in the Windy City against the Bulls, where they ended up losing 101-97. Many experts had this night circled on their calendars as the night that the streak would go down, and as it turns out those experts were right. But now that we can look back on the streak in its entirety with it now over,...
NBA News

Delivered to your inbox

You'll also receive Yardbarker's daily Top 10, featuring the best sports stories from around the web. Customize your newsletter to get articles on your favorite sports and teams. And the best part? It's free!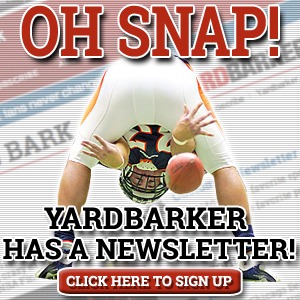 Latest Rumors
Best of Yardbarker

Today's Best Stuff

For Bloggers

Join the Yardbarker Network for more promotion, traffic, and money.

Company Info

Help

What is Yardbarker?

Yardbarker is the largest network of sports blogs and pro athlete blogs on the web. This site is the hub of the Yardbarker Network, where our editors and algorithms curate the best sports content from our network and beyond.