Found November 19, 2012 on Pass The Pill:
PLAYERS:
Zach Randolph
,
Marc Gasol
,
LeBron James
,
Carmelo Anthony
,
Kevin Durant
,
Shane Battier
,
Joel Anthony
,
Chris Bosh
,
Rudy Gay
,
Steve Novak
,
Ronnie Brewer
,
Andrew Bynum
,
Dwight Howard
,
Pau Gasol
,
Dirk Nowitzki
,
Chris Kaman
,
Roy Hibbert
,
David West
,
Marcin Gortat
,
Anderson Varejao
,
Kevin Garnett
,
Serge Ibaka
,
Al Jefferson
,
Derrick Favors
,
Paul Millsap
TEAMS:
Memphis Grizzlies
,
Miami Heat
,
New York Knicks
,
Oklahoma City Thunder
,
Philadelphia 76ers
,
Los Angeles Lakers
,
Dallas Mavericks
,
Indiana Pacers
,
Phoenix Suns
,
Cleveland Cavaliers
,
Boston Celtics
,
Utah Jazz
Zach Randolph and Marc Gasol provide a reminder to "small ball" teams that there are still plenty of good big men in the league.credit: media.commercialappeal.com Over the past few years, many teams around the league have made the switch from traditional lineups to much smaller, quicker ones. This development has been made possible by small forwards who are talented enough to slide to power forward, such as LeBron James, Carmelo Anthony, and Kevin Durant. Teams like the Heat look to optimize their talents by going small; in other words, by playing LeBron at power forward, you can get someone like Shane Battier on the floor, and keep someone like Joel Anthony on the bench. It creates massive matchup problems for opponents who don't have the personnel to match. Elite small forward scorers who can hold their own in the paint drags opposing bigs out of the paint defensively, and opens up the floor. The Miami Heat have completely committed to small ball, with no true center on their roster. Chris Bosh plays center, and they really lack any sort of depth when it comes to big men. The Knicks have some solid big man options, but they seem intent on playing small. Teams like the Celtics and Thunder tinkered with the experiment towards the end of the season last year, due to the style of their opponents, and the lack of a game-changing center. It seemed to be the consensus amongst basketball minds after last year's NBA Finals that small ball would be the way to go for years to come. There are teams now proving that it might not be the best option. Where there's a mismatch on one end of the floor, the mismatch usually reciprocates on the other end. This has never been more evident than when the Knicks recently lost to the Grizzlies. With Melo at power forward, the Grizzlies decided to stick to their traditional lineup, and let Rudy Gay guard Anthony. Marc Gasol guarded whoever the center was, leaving Zach Randolph a little lost defensively. However, you can get away with Randolph guarding someone like Steve Novak or Ronnie Brewer on the perimeter. It allowed Memphis to have their way defensively on Melo without getting hurt with Randolph on the perimeter, simply because Novak or Brewer won't hurt you off the dribble. And on the other end of the floor, the Knicks had nightmares. It's just not fair to ask Melo to guard Randolph or Gasol, and it proved to decide the game. That one game proved that a team with an advantage in their big men shouldn't necessarily concede it just to match up. You can often hide a big man defensively on a weak offensive player, and then turn around and use your advantage offensively. Andrew Bynum's health will be closely watched by the smaller teams in the East.credit: delcotimes.com Not a ton of teams can claim to have the bigs to fall into this category. With Marc Gasol and Zach Randolph, the Grizzlies are included. The Lakers are an obvious choice with Dwight Howard and Pau Gasol. When he gets healthy, Dirk Nowitzki can still cause matchup nightmares, along with a more than serviceable Chris Kaman. The Pacers have Roy Hibbert and David West, but we've already seen that they forget how to feed their big men once they get going. San Antonio has Tim Duncan and a handful of other respectable bigs that they can pair him with. With names like Marcin Gortat and Anderson Varejao possibly being on the trading block, a few other teams could join the conversation of scary big lineups. If either joined the Celtics or Thunder and paired with Kevin Garnett or Serge Ibaka, they would be included. The Jazz aren't title contenders, but I guarantee that a small team would not want to play Al Jefferson, Derrick Favors, and Paul Millsap in the first round. The road for a small ball team in the Eastern Conference will be partially decided by Andrew Bynum's injury. The Heat have nobody on their roster who can remotely check Bynum, if he's healthy. Small ball has some benefits to it, as long as you have the personnel and the talent to make it work. But at the same token, you can't completely ignore the fact that there are big teams that you may have to match up with at some point. There are a lot of team without many quality bigs, but the teams that have them stock up on them. And they tend to be pretty good. -Mark Evans, Assistant Manager/Editor of Content Follow us on Twitter The post Will A "Small Ball" Team Win Another Championship This Season? appeared first on Pass The Pill.
Original Story:
http://sports-kings.com/passthepill/w...
THE BACKYARD
BEST OF MAXIM
RELATED ARTICLES
According to Sports Illustrated, Memphis Grizzlies forward Zach Randolph has been fined $25,000 by the league.  This fine stems from a post-game verbal altercation between Randolph and Oklahoma City Thunder player Kendrick Perkins. Replays of the game shows that during a Thunder free throw, Zach Randolph and Kendrick Perkins were a bit chatty.  After Russell Westbrook knocked down...
In an article by the Commercial Appeal, Zach Randolph does not mind cleaning up after the mess left behind by his teammates.  Z-Bo is not known for the greatest athletic ability, but with his size, he can outpower you in the paint.  With a talented offensive cast around him, he does not necessarily have to shoot all the time.  He can just look for any missed shots by his teammates...
Memphis Grizzlies forward Zach Randolph has been fined $25,000 by the NBA for confronting Oklahoma City's Kendrick Perkins following both their ejections in a game last week. The fine was announced Monday by Stu Jackson, the league's executive vice president of basketball operations. Randolph and Perkins were each ejected for an altercation with 2:05 remaining in the fourth...
With Zach Randolph fully healthy, the Memphis Grizzlies are reaping the benefits in a major way. They've jumped out to an 8-1 record to start the season and have already posted some impressive victories.
Zach Randolph says he has a record of 28-4 in fights in his lifetime.
Zach Randolph and Kendrick Perkins were each ejected from the game and had an altercation in the locker room area.
For those of you looking for the alley-oop from Tuesday night, you need to check out this clip of Lakers forward Pau Gasol finding Dwight Howard on an alley-oop pass.Watch as Kobe Bryant starts the play out as he finds Gasol on the free throw line and Pau finds Dwight for the hammer dunk:
Here's Zach Randolph giving some insight on last week's confrontation with Kendrick Perkins: Q: And then in the back, did you try to go in their locker room? A: Nah, I didn't go in their locker room. It was some doors; I had went on their side. Their locker room was like right there to the left. But I had went through some doors in the hallway. And I went through the doors...
LOS ANGELES Ten games into the season, it's probably safe to say that the Lakers have arrived. Or they've returned, depending upon your point of view. Dwight Howard is back. So is his back. Pau Gasol is back. Enthusiasm is back. Entertaining and effective basketball has arrived at Staples Center, as the Lakers won their second in a row with Mike D'Antoni in the building...
CHARLOTTE, N.C. (AP) -- Mike Conley scored 20 points and the Memphis Grizzlies beat the Charlotte Bobcats 94-87 on Saturday night for their eighth consecutive victory. Zach Randolph added 18 points and 12 rebounds, and three other players scored in double figures for the Grizzlies, who own the NBA's best record at 8-1. Rudy Gay had 16 points and Marc Gasol and Tony Allen scored...
Mike Conley scored 20 points and the Memphis Grizzlies beat the Charlotte Bobcats 94-87 on Saturday night for their eighth consecutive victory. Zach Randolph added 18 points and 12 rebounds, and three other players scored in double figures for the Grizzlies, who own the NBA's best record at 8-1. Rudy Gay had 16 points and Marc Gasol and Tony Allen scored 12 apiece. Memphis...
Since the firing of Mike Brown the Lakers are 4-1, with the only loss coming against the San Antonio Spurs. Kobe is currently the leagues leading scorer, averaging 26.4/game and they are getting the contributions they were expecting from Pau Gasol and Dwight Howard. It's still another week or so before Steve Nash comes back, [...]
NBA News

Delivered to your inbox

You'll also receive Yardbarker's daily Top 10, featuring the best sports stories from around the web. Customize your newsletter to get articles on your favorite sports and teams. And the best part? It's free!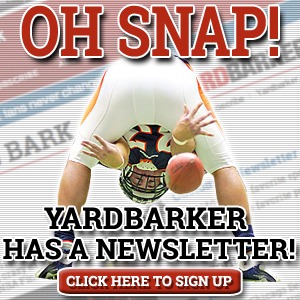 Latest Rumors
Best of Yardbarker

Today's Best Stuff

For Bloggers

Join the Yardbarker Network for more promotion, traffic, and money.

Company Info

Help

What is Yardbarker?

Yardbarker is the largest network of sports blogs and pro athlete blogs on the web. This site is the hub of the Yardbarker Network, where our editors and algorithms curate the best sports content from our network and beyond.