Found June 13, 2013 on Knickswag:
By Max Marcilla After an exit out of the playoffs that was far too early for any Knick fans expectations, everyone has one thing to look forward to: Iman Shumpert. Despite not playing a full season due to a league-wide lockout and an ACL tear, Shumpert has developed his game and IS ready to take the next step. Iman proved that in the playoffs, as he was the only Knick to play consistently well for both the Boston series and the Indiana series. Iman Shumpert came into the league with one big positive and one big negative. The positive was that he was a lock-down defender, and he hasn't disappointed on that side of the court. In his junior year (his last) as a Georgia Tech Yellow Jacket, Shumpert averaged nearly 3 steals a game and locked down his opponent. However, the one weakness was his erratic shooting. Even in his junior year when Shumpert scored 17 points per game, he struggled shooting the ball. He had a career low 29% shooting year from beyond the arc, which was a big concern, considering the Knicks are a three-point shooting team. But Iman proved the critics wrong by showing this year that he could be a star both offensively and defensively. Here's why: 1.     Lock-Down Defense: Shumpert came back into the Knicks rotation in an odd spot. The player that had played point guard his entire life was 4th on the depth chart as a point guard, causing him to move to an unnatural position, the small forward. At first it was a struggle for Iman, but by the playoffs, when his knee was 100%, he was in his zone. He was the best defender on the court, even if it was guarding a bigger and stronger forward. Shumpert was most often seen guarding Paul George, and even though George averaged 19 points per game in the series, he struggled to do so. He shot 39% from the field (27% on 3-pointers). 2.     Scoring: Like I mentioned earlier, Shumpert's weakness was his scoring, but in the playoffs he looked comfortable shooting and scoring. His breakout game was Game 6 against the Pacers, when he made 4 straight three's in the third quarter to cut the Indiana lead from 10 to 1. While Iman didn't shoot the ball unbelievably in the series, he showed everyone that he CAN shoot and he WON'T be afraid to take the shot, thus making him just another scoring threat on a team that averaged 100 points per game in the regular season. 3.     Rebounding and Dishing: A player that just a year ago had a few weaknesses in his all-around game, has worked hard to refine himself. Being moved to the small forward meant that Shumpert would need to act (at times) as another big man for a small Knicks team. He met those expectations by recording over 5 rebounds a game against Indiana, and while he only averaged 1.3 assists per game, he always helped the ball move when he was on the court. Another flaw in his game he patched up was his turnovers. This could be due to the fact that as a forward, you handle the ball much less, but Shumpert went from a 2 turnover per game player in 2011 to a less than 1 turnover per game player in 2012. Iman Shumpert has proven a lot in his young career, and it looks like the next thing to prove is that he is a star, not just a role player. There is no doubt in my mind that within a year or two, he can do that. The post Will Iman Shumpert Be a Star for the New York Knicks? appeared first on Knickswag - A New York Knicks Blog - News, Rumors, and more!.
Original Story:
http://knickswag.com/will-iman-shumpe...
THE BACKYARD
BEST OF MAXIM
RELATED ARTICLES
Are you ready for your latest new couple alert? One of my theories is that every athlete that's able wants to add a celebrity chick to his roster. It's sort of like a "mama I made it moment" or at the very least, more love and adoration from the homies back home and the professional friends. :giggle: Add another jock to the pile, New York Knicks guard Iman Shumpert has been...
Unless you're a serious observer of international basketball, you didn't know who Pablo Prigioni was when the Knicks signed him on July 23, 2012. I was one of those, and our first look at him was during the Olympics. While Olympic hoops is a different game than the NBA, you could see right away that Prigioni was a pro, and to be overly simple, knew what he was doing out there...
Chris DiGioia kicks off our look at New York Knicks Draft Prospects by breaking down North Texas forward Tony Mitchell.  The New York Knicks are going to have plenty on their plate come draft day, and having possession of the 24th overall pick, a wide range of intriguing prospects could be available. North Texas combo forward Tony Mitchell could easily find himself in a Knicks uniform...
The post Knicks Draft Look In: Lorenzo Brown appeared first on Knickswag - A New York Knicks Blog - News, Rumors, and more!.
The post Knicks Draft Look In: Gorgui Dieng appeared first on Knickswag - A New York Knicks Blog - News, Rumors, and more!.
Over the past few weeks, we've been showing you some of the more miserable draft nights in New York Knicks history. In case you missed them, here's the list that leaves much to be desired. Michael Sweetney Nene Hilario (the Antonio McDyess trade) Frederic Weis If you thought things couldn't get any worse, you are sorely mistaken. This Throwback Thursday, we're taking you...
Though they only own the 24th overall selection in this month's NBA Draft, Glen Grunwald and the Knicks know anything they can happen.Trades often go down just seconds before a pick, and though a team may not have multiple draft choices, moves can always be made to snag another pick in order to reel in that second or third player that caught an executive's eye during workouts...
Every Wednesday at Turn On The Knicks our staff will debate an issue of the week surrounding the team here in Roundtable Format. Make sure to give everybody a follow on Twitter, along with follow the site right here. Let us know if you agree/disagree. Who do you prefer the New York Knicks take with the 24th overall pick in the NBA Draft? Joe Caporoso - Considering their position...
credit: getty images A source confirms Jason Kidd will be the new coach of the Nets. — Stefan Bondy (@NYDNInterNets) June 13, 2013 Jason Kidd did not stay away from the NBA for long. Kidd, 40, recently retired but will return to the league as the new head coach of the Brooklyn Nets. Kidd played for the Nets from 2001-2008 and reportedly blew the team away when interviewed for...
With Jason Kidd becoming the Brooklyn Nets' new head coach, Raymond Felton admits he will need to take an elevated leadership role on the New York Knicks, as well as increased pressure to make smart decisions. "I guess that means I have to step up my game a little but more, be a little bit more of a leader," Felton said. "It's just a little more pressure on me I guess...
Carmelo Anthony visited his wife LaLa on the set of Think Like A Man 2 today, then stopped to take this picture with comedian Kevin Hart. Not gonna lie, Hart looks dapper. Maybe Melo shoulda stepped up and gone with the headband to spice things up. Just sayin Happy Bday Melo LaLa In Vegas
Hello, thickums. (good find by Terez) Gabrielle W/O Makeup CP3 Texts Dwight
NBA News

Delivered to your inbox

You'll also receive Yardbarker's daily Top 10, featuring the best sports stories from around the web. Customize your newsletter to get articles on your favorite sports and teams. And the best part? It's free!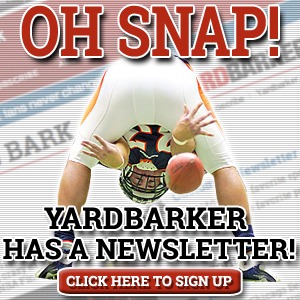 Latest Rumors
Best of Yardbarker

Today's Best Stuff

For Bloggers

Join the Yardbarker Network for more promotion, traffic, and money.

Company Info

Help

What is Yardbarker?

Yardbarker is the largest network of sports blogs and pro athlete blogs on the web. This site is the hub of the Yardbarker Network, where our editors and algorithms curate the best sports content from our network and beyond.