Found January 24, 2012 on Fox Sports North:
MINNEAPOLISDerrick Williams is a rookie in every sense of the word. With his soft-spoken voice and a row of clear braces across his top teeth, he seems younger than his 20 years. He wrings his hands when he's nervous or upset. He wears high socks that might just be hiding a pair of shin guards. He's endearing, the kind of player it's hard not to pull for. But the Derrick Williams who sat hunched in front of his locker Monday night was a far cry from the tall, smiling man who took the stage at the NBA draft. Those wringing hands had replaced one-armed hugs and powerful handshakes. The reality of the NBA has set in. Williams, a star at Arizona who was the second overall pick in the 2011 draft, has had to deal with being a backup player on a struggling team since signing with the Timberwolves. The latest chapter in that sometimes-difficult reality unfolded before Monday night's 107-92 loss to the Houston Rockets, when Williams found out he would make his first-ever start in the NBA. It should have been a cause for celebration, a night he'd remember for his entire career. Williams had been fighting for minutes all season, with limited opportunities to catch his coach's attention during games. This should have felt like an opportunity, but instead it became more of a duty, a last-resort effort to prop up a faltering team. Williams learned he'd start after teammate Wes Johnson became sick, leaving Timberwolves' coach Rick Adelman with only nine healthy players. The night began with worries about minutes and endurance and a short-handed lineup. It ended with what Williams called the team's most disappointing loss yet, a game he might rather forget about than mark as a career milestone. "It was cool to have my first start, but at the same time we got a lot of people that are hurt and injured," Williams said. "Today was just, the whole game we just couldn't get a stop, couldn't make shots. The whole game in general was sloppy for us." Pregame, Adelman joked that Johnson's replacement in the starting lineup would come down to a coin flip between Williams and Anthony Tolliver. And though Williams obviously earned the spot over Tolliver in Adelman's mind, that kind of arbitrary choice is hardly the way a player wants to win a starting role. Much of Adelman's hesitation about giving Williams the minutes stemmed from his belief that the rookie is more comfortable playing at power forward, not at Johnson's small forward position. "He knows where he's at at the four spot," Adelman said before Monday's game. "At the three spot, he's not real clear. I think eventually he'll play both spots, but you have to go to his strengths when he's at the three spot, and like everybody else in the league, we just haven't had any practice time to really try to incorporate that." Luckily for the Timberwolves, the Rockets spent much of the night with three guards on the floor, making Williams' role at small forward not much different than what he'd have had to do as a power forward. And despite the overall sloppiness of the game, Williams delivered a solid performance. In a season-high 37 minutes, he scored 11 points and had seven rebounds. It was nothing special, but he did little to hurt his stock in Adelman's eyes. "I thought I did pretty well, especially because I haven't really been playing the three much," Williams said. "Overall, it takes a lot away from that when you play sloppy." That was the problem. If they'd lost giving it their best shot, if they'd never grabbed a third-quarter lead and let it quickly slip away, this might have been easier. But those 20 turnovers, the sloppy fouls, the moments when they tried to do too muchit all contributed to a somber post-game atmosphere. Kevin Love coughed and sniffled, his days-long cold taking over a corner of the locker room. Lockers were deserted, injuries negating any need to even dress for games. Players lurked in the tubs, not wanting to get dressed and face reality. And Derrick Williams shook his head, forced to talk his way through a game that might have sounded worse than it looked. But as much as he must have wished it could have gone another way, Monday was a milestone for Williams, a sign that he's progressing and a reminder that he has a lot of room to improve. Follow Joan Niesen on Twitter
Original Story:
http://www.foxsportsnorth.com/01/24/1...
THE BACKYARD
BEST OF MAXIM
RELATED ARTICLES
HOWL AT THE MOON
According to multiple sources, Minnesota and Kevin Love have agreed to terms and the forward will sign a four-year, max contract with the team reportedly worth $62 million.
When Kevin Love stepped out behind an exquisitely set screen and launched a 3-pointer that settled through the net at the buzzer, sinking the Clippers on national television Friday night, he turned his back on the rest of the Timberwolves, set his jaw firmly and threw his arms wide. It didn't take long for Love to be swarmed, his teammates rushing to show him some, well, love...
Theres a viral YouTube video starring a talking shell that poses a surprisingly philosophical question. In an almost indignant tone because yes, miniature exoskeletons can be indignant the shell, Marcel, asks his audience: People say my head is too big for my body, and I say, Compared to what? Its a valid question. Now consider the Timberwolves. Ricky Rubio has become Minnesotas...
Minnesota Timberwolves power forward Kevin Love will sign a 4-year, $62 million contract extension on Wednesday afternoon, according to a report by the St. Paul Pioneer Press.The 23-year-old is expected to sign the deal prior to the Timberwolves' game against the Mavericks. Love would become a restricted free agent if the sides don't complete a deal before an 11 p.m. deadline...
One of the issues coming up this week is the deadline for contract extensions for the NBA's class of 2008, and the question is whether the equivocal Minnesota Timberwolves will offer Kevin Love the maximum dollar extension. I have my doubts as well about how much Love is worth, given I don't see how he can carry a team on any level.
Yesterday the Internet lied and told you that Kevin Love signed an extension with the Wolves, but today it all came true as Love signing a four-year, $62 million contract extension today with the Minnesota Timberwolves. He wanted a five-year deal, but I don't think that means he'll be eating Ramen anytime soon. "The five years was something I felt very strongly about, but...
Timberwolves forward Kevin Love and the guy who brought him to Minnesota, Kevin McHale, met before Monday's game at Target Center, the first time they have shared an NBA court since the final day of the 2008-09 season.
MINNEAPOLIS (AP) - A person familiar with the situation says Kevin Love has agreed to a four-year contract extension with the Minnesota Timberwolves worth between $60 million and $62 million.The deal includes a player option in the final year. The person described the agreement to The Associated Press on Wednesday ...
Oh Mickey, you're so fine you're so fine you blow my mind,hey Mickey (huff huff), hey Mickey (huff huff)Sure, he's gotten plenty of 'hype' for his cover model look, but don't hate on Ricky Rubio people … the boy's actually got some game – even if it's a bit different from the me-first, shoot-first point guard play we've become accustomed to in recent years...
Jan 23, 8:00 PM | Target Center Houston Rockets vs Minnesota Timberwolves Odds 9-7TEAM RECORD7-9 The Timberwolves will hit the floor running against the visiting Houston Rockets on Monday, looking to bolster their record and bolster wagering bankrolls in the process. Minnesota battles the Rockets, currently with a 9-7 mark (9-7 ATS). The OVER/UNDER records, important for...
NBA News

Delivered to your inbox

You'll also receive Yardbarker's daily Top 10, featuring the best sports stories from around the web. Customize your newsletter to get articles on your favorite sports and teams. And the best part? It's free!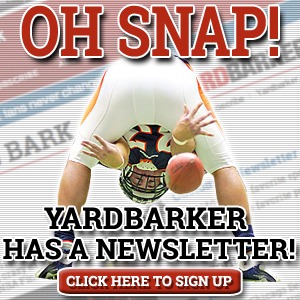 Latest Rumors
The Backyard

Today's Best Stuff

For Bloggers

Join the Yardbarker Network for more promotion, traffic, and money.

Company Info

Help

What is Yardbarker?

Yardbarker is the largest network of sports blogs and pro athlete blogs on the web. This site is the hub of the Yardbarker Network, where our editors and algorithms curate the best sports content from our network and beyond.