Found January 08, 2013 on Fox Sports South:
Lou Williams has caught fire since joining the Hawks starting lineup. Whats the biggest impact hes had on the lineup? Instant offense. Without question. Theyre used to having that off of the bench in spurts because his minutes were down. But extra minutes for Lou has changed the dynamic of this team. Their guard play, now you have to deal with both Marquis Teague and with Lou. While Teague was more of a facilitator and Lou was scoring off the bench, now you have two dangers from outside the perimeter with speed and quickness, where they only had one on the floor at a time and thats opened things up for them offensively. What do you think is going to happen when fellow guard Devin Harris returns to the lineup from a foot injury? How will they balance all this? When he gets back to game shape, which will take a couple of games, I think theyre going to put Devin Harris back in the starting lineup and move Lou back to the bench as their sixth man. I think thats a mistake but I think thats what theyre going to do, because the concern with Lou and its been this way his entire career is hes so slight of build and its such a physical game that theyre worried about a man of that size holding up for an 82-game schedule. I think thats unfair, but its reality. When you look at Saturdays loss to the Celtics, the Hawks led by 19 points but lost 89-81 and physical play continues to be an issue for this team. Why? I dont know. Its not like they dont have physical players. Zaza Pachulia is a big man -- at 6-foot-11, 274 pounds and in that epic seven-game playoff series in 2008 he went face-to-face with Kevin Garnett. He got in KGs face and that was the first time someone in Atlanta stood up to the Celtics and it changed the dynamic of that series. Theyre not afraid of the Celtics and Ivan Johnson is as bad as they come, but the Hawks do not play a physical brand of basketball. Its not as if theyre not intimidating, they just dont physical back and I dont understand why. Larry Drew was named the Coach of the Month in November. What have you seen different out of him this year and have changes been a matter of losing Joe Johnson? Its more than Joe and its more than the philosophy. He has had to use his entire team. Instead of going to the starting five and two or three guys, like last year and that has was dictated because of the loss of Joe and Marvin Williams and the whole influx of new players and then a lot of injuries. You lose Harris for an extended period of time, guys were going down left and right and the first road trip of the season they had to go to Oklahoma City without Josh Smith. He has had to mix and match more this year and more than any Hawks coaches have had the last five, six years. After all those early lineup changes do you think Drew has found that group that hes more comfortable with? At the beginning of the season they were going big and small, big and small. Either Zaza was in a lot or Zaza wasnt and they were moving Josh to the three (small forward). Now I believe Zaza is going to be on the bench and Drew think that he is pretty much settled in. The only question is whether Lou stays in the starting lineup when Devin Harris comes back.
Original Story:
http://www.foxsportssouth.com/01/08/1...
THE BACKYARD
BEST OF MAXIM
RELATED ARTICLES
Atlanta Hawks GM Danny Ferry picked up one of the sillier fines this NBA season today, for essentially snitching on Rajon Rondo. The Celtics point guard bumped referee Rodney Mott during Saturday night's 89-81 win over the Hawks — a game the Hawks led by 19 at one point, by the way — and after the game, Ferry decided to pass along video of Rondo's faux pas. One problem: he...
Tracy McGrady has been playing in the Chinese Basketball Association this season, and it doesn't sound like things are going very well. The former two-time NBA scoring champion ripped the referees after a recent loss, calling them "three blind mice" while threatening to leave the league after the season if the calls didn't start improving. Here's what he wrote on his Weibo...
Atlanta Hawks general manager Danny Ferry has been fined $15,000 by the NBA for inappropriate interaction with game officials following Saturday night's game against the Boston Celtics. The fine was announced Monday by Stu Jackson, the league's executive vice president of basketball operations. The Hawks led the Celtics by 19 points before losing 89-81. The Hawks were outscored...
T-Mac's Chinese saga has nearly reached a level of weirdness paralleled only by that of JR Smith.  McGrady's Qingdao Eagles are now 19 games into their season, yet they've won just twice.  The constant losing has frustrated Qingdao players and fans alike and has led to such drama as debris being hurled onto the floor, McGrady elbowing a player who taunted him, and now, a...
The Atlanta Hawks suddenly find themselves mired in their longest losing streak of the season. Fortunately for them, another matchup against the Cleveland Cavaliers is up next. Looking to get back on track, the visiting Hawks try for a ninth win in 10 games against the injury-plagued Cavaliers on Wednesday night. After falling 85-84 at Detroit on Friday and 89-81 to Boston the following...
Kyle Korver was one of GM Danny Ferry's sneaky acquisitions. Now as a starter, Korver's hot three-point shooting is propelling Atlanta to a top three playoff seed in the Eastern Conference. Photo via:Foxsportssouth The Brooklyn Nets splurged this offseason with the intent to lure Knick fans to join the Nets bandwagon. After three seasons, where the Nets were deemed...
Well this is a new low. NBC Sports is reporting Atlanta Hawks GM Danny Ferry gave the referees a copy of the video showing Rajon Rondo bumping into referee Rodney Mott after the Boston-Atlanta game Saturday. Rondo has since been suspended for the bump and will miss tonight's game against the Knicks. As reward for his snitching, Ferry was fined $15,000. So, I guess the message...
MINNEAPOLIS -- The Minnesota Timberwolves keep losing players, and Tuesday night, they played without their coach as well. Still they pushed their record back above .500 this late in the season for the first time since 2007, earning a 108-103 victory over the Atlanta Hawks at Target Center. With coach Rick Adelman absent due to what the team called a personal matter, top assistant...
The Atlanta Hawks suddenly find themselves mired in their longest losing streak of the season. Fortunately for them, another matchup against the Cleveland Cavaliers is up next. Looking to get back on track, the visiting Hawks try for a ninth win in 10 games against the injury-plagued Cavaliers on Wednesday night. After falling 85-84 at Detroit on Friday and 89-81 to Boston the...
MINNEAPOLIS -- A healing hip injury couldn't stop Timberwolves center Nikola Pekovic from delivering a career-high 18 rebounds in Tuesday's 108-103 victory over Atlanta. Hawks forward Josh Smith's freaky athleticism and shot-blocking couldn't stop Pekovic from delivering the last two of his 25 points that kept the Hawks from coming all the way from a 17-point, second...
NBA News

Delivered to your inbox

You'll also receive Yardbarker's daily Top 10, featuring the best sports stories from around the web. Customize your newsletter to get articles on your favorite sports and teams. And the best part? It's free!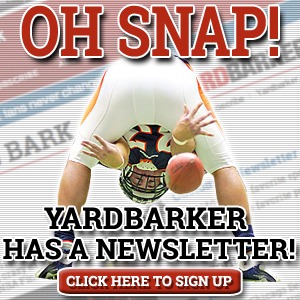 Latest Rumors
The Backyard

Today's Best Stuff

For Bloggers

Join the Yardbarker Network for more promotion, traffic, and money.

Company Info

Help

What is Yardbarker?

Yardbarker is the largest network of sports blogs and pro athlete blogs on the web. This site is the hub of the Yardbarker Network, where our editors and algorithms curate the best sports content from our network and beyond.