Found January 31, 2013 on Wizards Extreme:
76ers 92 wizards 84 1/30/2013 - Wells Fargo Center, Philadelphia, PA ESPN Boxscore NBA.com Game Highlights   The Wizards tried the darndest to fight their way back into the game against the Sixers but it was too little, too late. After leading in the first quarter, the Wizards let the game just slip away due to bad decision making and the inability to knock down wide open shots. With a brutal schedule coming up, bad shooting, bad passing and bad decision making was not too great of a start. The Wizards next few games consist of the Grizzlies, Spurs, Clippers, Knicks, and Nets. There is something to be said about the fight in this group of guys but we've said that all season long. Now WE expect to win them. For the second game in a row, Emeka Okafor was the MVP for the Wizards. After having his best game of the season against the Kings on Saturday, his encore performance did not disappoint. He pulled down a whopping 17 rebounds and looked every bit the rebounding machine he was at UConn. This was his ninth double digit rebound game in the last  twelve. While he scored 15 points, the Wizards didn't take advantage of the size mismatch he had against Thaddeus Young. Either way, Okafor has been working hard to erase the memories of a sub par first half to the season. John Wall: Just as Bradley Beal couldn't wait until Wall returned, John must be praying for Bradley Beal to get well soon. John clearly missed Beal's presence tonight as he sat with a wrist injury. Wall had one of, if not the worst game since he returned to action. He struggled mightily from the field shooting 3-12 and he offset his six assists with five turnovers. He still showed his ability to attack the defense and get to the rim at will, but his teammates just didn't knock down shots tonight. Jrue Holiday: Recently minted "All-Star Holiday" (which sounds more like a winter milkshake at Chik-fil-A), Jrue had a decent game. He dropped 21 points and added six assists, BUT his 21 points came on 22 shot attempts AND he also tallied six turnovers. However, he did hit the big shots at the end of the game to put it away and that's what All-Star players do.     The Good Free throw shooting: This has been a sore spot for the Wiz all year long but tonight they dominated the free throw battle. They shot an astounding 81% from the line, hitting 17 out of 21. Meanwhile, Philly struggled getting to the line and even when they got there, they struggled making them, shooting 6-10. Now usually that is a recipe for a win buttt....     The Bad ...turnovers: The Wizards committed 19 of them tonight. Quite frankly, this team isn't good enough to expect to win when they turn the ball over as much as they do. The really bad part was that the biggest culprit was John Wall with five. Granted a few of those weren't  his fault but as a young team, we can not afford to just give away offensive possessions.     The Ugly The Second Quarter. In the second quarter the Wizards dug a hole that they couldn't climb their way out of. They started the quarter with a three point lead and ended the quarter down nine. That 12 point scoreboard swing was the result of opening the quarter shooting 1-11 and it didn't get any better the rest of the way. The Wiz ended up going 3-16 from the field. They added 7 turnovers and finished with 11 points in the quarter. That quarter was super ugly.  
Original Story:
http://www.wizardsextreme.com/2013-ar...
THE BACKYARD
BEST OF MAXIM
RELATED ARTICLES
Imagining Allen Iverson playing with the Sixers again certainly sounds great considering the state of the team today. At 37, Iverson would obviously be a role player if he was to return. After turning down the Mavericks offer to play in the D-league with the Texas Legends, Iverson's manager Gary Moore was in Philadelphia visiting Sixer owner Josh Harris about reconnecting Iverson...
As Philadelphia 76ers center Andrew Bynum prepares to make his first debut after going through surgery and rehab, precautions have to be taken. Bynum received Synvisc injections in both his knees according to John Finger of CSNPhilly.com. This synthetic lubricant is supposed to help provide some comfort for Bynum moving forward. Genzyme Corporation, the company that manufactures...
Andrew Bynum plans to stay true to his earlier word of returning to the NBA after the All-Star games. USAToday reported on the injury prone center's proclamation to return. Bynum issued the followed statements: "To me, it doesn't really matter when I come back. I think, giving myself a full 'nother week of training is going to be better than trying to come back before that...
Allen Iverson wants to get back into the NBA, but is not really sure how.  He teetering the line between semi-retired and unemployed player, and something has to give. One thing that is certain is the Answers love for Philadelphia.  I was blessed to witness every season Allen played here and almost every game, so I'm somewhat biased. What is fact is that this city still loves...
Andrew Bynum's short career in Philadelphia thus far has unfolded like the song "Let Me Watch" by Viktor Vaughn, aka MF Doom.The post Andrew Bynum's Philadelphia Story: MF Doom – Let Me Watch appeared first on The Sports Fan Journal.
So far the Los Angeles Lakers got the best of the Andrew Bynum trade, at least their guy is somewhat playing. The trade between the Philadelphia 76ers and the L.A. Lakers which sent Andrew Bynum packing hasn't materialized as of yet. But, at only 25, and if he can stay healthy, the Sixers have every right to believe they traded for the best center in the NBA.... Read more
PHILADELPHIA -- All-Star point guard Jrue Holiday scored 21 points for the Philadelphia 76ers Wednesday night, but it was the contribution of others that enabled the Sixers to beat the Washington Wizards 92-84. Four other players scored in double figures for Philadelphia, paced by ex-Wizard Nick Young with 18. It was only the second time in seven games that five Sixers had scored...
This morning, Michael Lee of the Washington Post authored one of the most entertaining articles of this NBA season.  The article, entitled Nick Young's 'swag' going strong in Philadelphia, concisely chronicles the growth of Nick Young's swagger from his time spent with the Washington Wizards, the team that drafted him in 2007, through his 18-point performance in Wednesday...
Andrew Bynum previously received injections before training camp.
                       AT                             Wednesday, January 30th, 2013 7:00 PM ET TV: Comcast SportsNet HD Steve Buckhantz and Phil Chenier   Radio: 106.7 FM/1500 AM Dave Johnson and Glenn Consor     John Wall Jrue Holiday Wizards Projected Starting Lineup      76ers...
Philadelphia 76ers coach Doug Collins has done his best patching together lineups with the team generally struggling without a couple key players. As a result, players like Nick Young are beginning to embrace their roles. Philadelphia reaches the halfway point of an eight-game homestand Friday night as it seeks an eighth victory in nine meetings with the Sacramento Kings. Andrew...
PHILADELPHIA -- Jrue Holiday scored 21 points Wednesday night as the Philadelphia 76ers beat the Washington Wizards 92-84. Ex-Wizard Nick Young added 18 points for the Sixers (19-26), who won for just the eighth time in their last 25 games. Thaddeus Young scored 14, as did back center Lavoy Allen, who began the night averaging 6.2. Spencer Hawes had 12 points and 11 rebounds. ...
76ers News

Delivered to your inbox

You'll also receive Yardbarker's daily Top 10, featuring the best sports stories from around the web. Customize your newsletter to get articles on your favorite sports and teams. And the best part? It's free!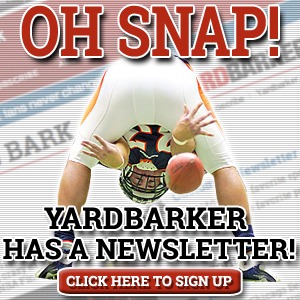 Latest Rumors
Best of Yardbarker

Today's Best Stuff

For Bloggers

Join the Yardbarker Network for more promotion, traffic, and money.

Company Info

Help

What is Yardbarker?

Yardbarker is the largest network of sports blogs and pro athlete blogs on the web. This site is the hub of the Yardbarker Network, where our editors and algorithms curate the best sports content from our network and beyond.